Stone Cladding in Half the Time (With the Thinnest Stone)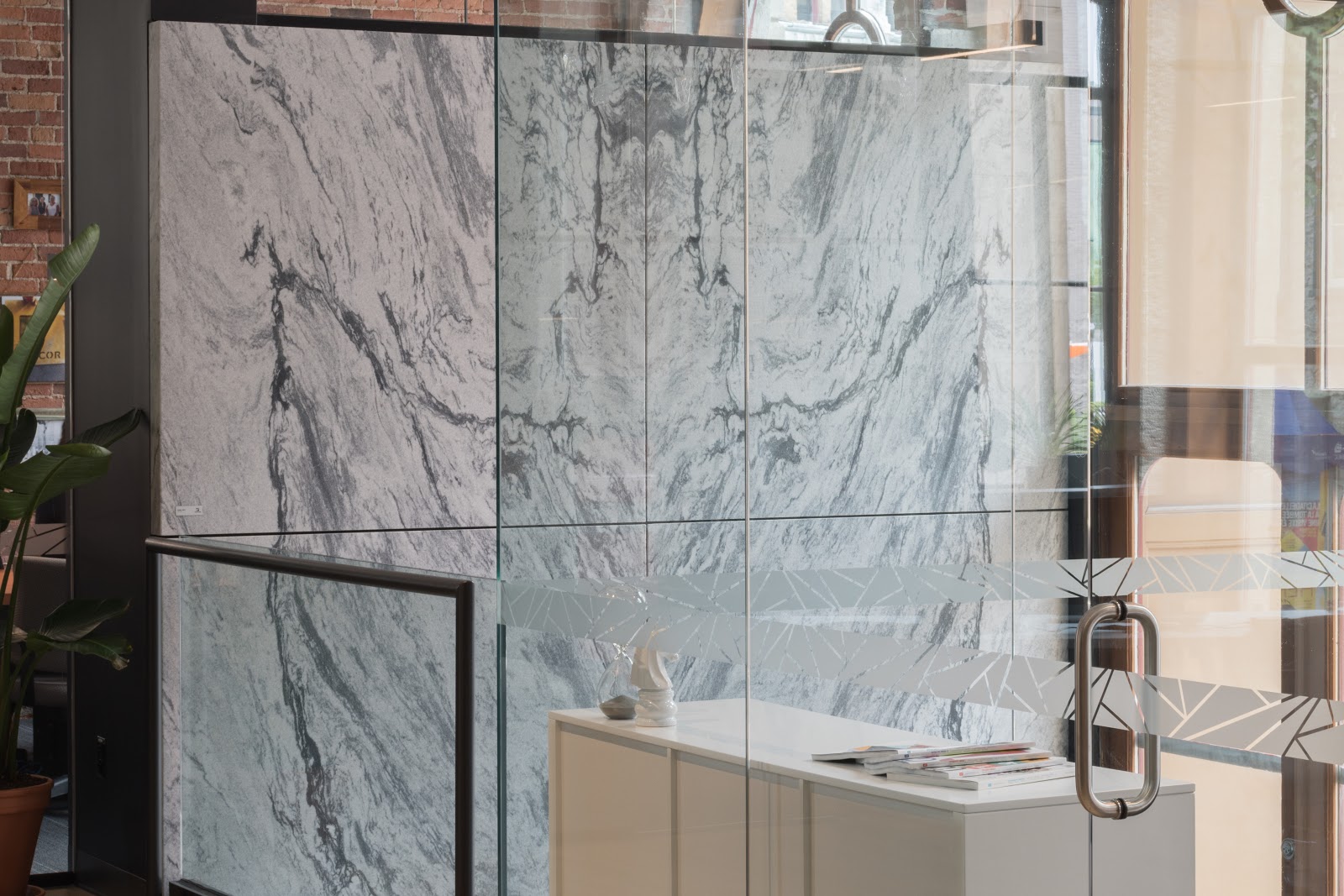 After decades quarrying, fabricating and supplying stone facades, Hugo Vega, Vice President of Sales at Polycor, noticed that the architects he was calling on were lacking a thin stone veneer that was light enough and strong enough for cladding large-scale architectural projects. After some R&D within the company, Polycor went on to release its 1 cm reinforced slabs and Vega returned to his architects in triumph. Only their response was, "That's great, but we need a way to hang it."
"The 1 cm product was a great innovation, but there was no way to apply it quickly and easily on large-scale projects," Vega said.
So the Polycor team dove back into development.
Meanwhile, another response began to percolate in the A&D world. In a bit of a surprise to Vega, the 1 cm slabs sales took off in the residential market where designers and their clients jumped at the chance to incorporate feature walls in showers, full slab backsplashes and seamless vertical fireplaces. (You can see those designs in this lookbook.) At a third of the weight of the usual 3 cm material they were dealing with, fabricators were no longer breaking their backs to muscle a full slab up over a counter to install a backsplash. At 10 times the flexural strength, (thanks to its polycarbonate composite backing) gone was the worry that vertically oriented slabs on the fireplace would crack on install.
The residential market was onboard for thin stone.


An example of a backsplash fabricated from a continuous slab of ultra-thin White Cherokee American marble.
That was great news, but Vega's customers are typically working on commercial, not residential, specifications. So he continued to mull over this problem of adhering thin stone cladding to the exteriors of architectural projects. From time to time he would bump into the team from eclad at job sites where thicker panels of Polycor marble and granite were being installed with existing eclad systems, structural supports laid over existing facades in a modular fashion. A world leader in stone cladding systems, eclad has been creating and refining cladding systems since the 1990s. They too were seeing the same need in the market as the Polycor team – a fast and efficient way to clad with ultra-thin slabs. And so together the companies decided it was time to team up to bring a comprehensive thin stone cladding system to market.
What they developed is a seamless system that saves time, labor and money: Eclad 1.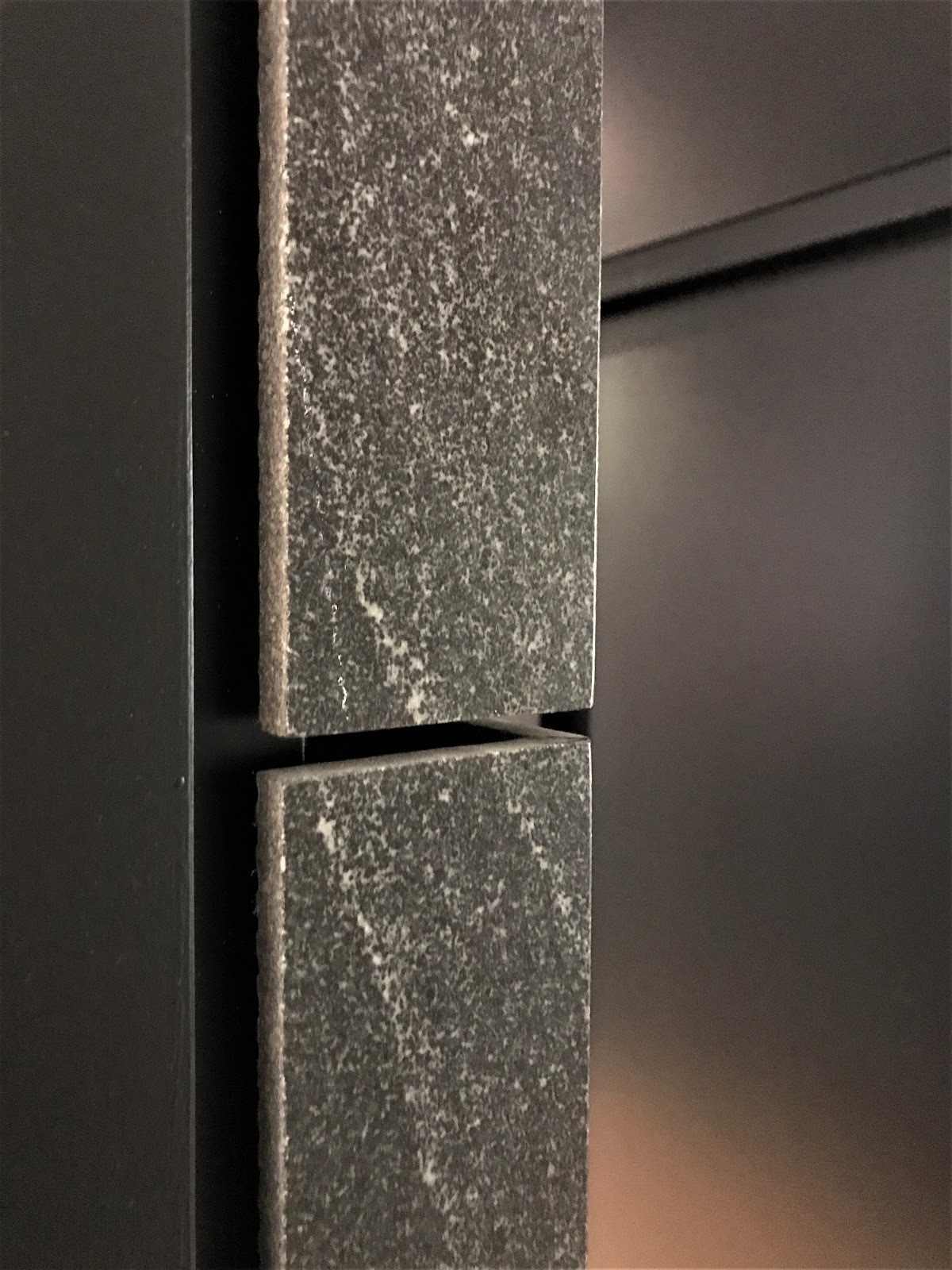 Ultra-thin American Black granite appears to float, supported by the invisible Eclad 1 structure.
The new design is based on an aluminum grid system in combination with undercut anchors attached to the back of the 1 cm panels so they remain concealed when using such thin stone. The panels are available up to 9 feet by 5 feet and weigh only six pounds per square foot on average, making the installation process an easier task.
LEARN MORE ABOUT STONE FACADE SYSTEMS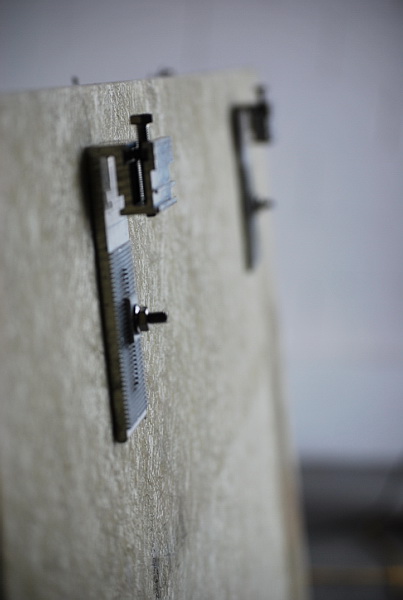 Anchors remain hidden for an unobstructed surface.
Installation at twice the pace
The complete system provides pre-drilled lightweight stone panels over a protective cladding structure that makes once heavy stone panels easier to install. Traditional cladding systems rely on thicker stone combined with cumbersome cramps, straps and clips. With Eclad 1 installers simply slip slabs into place and sink screws into the predrilled holes.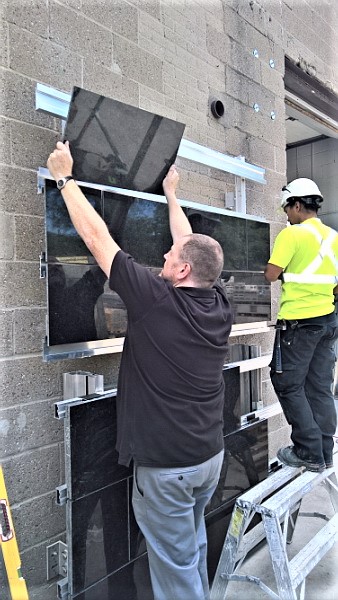 An example of a small scale Eclad 1 system mock up.
"It's basically a different way of installing the stone," Vega said. "With traditional cladding systems, the anchors have to be installed one-by-one. The process is more labor intensive. On average, it's twice as fast installing panels using the Eclad grid system."
One system, three versions
On interior walls the system enables designers to define spaces with floating walls or elevate the look of existing walls with dramatically veined large format slabs of marble or granite. Granite panels are suitable for both interior and exterior applications, marble for interior only.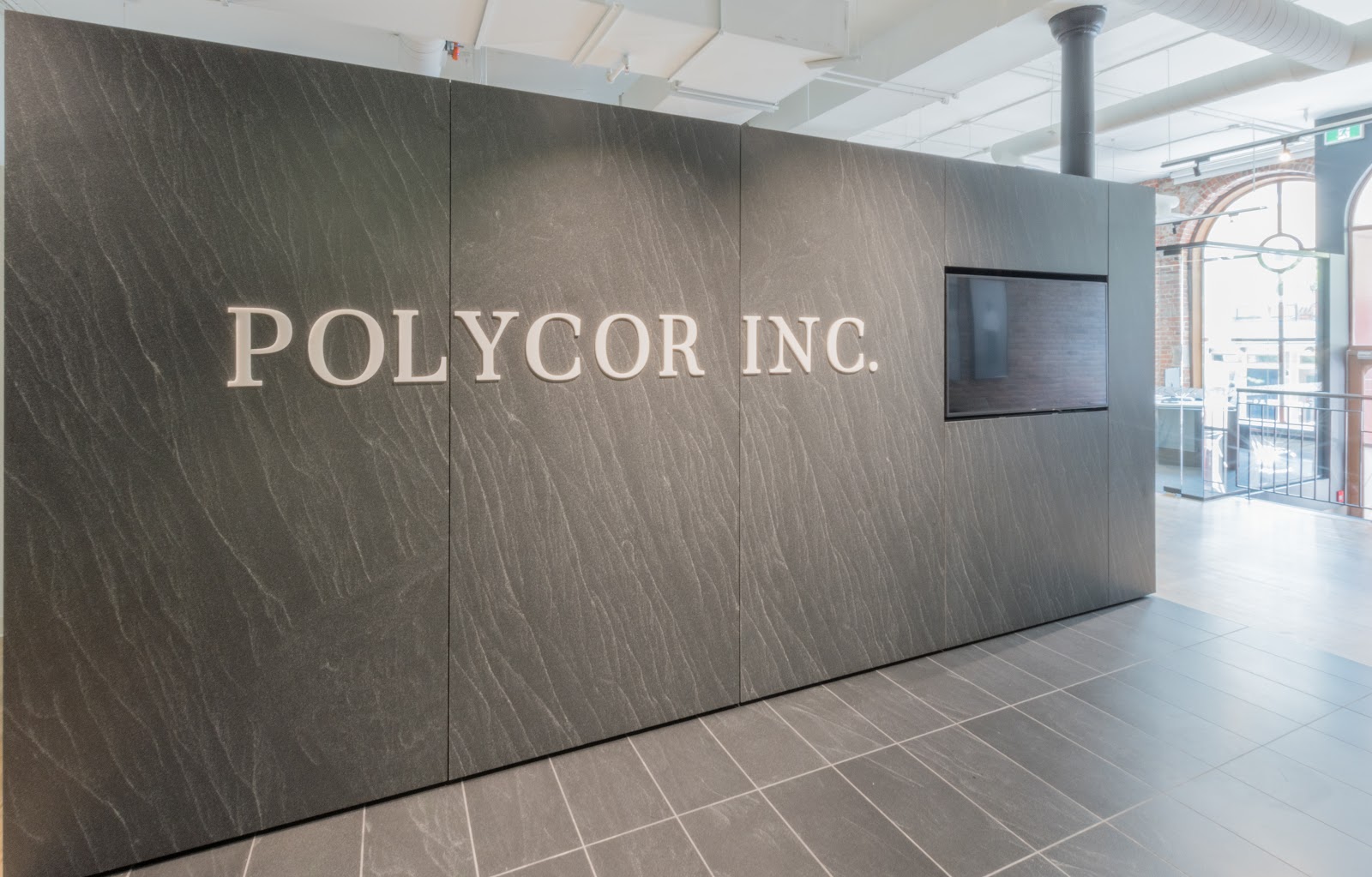 As soon as employees and guests walk in to the new Quebec headquarters, they're greeted by a floating wall of 1 cm American Black granite.
Technical components
The grid components are made of durable, corrosion resistant, non-combustible aluminum which withstands extremely high heat and will not burn. "The advantage of our thin panels against other systems such as honeycomb panels is that the stone is mechanically anchored to the system, and not glued," Vega said.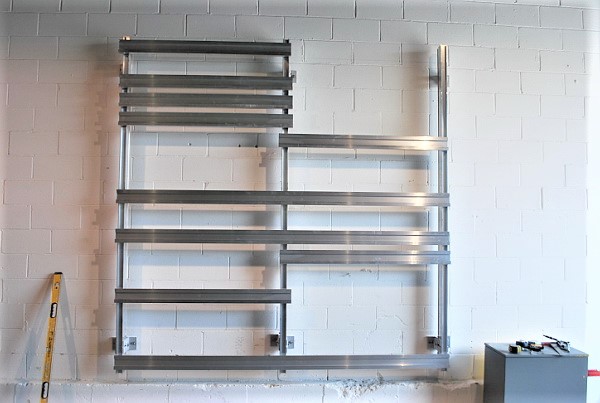 Open system prolongs facade life
On a building's exterior the Eclad system acts as a ventilated rainscreen, which assists in keeping the structural wall dry. This open system design allows outside air in and helps divert water and humidity that may penetrate behind the natural stone panels. The moisture is diverted through the horizontal and vertical joints and channels on the grid, helping to maintain the load bearing wall integrity.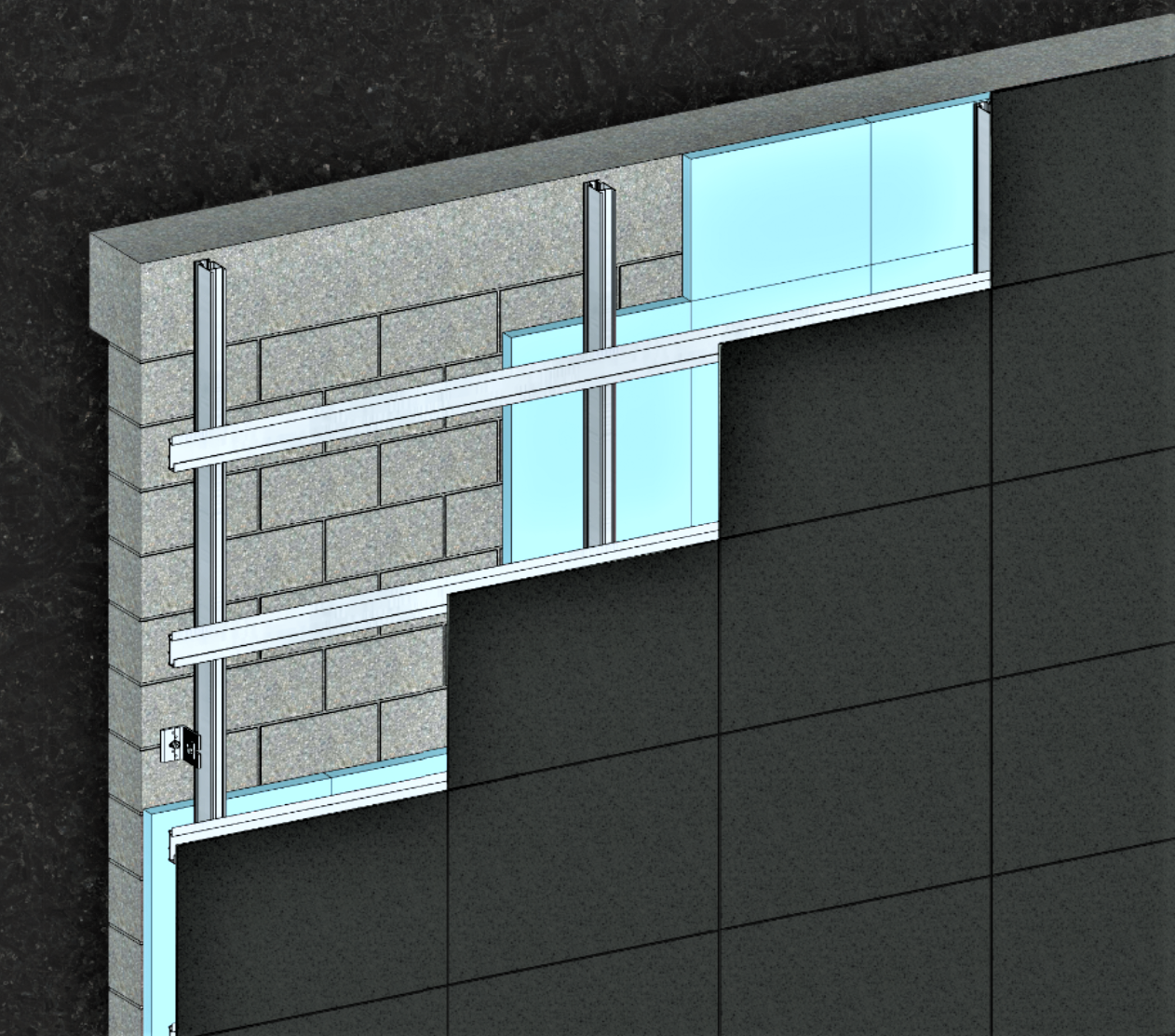 Improvement over older methods
Designed for flexibility the system includes three versions suitable for cladding over different surface materials. All are suitable for large scale architectural projects, new construction, retrofits and restorations.
Polycor got a chance to use the new Eclad 1 recently for its own retrofit project when the company moved its headquarters into a 18-century building in Quebec city. A sprawling open space with floor to ceiling windows, exposed brick and wide open industrial spaces. Those elements are the stuff of a designer's dream, but present a challenge when you want to showcase a portfolio of the world's oldest and heaviest building materials, and define spaces for the staff to actually work.
Other feature walls are incorporated throughout the building in various materials, finishes and sizes including 1 cm Pearl Grey honed marble from the Georgia quarry, that's bookmatched to emphasize the dramatic veining. Take a virtual tour of the Polycor headquarters here.
The advantage of the 1 cm slabs, Vega said, is the ability to create a free-standing wall of stone within an existing structure without concern of weight tolerances. "If it was any thicker, we would have needed a much stronger structure," he said of the centuries old building.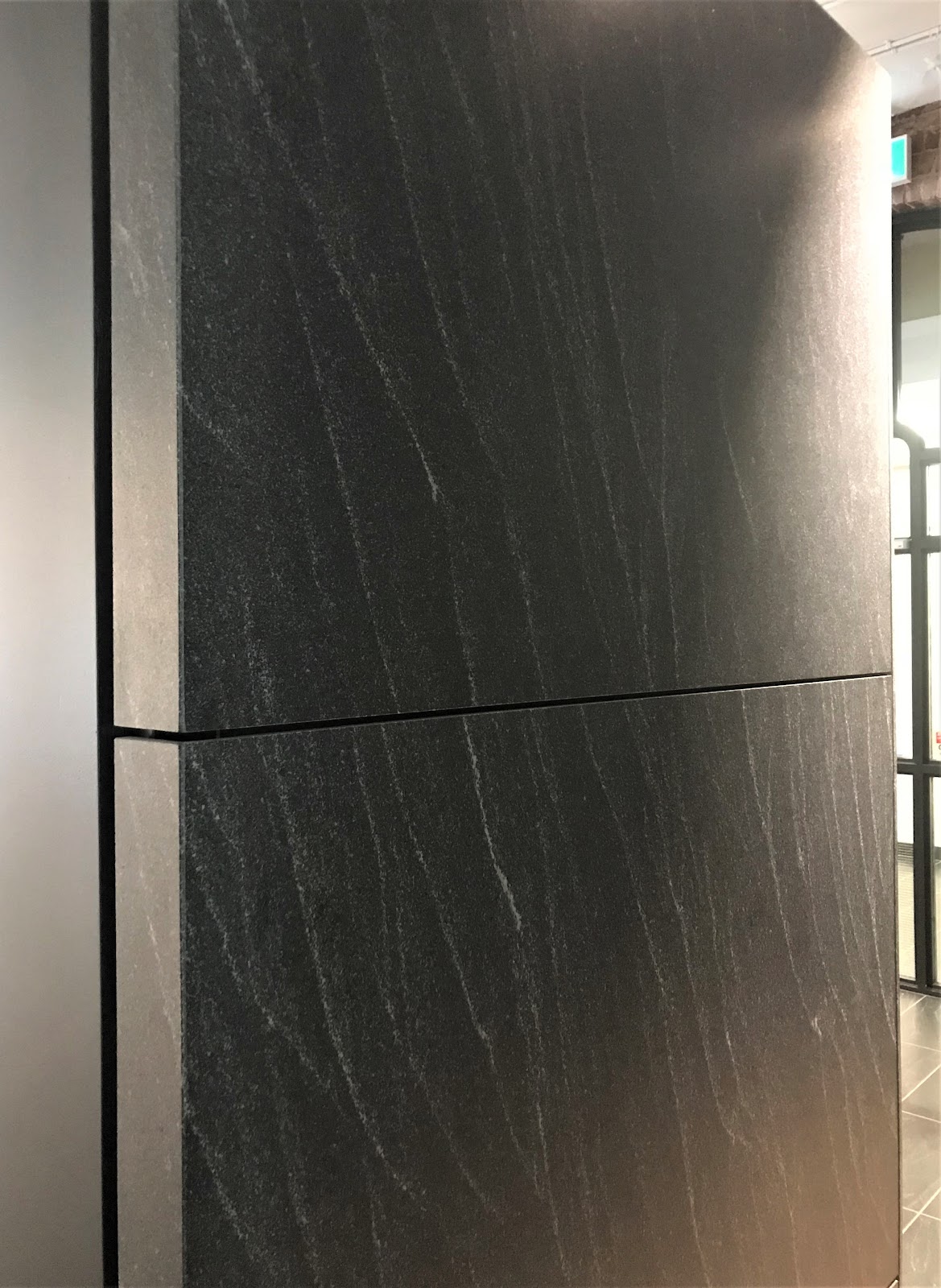 Polycor's architect Étienne Bernier of Hatem + D mounted American Black granite slabs with the Eclad 1 to create an interior feature wall that shows off the unique linear veining of the stone. Mitered corners give the appearance of weight but the slabs are actually only ⅜" inch thick.
"Before we got together with eclad, it was extremely difficult explaining to people the new system — explaining how it's attached to the wall, how it works," Vega said. "We're always trying to work with (those who are) open minded, easy to work with — who have the same kind of thinking out of the box innovation. "
Now when Vega calls on architects interested in thin stone cladding he has a complete solution. Stone at a third of the weight and a installation system at twice the speed.