Retired Veteran Creates Picture-Perfect Farmhouse With American Stone
When disabled combat veteran Stacy Pearsall and her husband began the process of designing a new house about 40 minutes outside Charleston, South Carolina, they quickly realized there were a lot of decisions that needed to be made to create what she calls their "final house." But one thing the professional photographer and veteran advocate knew for sure: she wanted the project to be all-American.
"We wanted to use as many U.S. sourced materials as possible, crafted by veterans and veteran family members, as well as veteran owned businesses," said Pearsall, who was a military photographer until injuries sustained from roadside bombs on two separate occasions forced her to retire from the Air Force.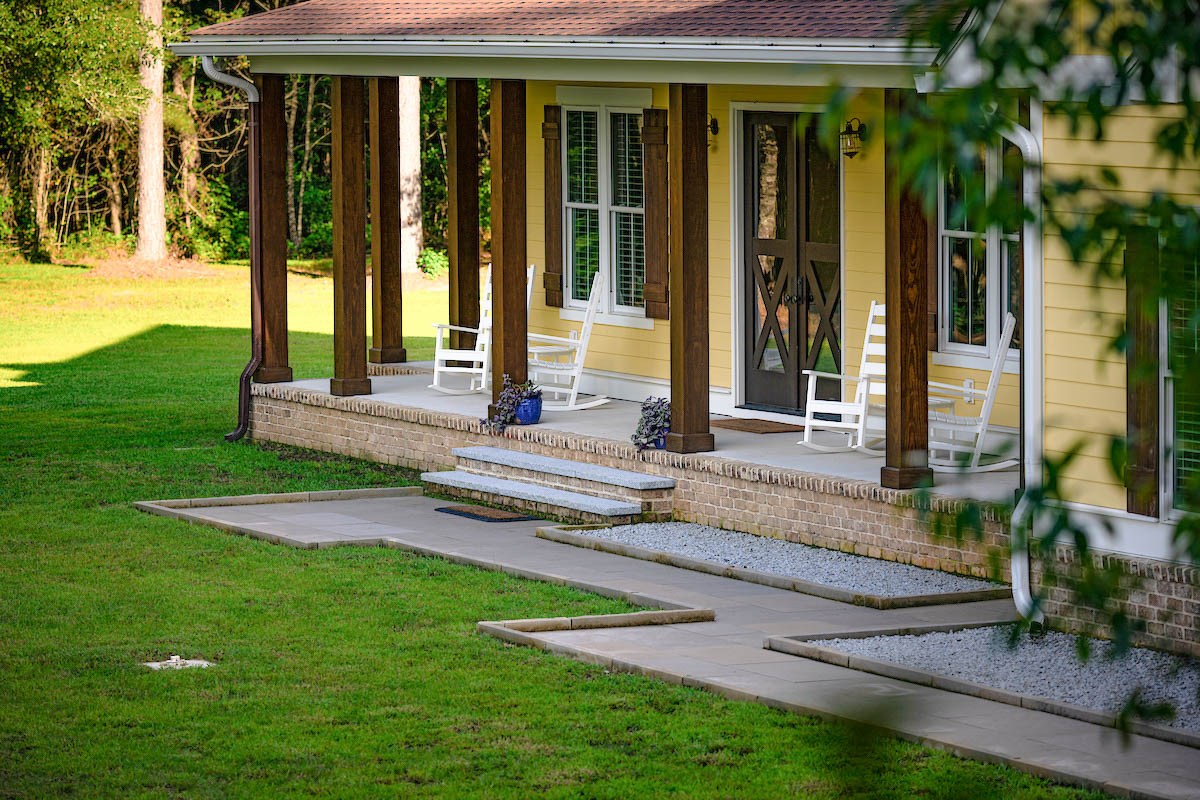 While recovering from the combat injuries she sustained in Iraq, Pearsall spent many hours in VA waiting rooms surrounded by veterans from every generation and branch of service and was inspired to honor and thank those who served their country by doing what she knew best: taking pictures. In 2008 the Nikon ambassador took her first portrait for what is now known as the Veterans Portrait Project, and since then has captured over 7,500 veterans' portraits that has brought her to 150 cities in 30 states.
It was during an exhibit of Pearsall's work at the Woodruff Arts Center in Atlanta that Polycor CEO Patrick Perus discovered the photographer and invited her to take portraits of the stone company's employees who served in the military. Pearsall traveled to Barre, Vermont to set up her studio and captured 34 veterans at the quarry, from all generations and services, in a moving series of photos, posed atop a carved granite pedestal for "The Living Monuments" project.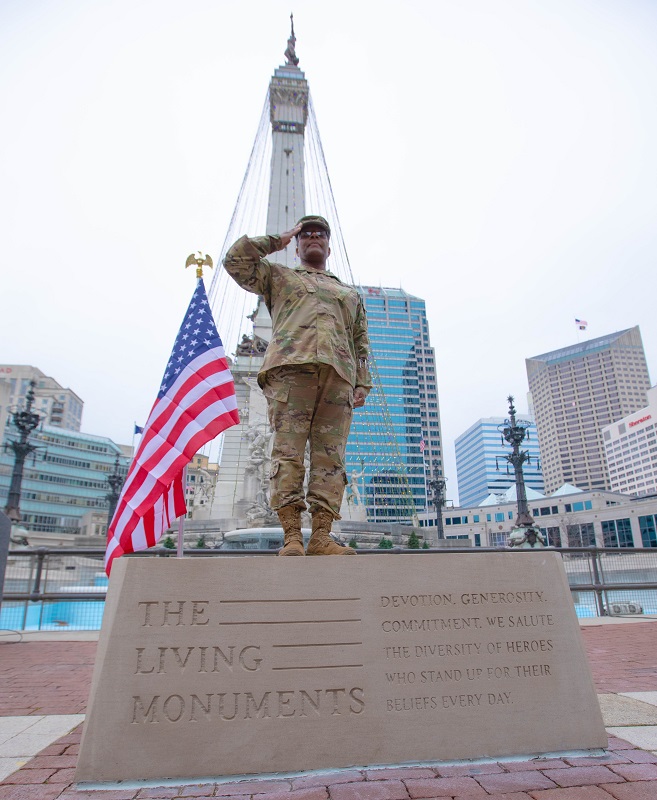 The Soldiers & Sailors Memorial in Indianapolis received a new addition carved from the same Indiana Limestone as the rest of the 1902 memorial.
"That really solidified just how much I value their company for hiring veterans and also for recognizing their service and honoring them publicly," said Pearsall.
So when it came time to start thinking about what materials she wanted to use for her new home construction — which sits on 45 acres that include horses, a greenhouse, gardens and walking trails — Pearsall said choosing Polycor's natural stone products for outdoor hardscaping and interior use was a "no-brainer."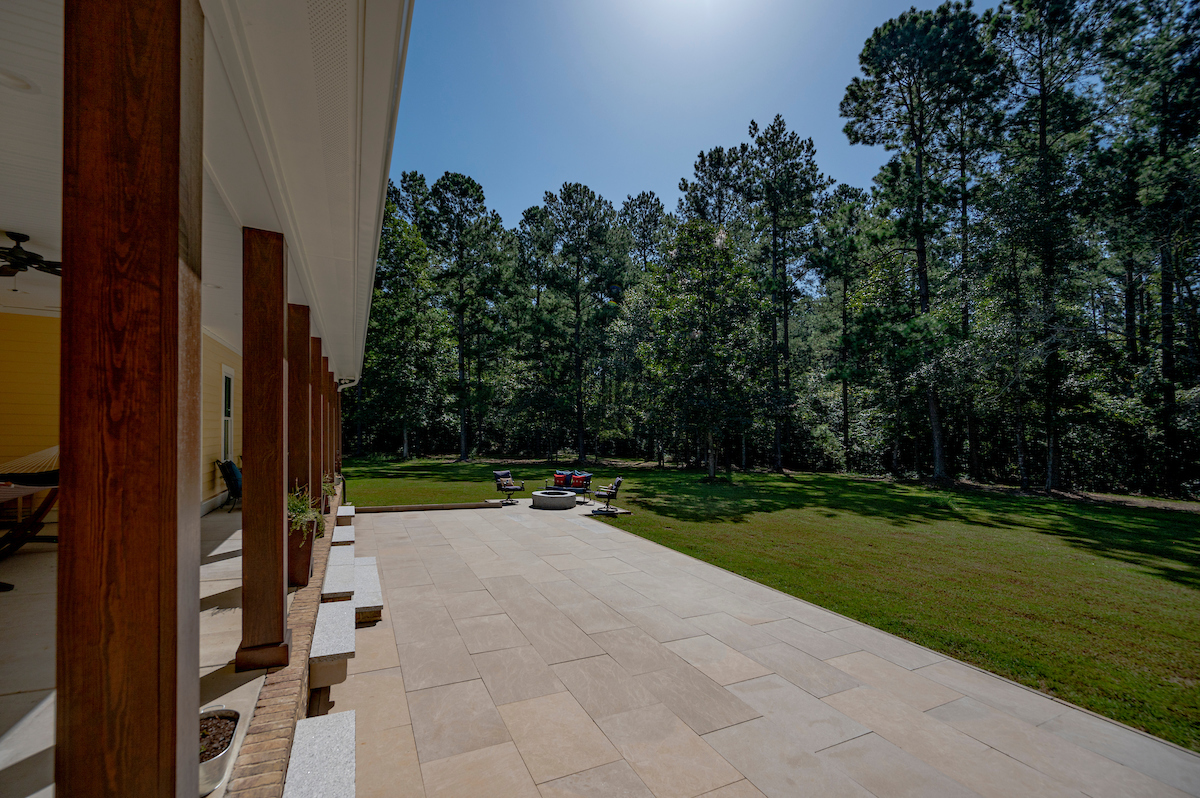 Indiana Limestone – Full Color Blend™ slab pavers and Woodbury Gray™ granite treads from Vermont define the backyard
"I think it goes without saying that the stone that Polycor has in its portfolio is beautiful, so that part was easy," she said. "But I think I was so insistent on using them because they go out of their way to hire veterans. Knowing that by supporting Polycor and using their products for my house, I was also supporting my fellow veterans and that was important to me."
It was also appealing to Pearsall that all of Polycor's stone products are quarried and produced in North America and that many of its historic stones have been used to construct iconic American buildings as well as for many of the country's monuments honoring veterans. INDIANA LIMESTONE – FULL COLOR BLEND™ has been used for countless national monuments such as the Soldier's Memorial Military Museum in St. Louis, MO, and the War Memorial Auditorium in Nashville, TN. Other legacy buildings such as the National Cathedral in Washington, D.C. and seats of government like the Pentagon have been built with Indiana Limestone.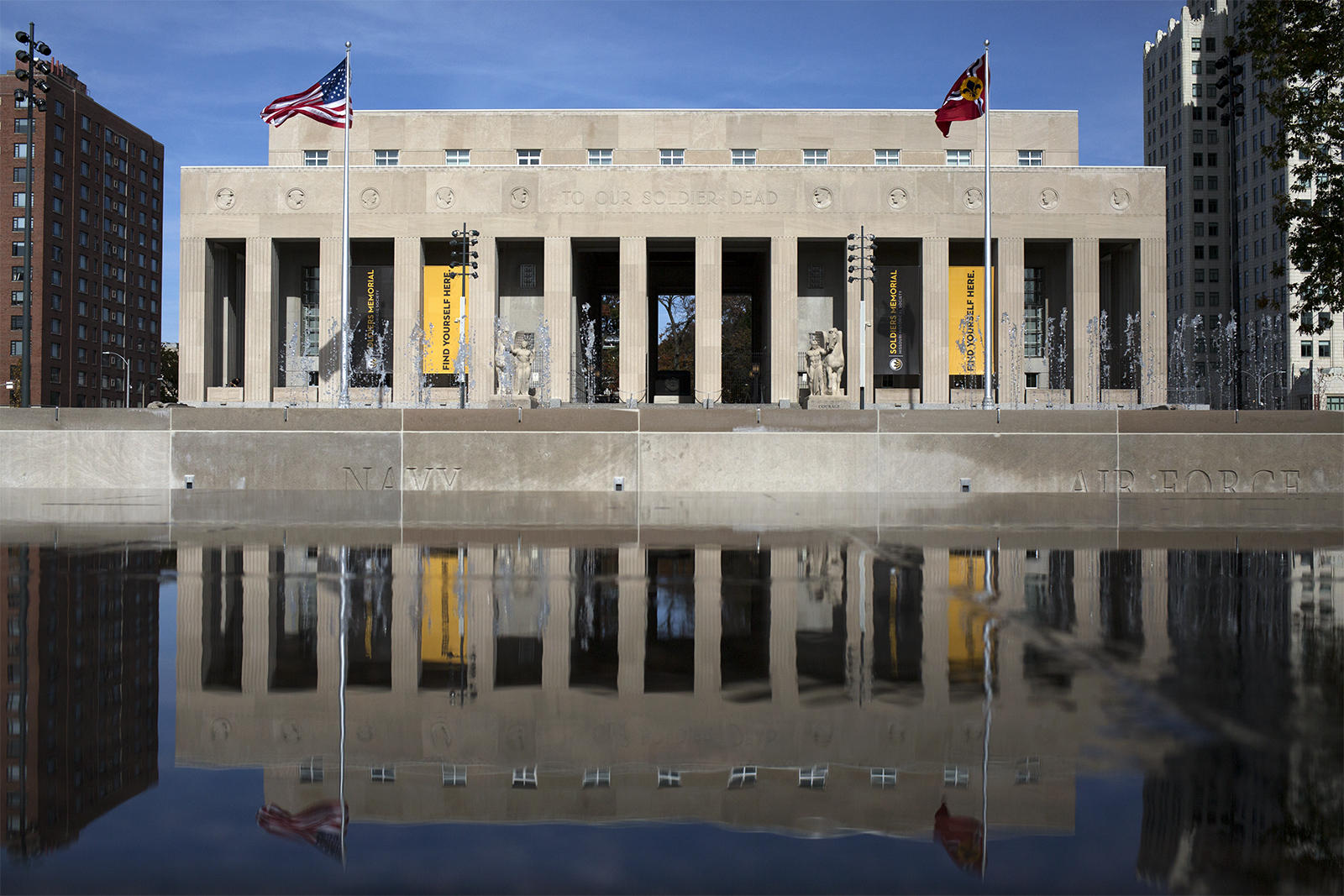 Soldier's Memorial Military Museum, St. Louis, MO, clad in Indiana Limestone – Full Color Blend™. Dedicated in 1936 by Franklin Delano Roosevelt.
"We loved the historic value of the Indiana limestone and wanted it for the home's exterior," said Pearsall, who used the American stone for pavers and other hardscaping applications. The buff-beige tones of the limestone complemented the surrounding natural landscape with its expanses of green fields dotted with clusters of pine trees and oaks. "Our house is a farmhouse so we wanted to keep everything warm and natural." Large format Indiana Limestone slab pavers, in 24″ x 36″ x 1 1/2″ sizes, define the walkway leading to the entry of the home and are bordered with 4″ thick x 3″ wide limestone edging.
When Pearsall learned about the full Polycor Hardscapes & Masonry offering she decided to incorporate other materials with the Indiana Limestone ‐ Full Color Blend™, so she chose WOODBURY GRAY™ granite from Polycor's Vermont quarry to enhance the farmhouse look and define the outdoor spaces.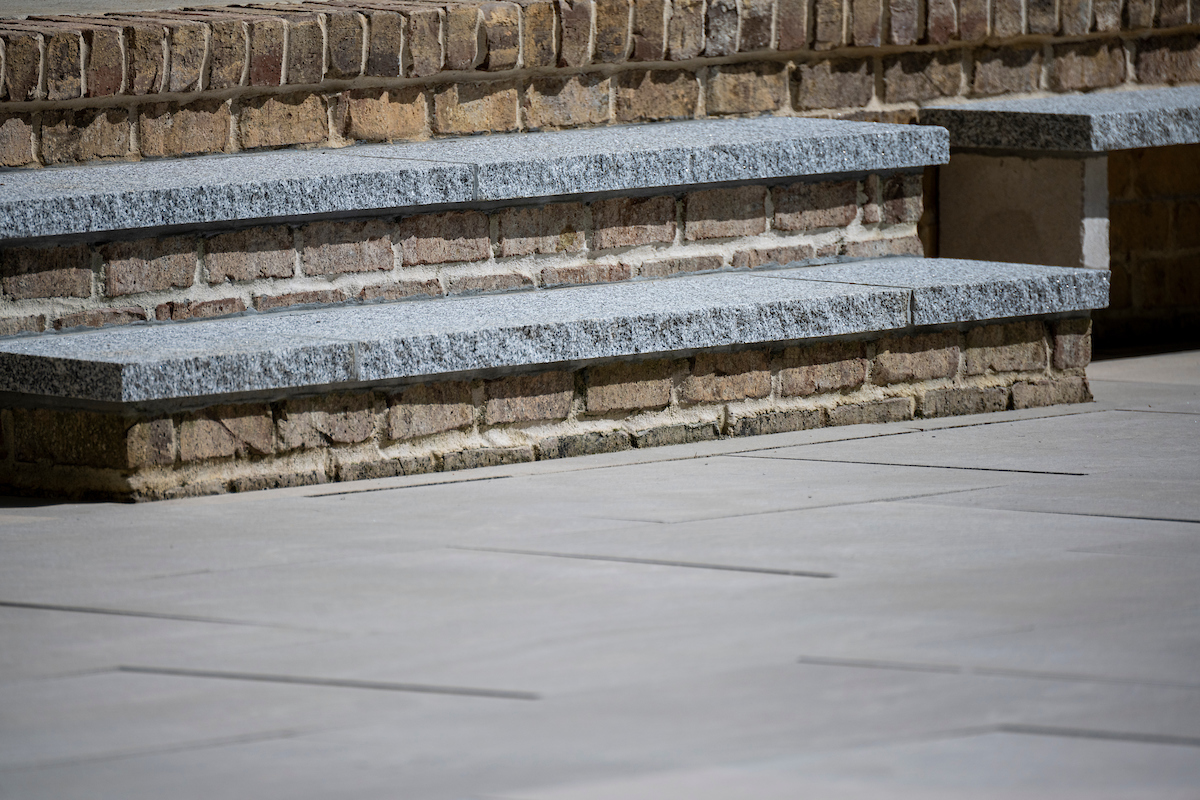 2″ Woodbury Gray™ granite treads with split-faced edges were used throughout the property.
The front entry to the home, as well as the walk out to the back patio, made great use of the Woodbury Gray granite for 2" thick stair treads with split faced edges. The light grey and white flecks of the granite pair nicely with the neutral tones of the Indiana Limestone – Full Color Blend™. Pearsall's mason, New Englander (turned southerner) John Syrjala, came up with a creative use for off-cuts and extra material. By drilling, pinning and adhering custom cut limestone corbels with epoxy he made sturdy supports for custom floating benches. Made from Woodbury Gray granite stair treads, the benches tied in to the brick wall of the back porch at just the right height.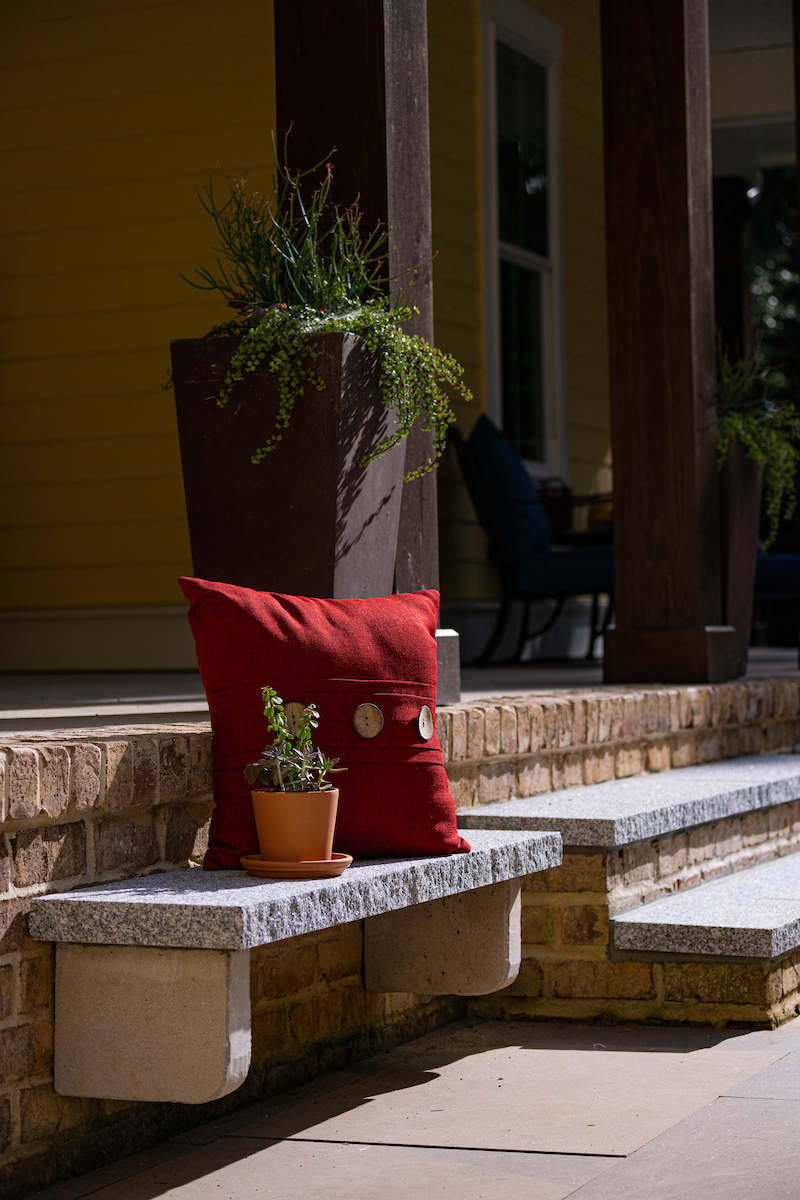 Custom cut Indiana Limestone corbels provide support for Woodbury Gray™ granite treads used as floating benches.
"We live in South Carolina, which is like the vacation capital of the world," she laughed. "Of course we spend a lot of time outside so we wanted a pretty expansive patio that we can enjoy throughout the year."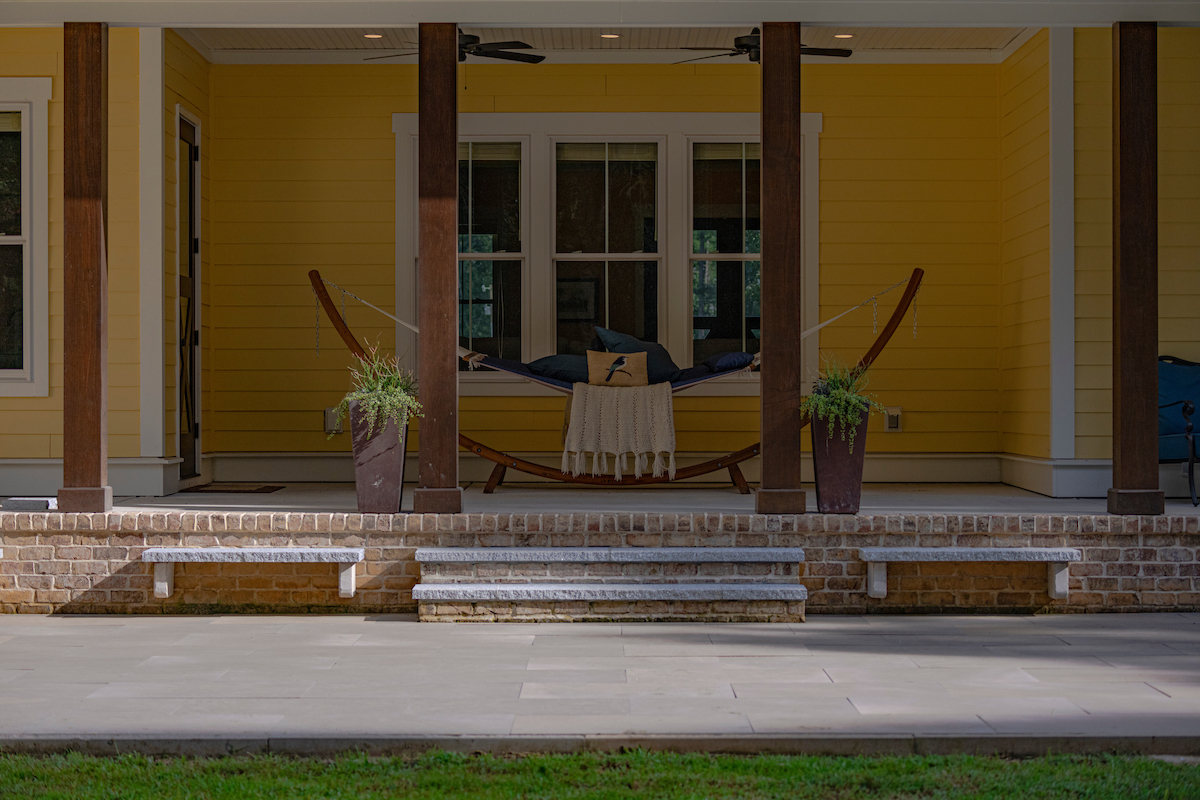 The Indiana Limestone – Full Color Blend™ patio was designed with 1 ½" thickness, 24" x 36" slab pavers with a honed finish, installed over a compacted aggregate base. The patio is bordered with 4" thick, 3" wide limestone edging for added visual interest and serves as decorative, yet functional, edge restraint.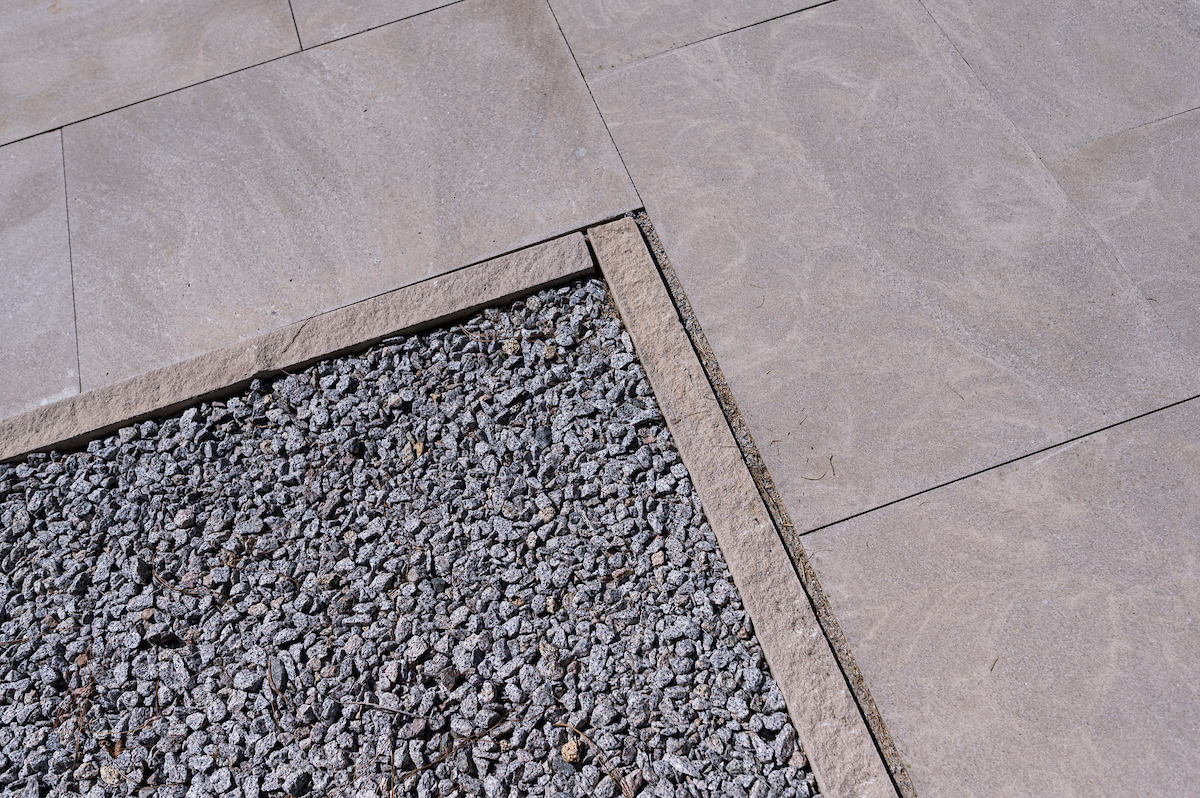 When paired together, edging and slab pavers create a tailored appearance
The pavers run along the entire back of the house and connect to a smaller, squared off patio space where the couple incorporated a Woodbury Gray™ granite fire pit for staying warm as temperatures finally begin to drop in the fall. Cut from solid blocks of 7" thick Vermont granite, the two-tiered firepit brings an appealing texture to the outdoor space with it's split-faced surface. "There's nothing like cracking a beer and hanging out by a fire pit," said Pearsall. "I'm really looking forward to the weather cooling off down here to start using it."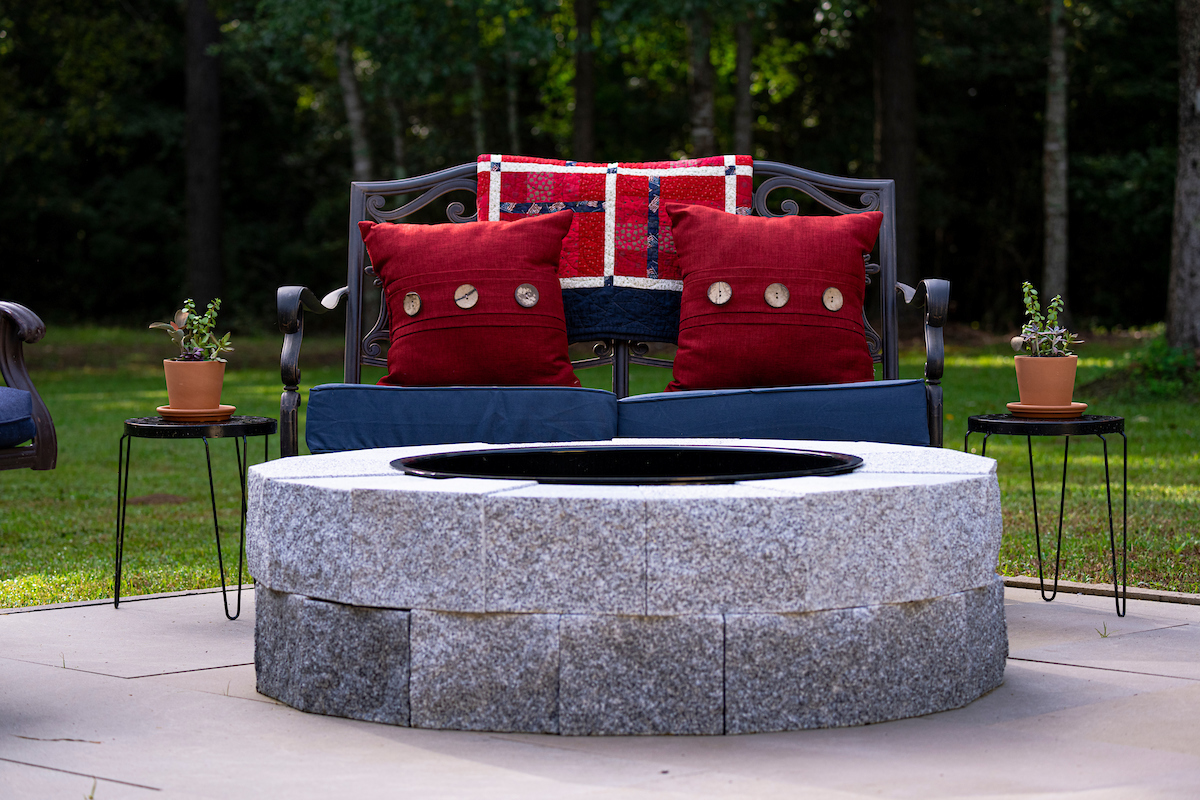 Woodbury Gray™ granite two-tiered firepit with split faced fronts adds a durable and textured contrast to the honed Indiana Limestone pavers.
Pearsall had the opportunity to bring on a number of fellow veterans as craftspeople for the job, in particular the hardscape mason and cabinet maker. The couple wanted to carry the same theme of locally sourced stone to the interior spaces so they chose Polycor's KODIAK BROWN™ granite in antiqued finish for the kitchen countertops, available through Polycor's residential slabs division.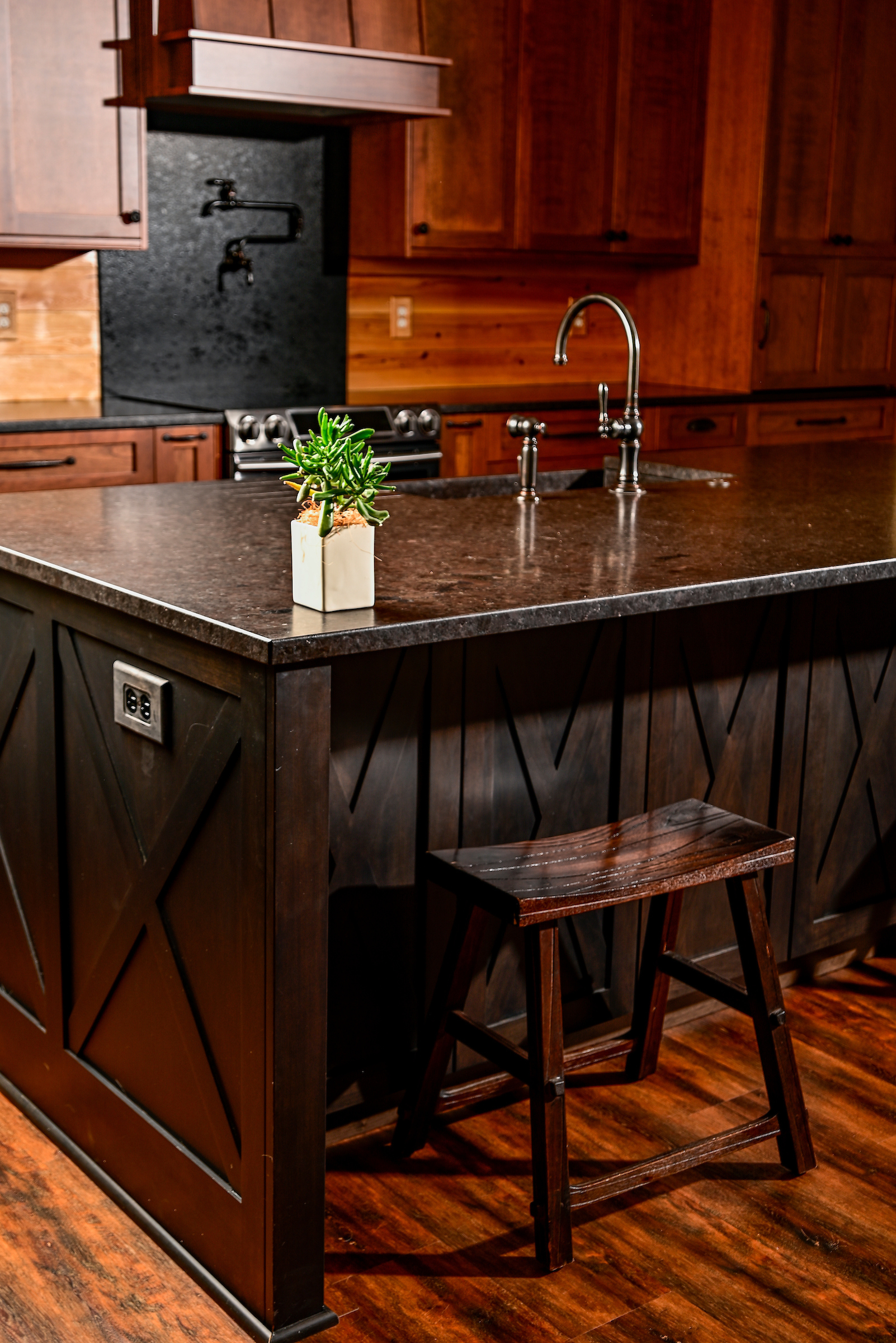 Warm woods and Kodiak Brown™ granite with antiqued finish lend themselves to an authentic, yet contemporary, American farmhouse feel.
The North American quarried granite echoes the down home vibe of the rest of the house, from the custom fabricated granite farm sink and full height backsplash to the bathroom countertops. "The natural materials and earthy tones really married well with where we were going. It's been rewarding knowing where the stone we used was coming from and having the luxury of knowing that the hands that touched it were my fellow veterans."