Black Countertop Kitchen Grounds A Classic Seaside Maine Home
Interior designer Grant K. Gibson is known for creating classic and beautifully livable spaces with a refreshing edge. His work has been featured in design publications including Architectural Digest, Elle Decor and House Beautiful, among many others. His designs are usually inspired by his travels around the world — like India, Japan, Morocco, and Mexico — but the inspiration for his summer home in Maine was decidedly more local.
Grant and his partner Marc are both from California, but there was something special about the coast of Maine that kept drawing them back every summer. They found so much more than lobster, blueberries, and L.L. Bean: an inspired take on home, relaxation, and luxury.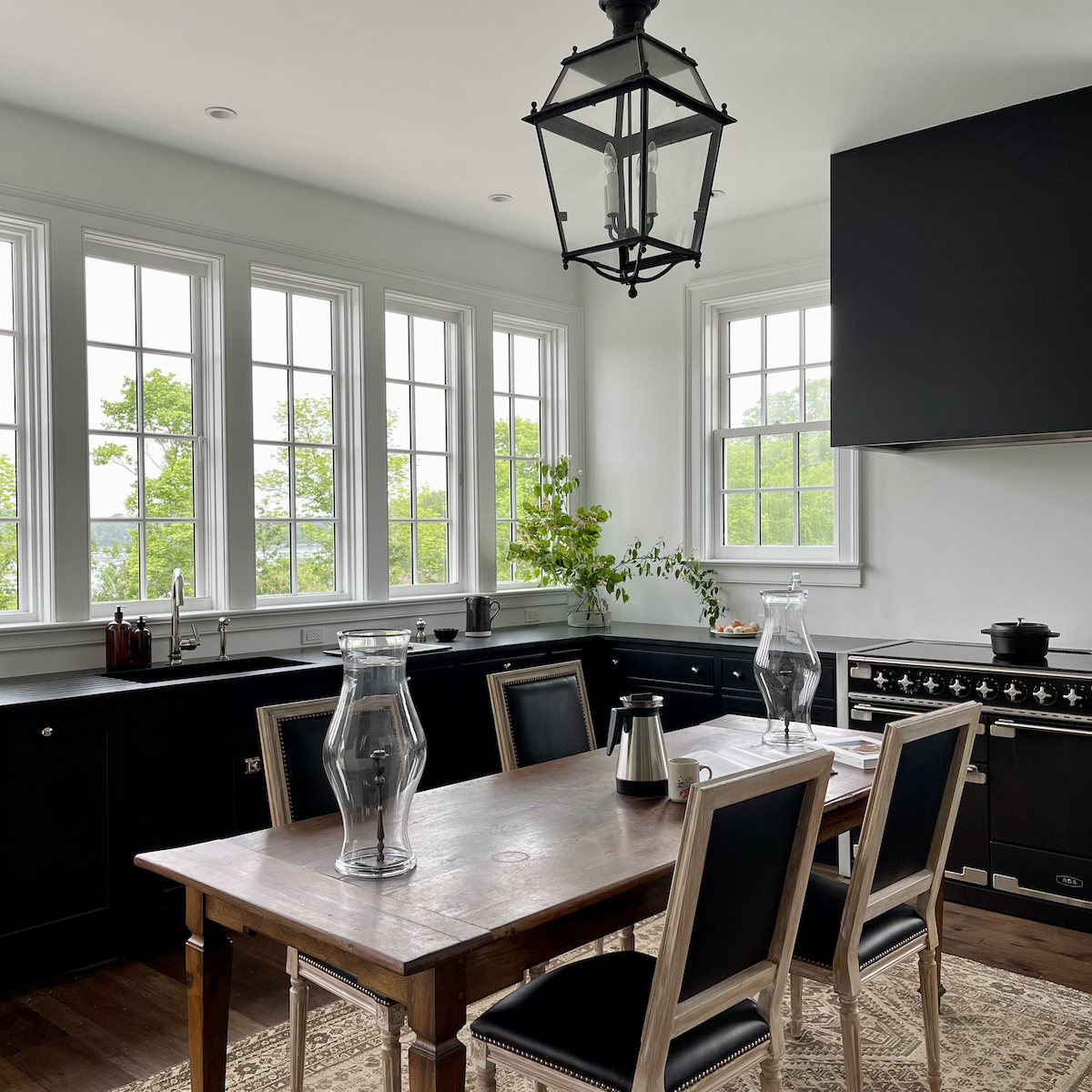 Waterfront views were the main focus for this kitchen design with black soapstone countertops and black cabinets
Far enough north to avoid the more crowded areas closer to Boston, in the quaint seaside village of Castine, they had stayed as guests of their friends over long summers. And after a couple of years they found a summer cottage to rent and were happy there, while quietly keeping their eyes on the local real estate market.
So naturally, when they decided to buy in Maine, Castine is the area where they focused their search.
"We joke around and say we decided to have a midlife crisis and move to the middle of nowhere in Maine," said Gibson.
Their original idea was to find a tiny, older Cape Cod style house and remodel and modernize it, but every house they found had so many problems — needing new windows or insulation or work in the basement — that they decided to build a new house, designed to look like the classic style Grant loves.
"I think some people have always had this dream that they always wanted to build a house — that was never a dream of mine," said Grant.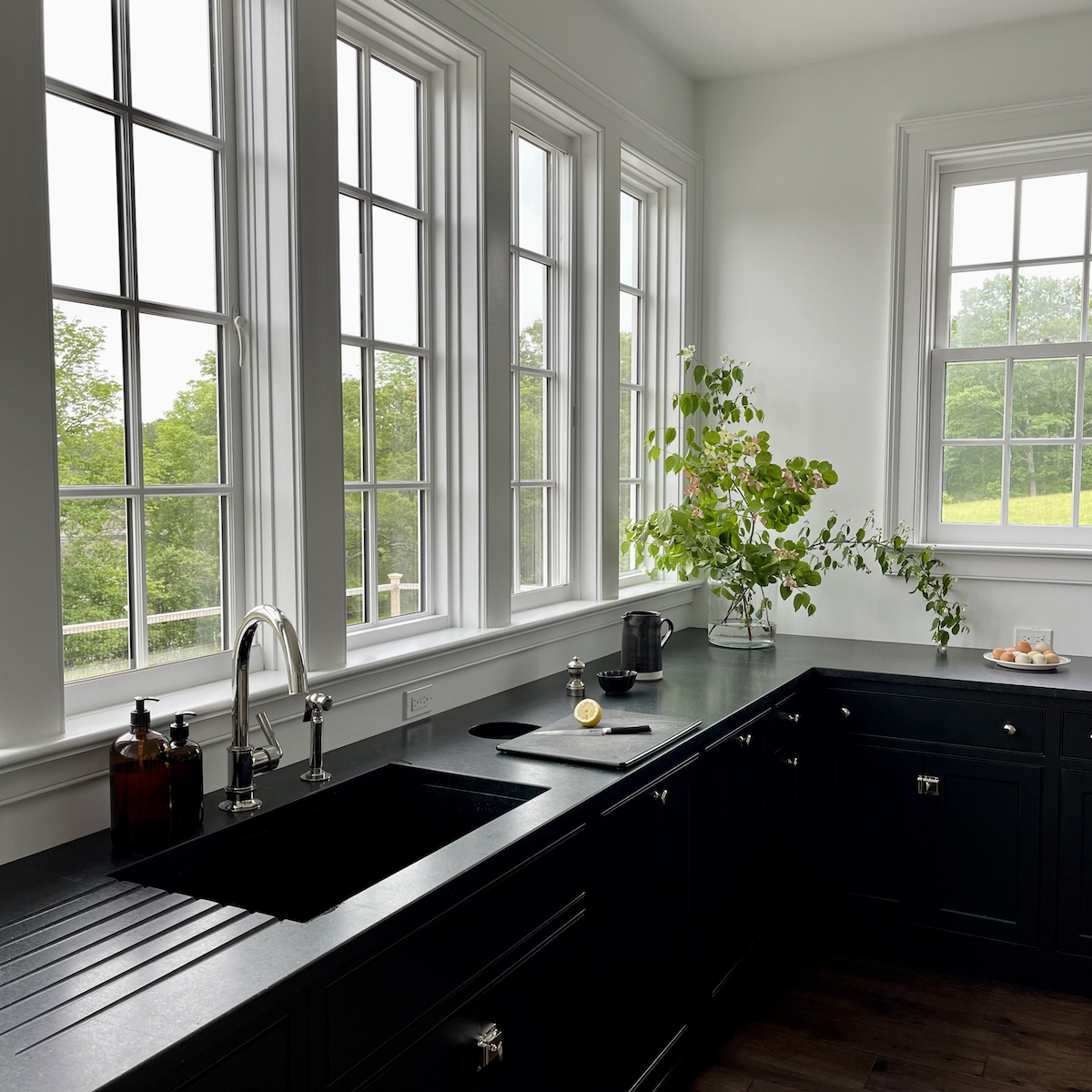 Perimeter black soapstone kitchen countertops don't distract from the Maine home's views of the bay
They soon found five acres on the Penobscot Bay and a great architect, and today they are happily settled into a beautiful home—but the path here wasn't always easy.
"We were washing dishes in the shower over in the guest house," said Grant with a laugh. "There's not a real kitchen there — it's meant to just be for guests to make a cup of coffee — we were over there longer than I thought we would be, using a hot plate and a toaster oven."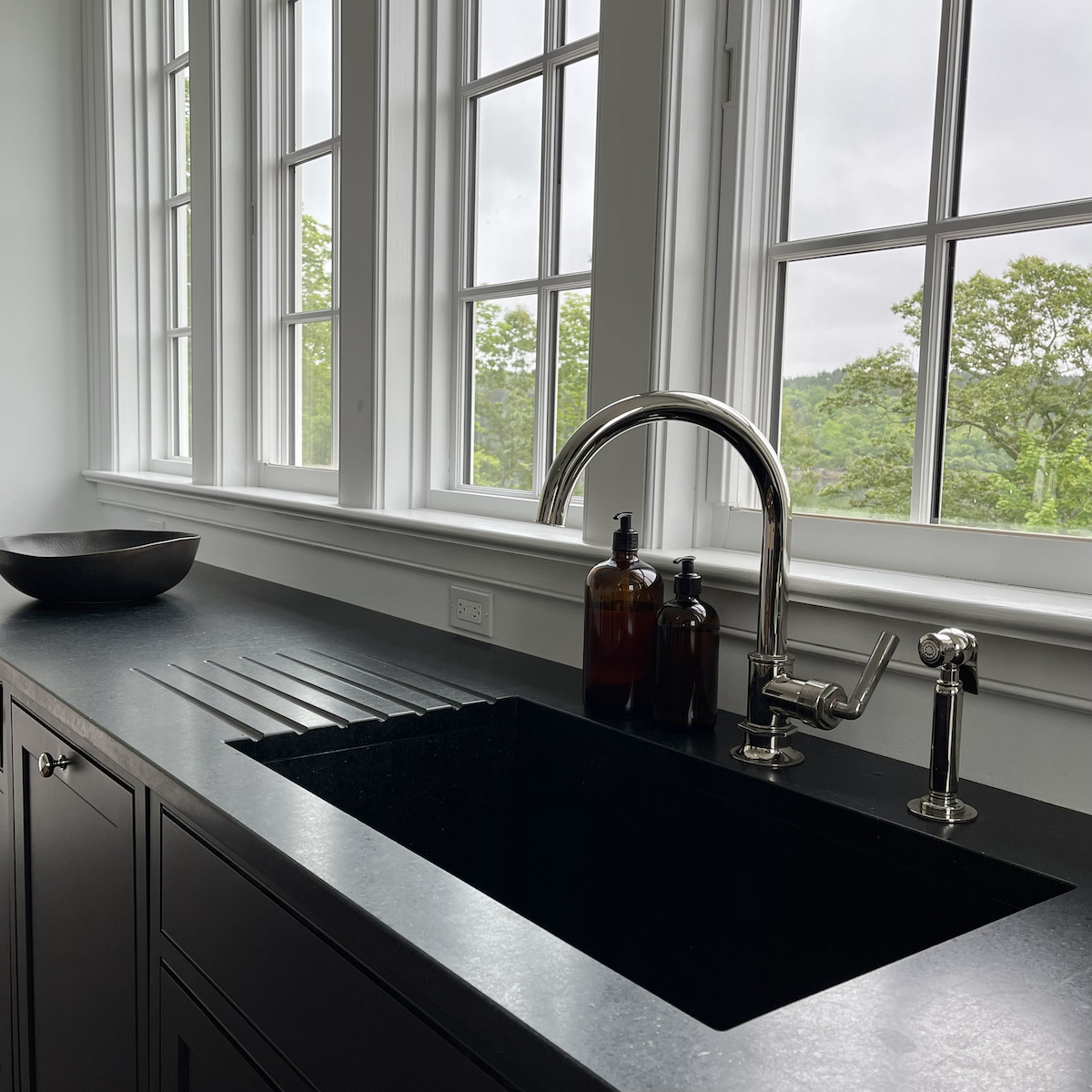 The main house is a classic two-story, with predominantly white walls and a medium hardwood floor that make it very light and airy, and with lots of windows to focus on the view of the water. The kitchen, in particular, was designed to maximize that bay view. With no upper cabinets and a wall of windows, Grant can bask in the bright light reflecting off the water while tidying up, a clear improvement over those guest house shower views.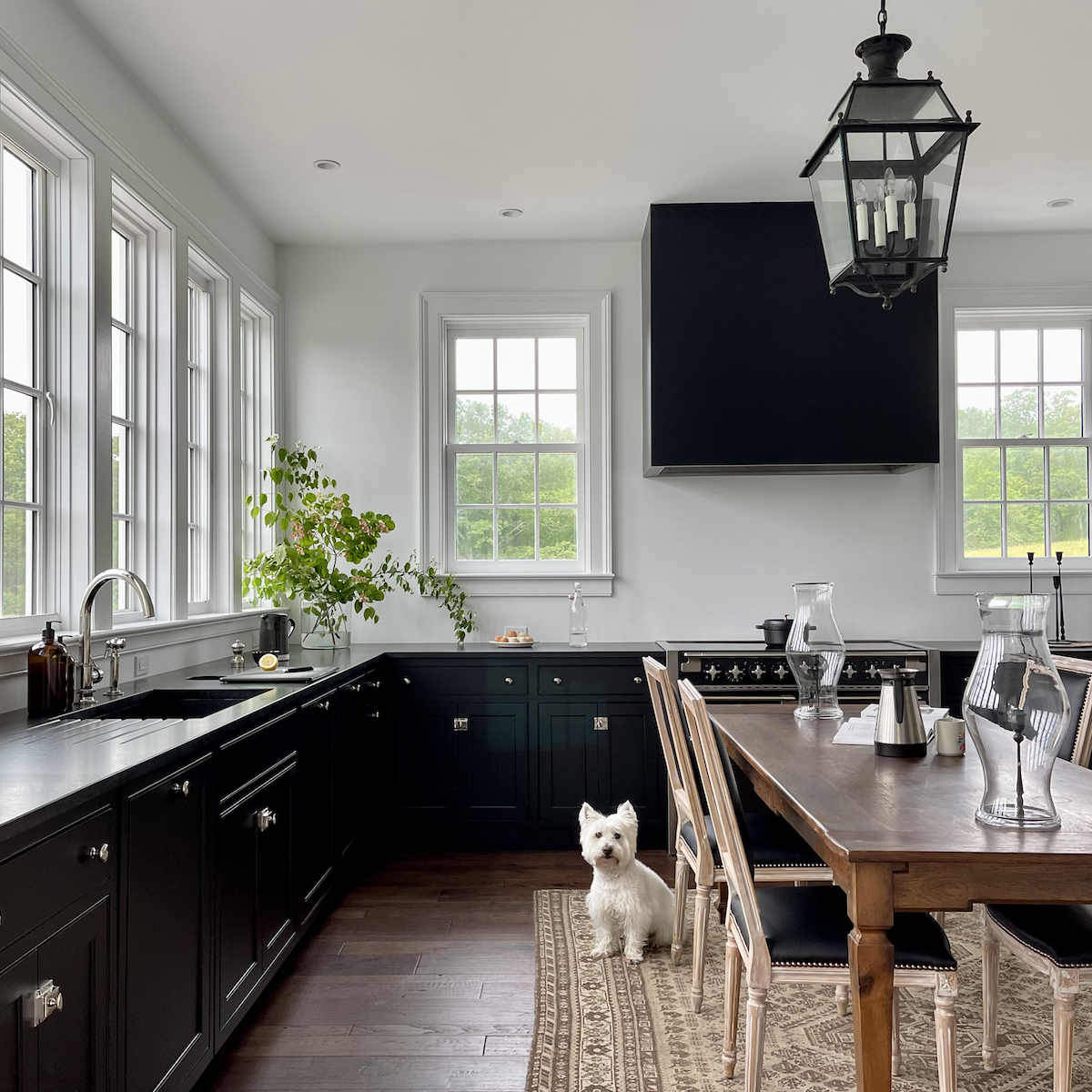 Interior designer Grant Gibson't classic Maine home updated with modern, natural materials inspired by the coastal views.
Grant's extensive portfolio is full of gorgeous kitchens with white marble counters – his own home in San Francisco had them – but he felt that here they would be too busy and pull focus from that important view so he opted for a black countertop kitchen.
"In my head there were black countertops and black cabinetry around the perimeter of the kitchen," he said. "That way, it recesses away and doesn't detract from the view."
In a space that is otherwise so light and bright, it was a bold decision to go with black kitchen countertops on black cabinetry.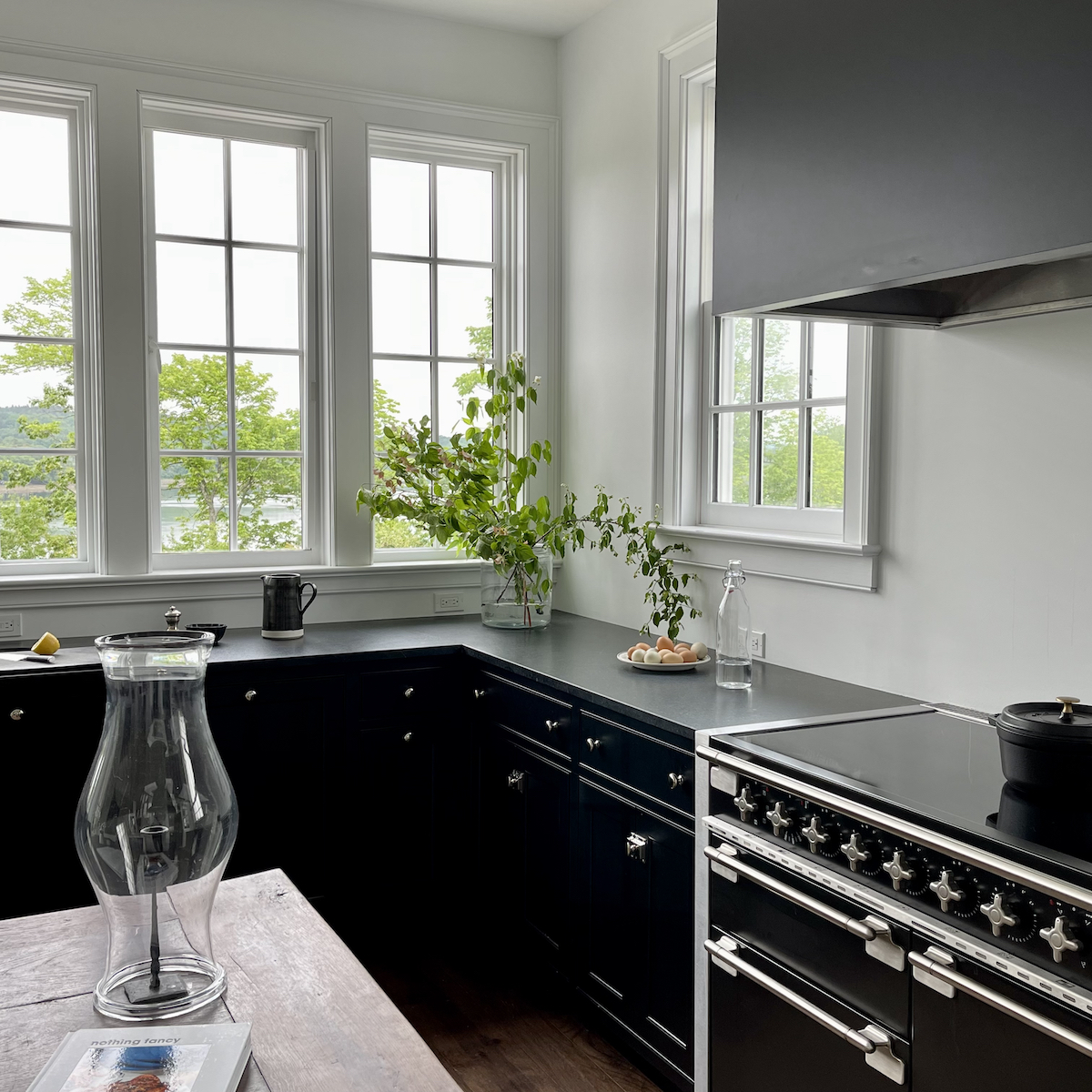 "Everyone from the electrician on said to me that it was going to be too dark in here, but they were wrong," he said. "I just don't think it's a common thing to do, the black on black." A kitchen with black countertopsandblack cabinets? Yes, you heard that right.
From the shingled roof to the chimney made with antique reclaimed bricks from Connecticut to the hardwood floors, being mindful of the New England location and being true to the feel of history that they wanted to capture was important for each decision. Black marble kitchen countertops were at odds with the local design vernacular and black quartz was too cliche. Those factors led Grant to Alberene Soapstone™ for the kitchen's black soapstone countertops.
"It's such an interesting stone,' said Grant. "It's not just black, it has veining and other colors and grays throughout and doesn't feel monolithic.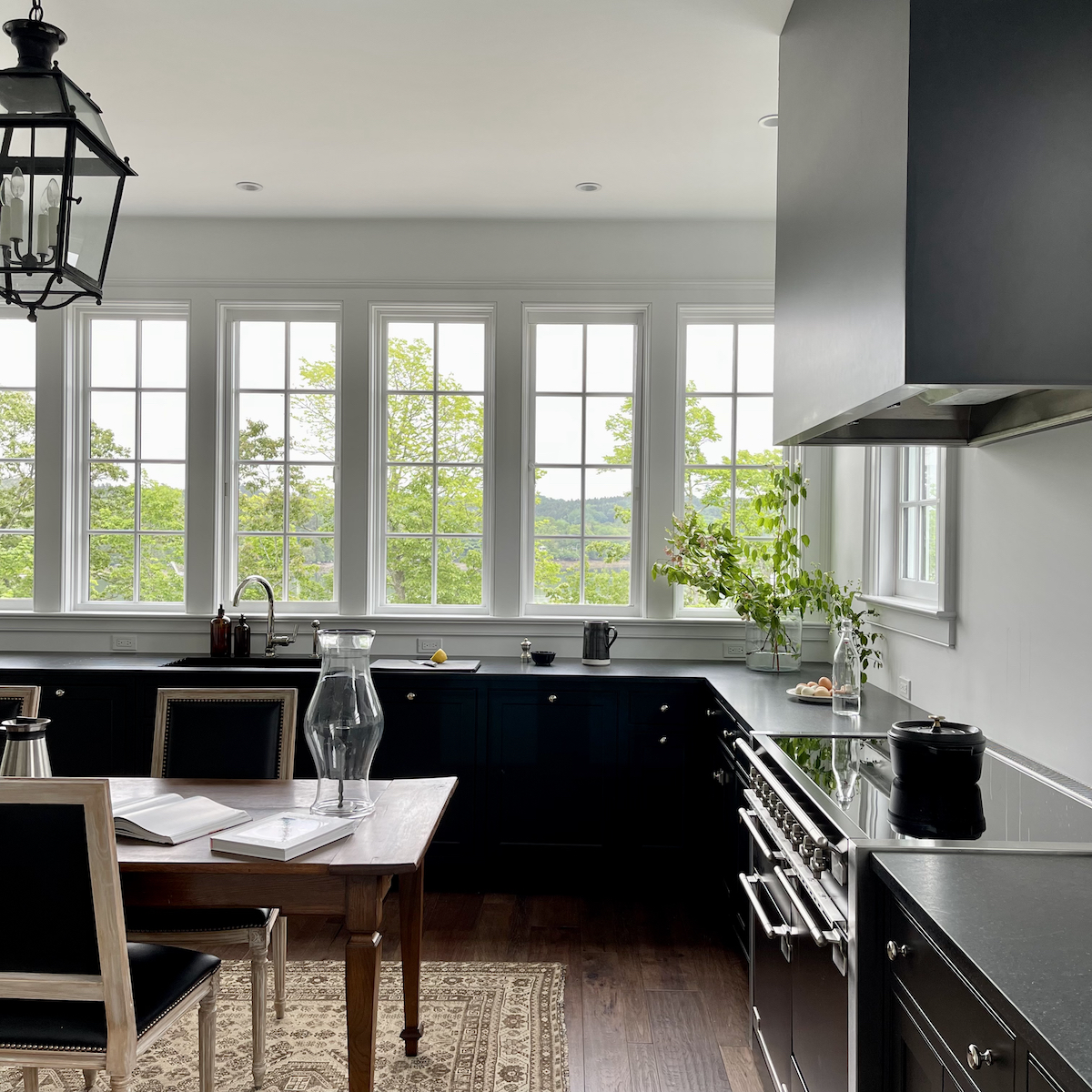 Black Alberene Soapstone countertops with a honed finish allow for natural light to pour in this kitchen, designed to focus on the waterfront view.
"I think if I had gone with a black granite, it would have been the completely wrong direction for the house."
Freshwater Stone fabricated the soapstone slabs from Polycor's Virginia quarry, including crafting a custom drain board on the left side of the integrated sink. Since the house intentionally doesn't have a formal dining room, Grant will be entertaining guests in the kitchen space, meaning it was important to include details like these that would minimize counter clutter.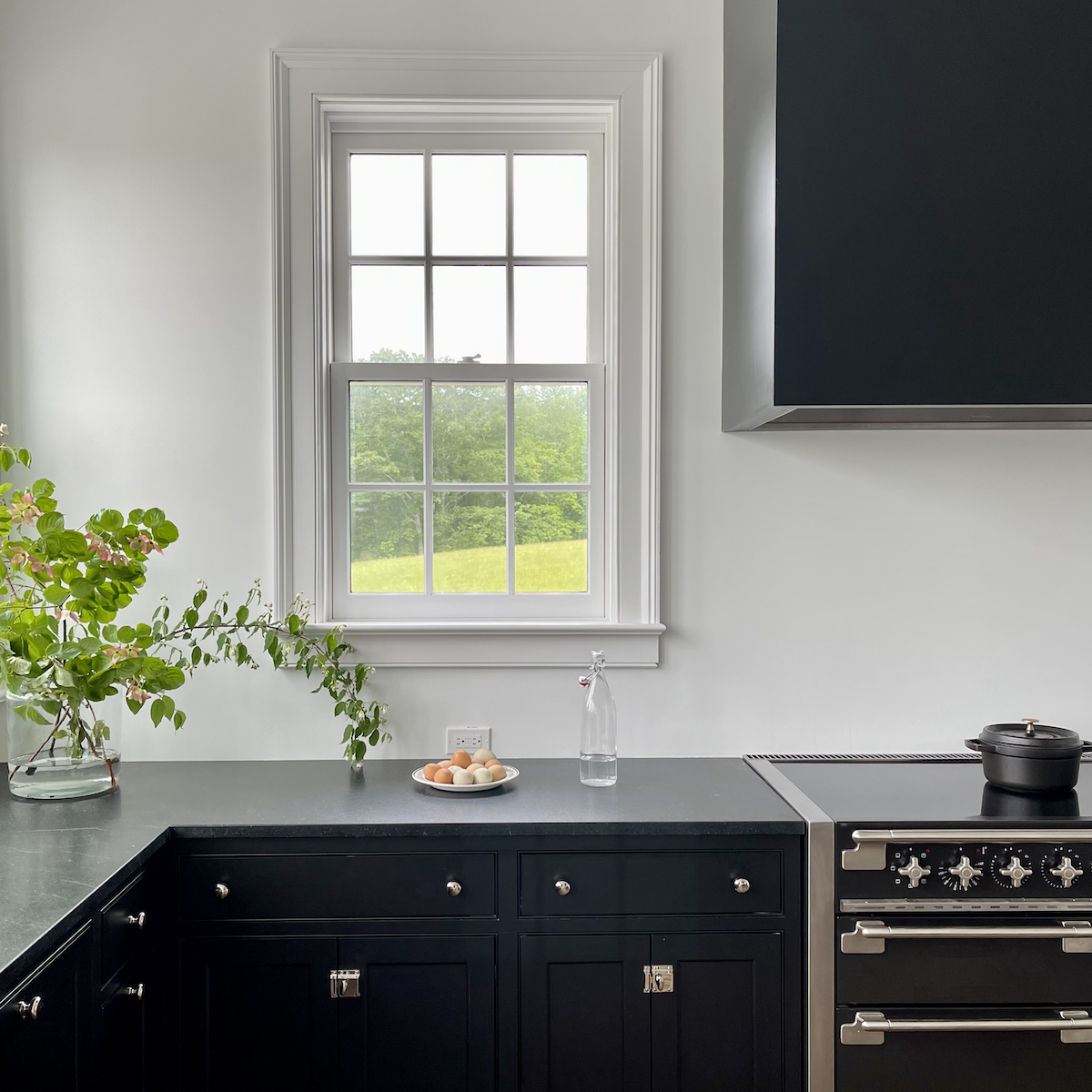 "I think that soapstone counter tops are what the house was calling for," said Grant. "Thinking about how many years soapstone has been around and used for these types of applications, it really became clear that soapstone was really not just an option, it is the only option that I wanted to use."
LEARN MORE ABOUT THE ONLY SOAPSTONE QUARRIED IN THE U.S. – ALBERENE SOAPSTONE™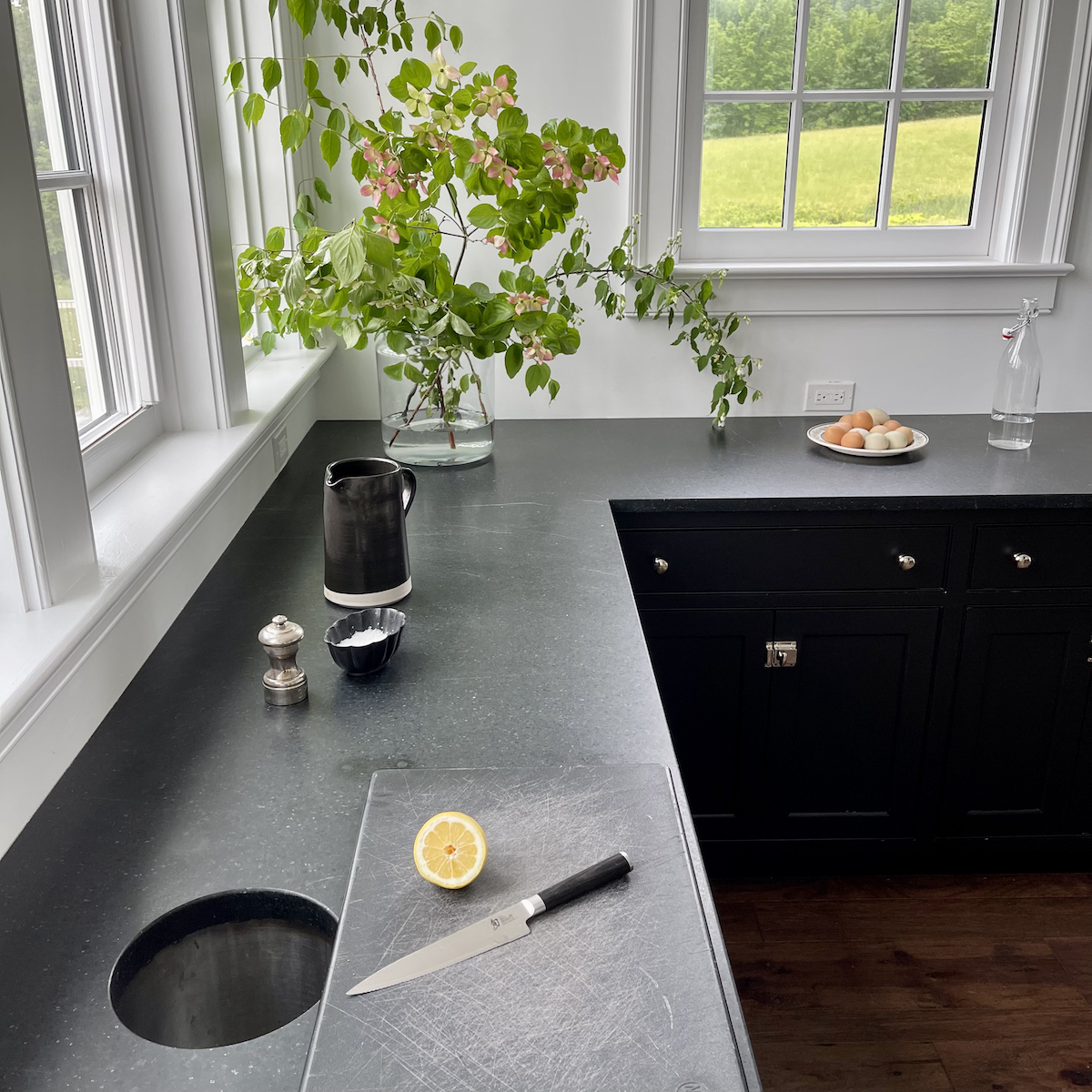 Alberene Soapstone offers a unique rustic look and industrial style adding a modern update to this classic home
With its unique rustic look and industrial style, soapstone counter tops have been a popular surfacing choice for generations. Its unusual thermal properties and closely-packed structure make for a durable and low-maintenance option, but it recently has gotten a bad reputation. Which Grant is excited to contradict.
"Black soapstone countertops were an absolute must. I think back to a few years ago when I was considering black quartz instead and that would have been all wrong," Grant pointed out.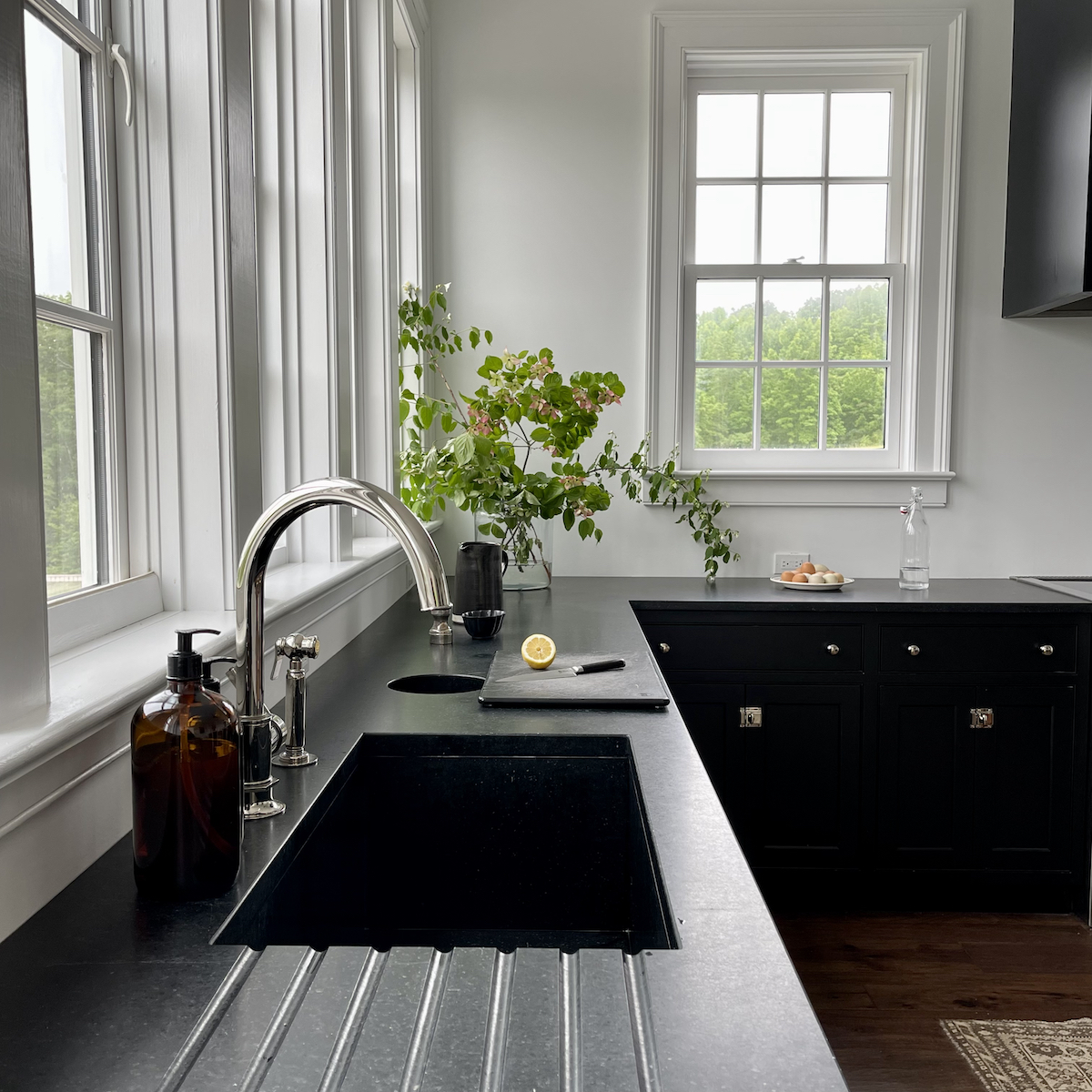 'At our place in San Francisco. I did white Calacatta marble in the kitchen, and I was terrified of drops of olive oil or red wine or anything like that,' he said. "I was more relaxed around these soapstone countertops after just a week of use, because they don't show every little speck of something."
"If you think soapstone is too soft or you shouldn't use it as a kitchen counter material, let me tell you, it's actually a great option."