Veteran and  Photojournalist Pours Her Heart and American Stone Into Her Forever Home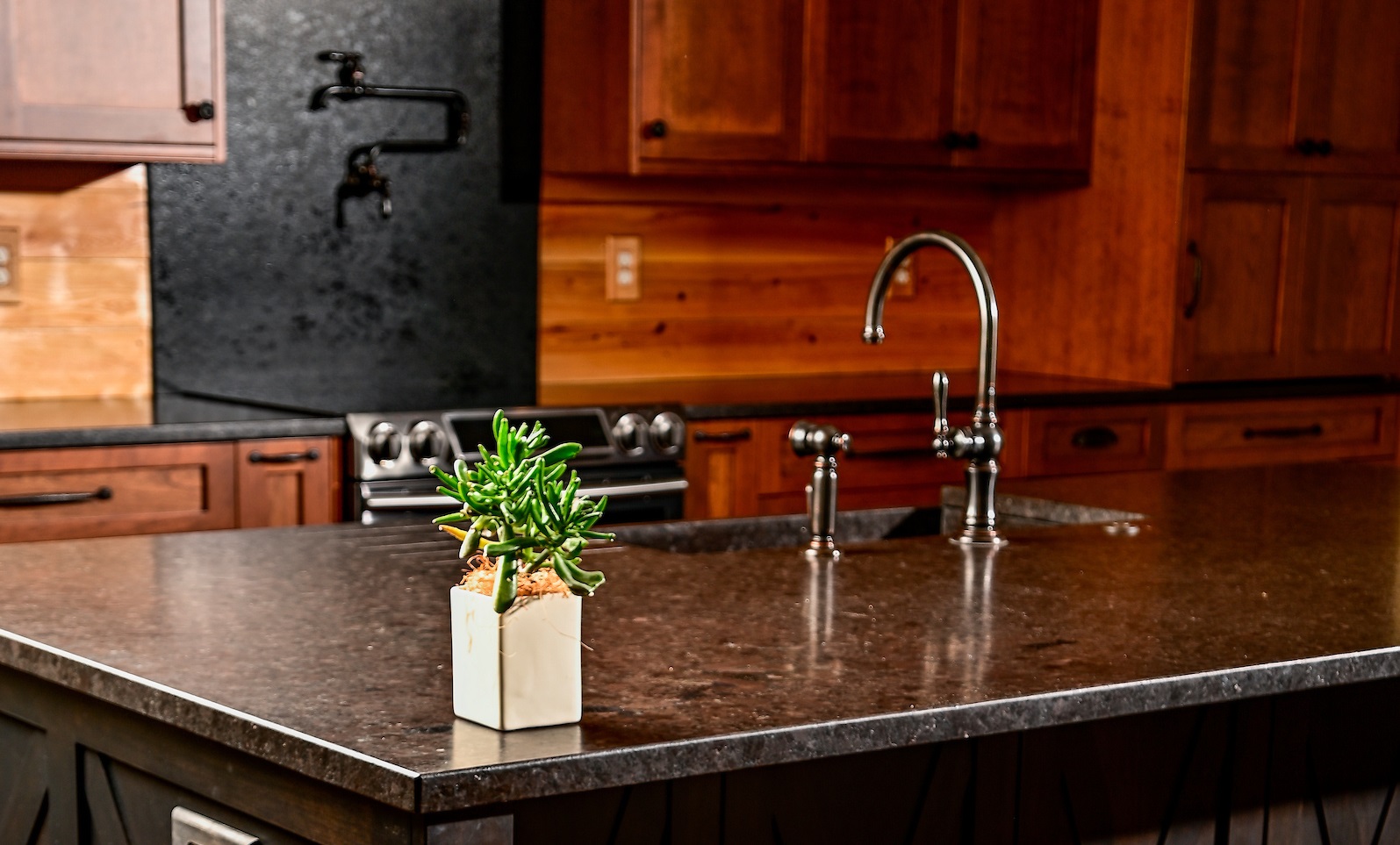 Retired Air Force Staff Sergeant and aerial combat photojournalist Stacy Pearsall has spent most of her adult life focused on two passions: photography and the military. Pearsall, whose family's legacy of military service can be traced to the Revolutionary War, enlisted in the Air Force at age 17. During her time in service, she traveled to over 41 countries and is one of only two women to be named the National Press Photographers Association's Military Photographer of the Year. In fact, she is the first and only woman to win the title twice.
Soon after being medically retired from military service, Pearsall found a new way to continue to combine her dual passions in the award-winning Veterans Portrait Project. The Veterans Portrait series began in 2008 while Pearsall was rehabilitating from combat injuries she sustained in Iraq. Spending hours in waiting rooms at the Ralph H. Johnson VA Medical Center in Charleston, Pearsall found a new purpose in the other veterans waiting alongside her. She began bringing her camera to appointments and taking their portraits, as a way to continue to share the stories and sacrifices of those who have served. Those photos soon hung on the walls of the VA hospital and not long after, her veteran portraits were being featured in galleries across the country. Forty-four of Pearsall's portraits hung in the Woodruff Arts Center's Beauchamp C. Carr Gallery, as a special exhibition which opened on Veterans Day in 2017.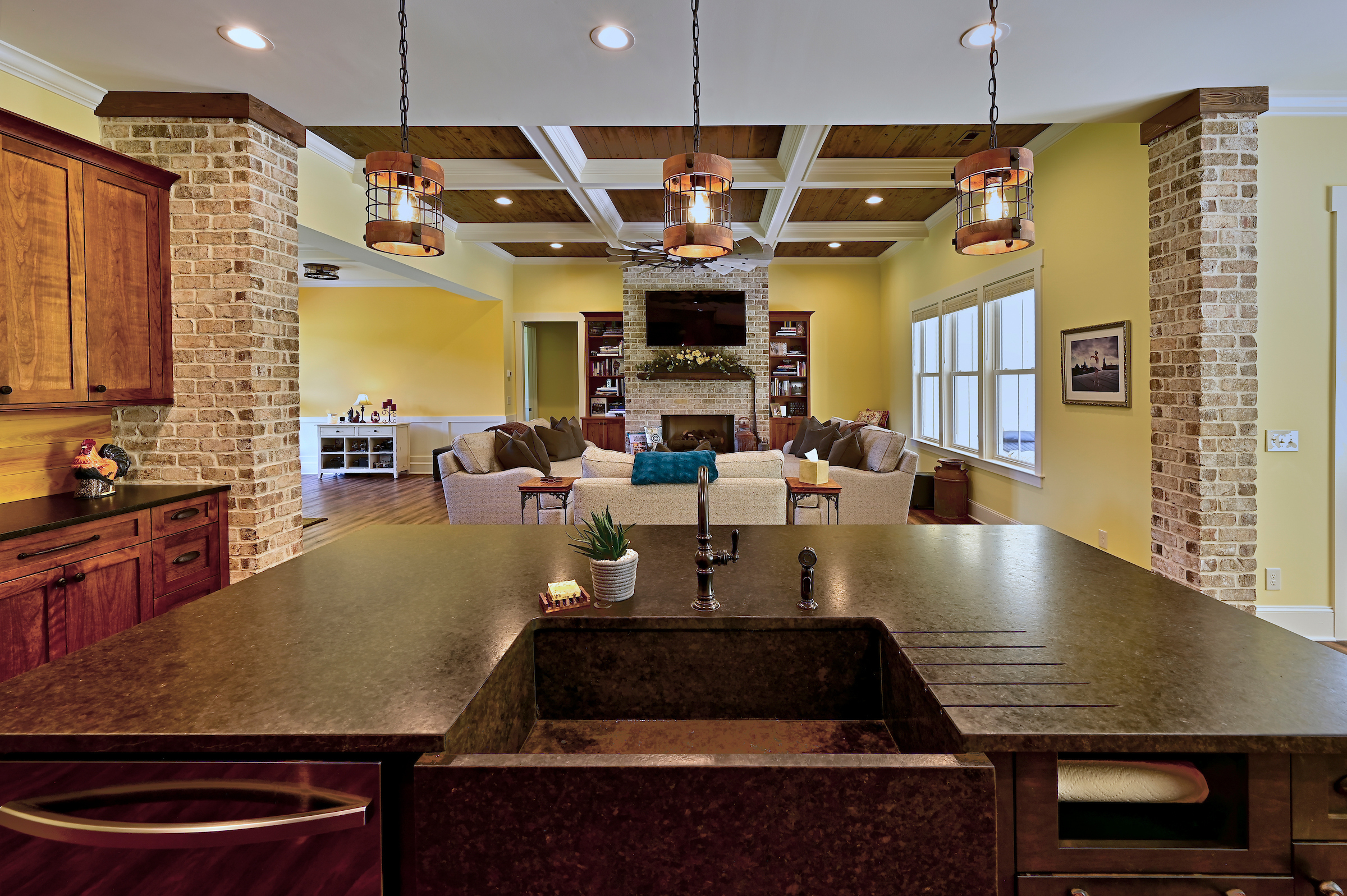 Pearsall designed and executed every facet of her build with veterans in mind
"This has been the story of my life," said Pearsall. "That things are so interconnected. It just so happens that Polycor CEO Patrick Perus and his wife went to visit the exhibit at the Woodruff Arts Center, and liked the idea of doing a portrait project for their veteran employees."
"Polycor employs almost 60 veterans in the US," said Patrick Perus, President and CEO of Polycor Inc. "When we saw Stacy's work, we wanted to do something to thank them for their service and so, quite naturally, we thought of a stone monument. We wanted to raise awareness for veterans in our communities so as to keep them in the front of our minds, even after their military service has ended."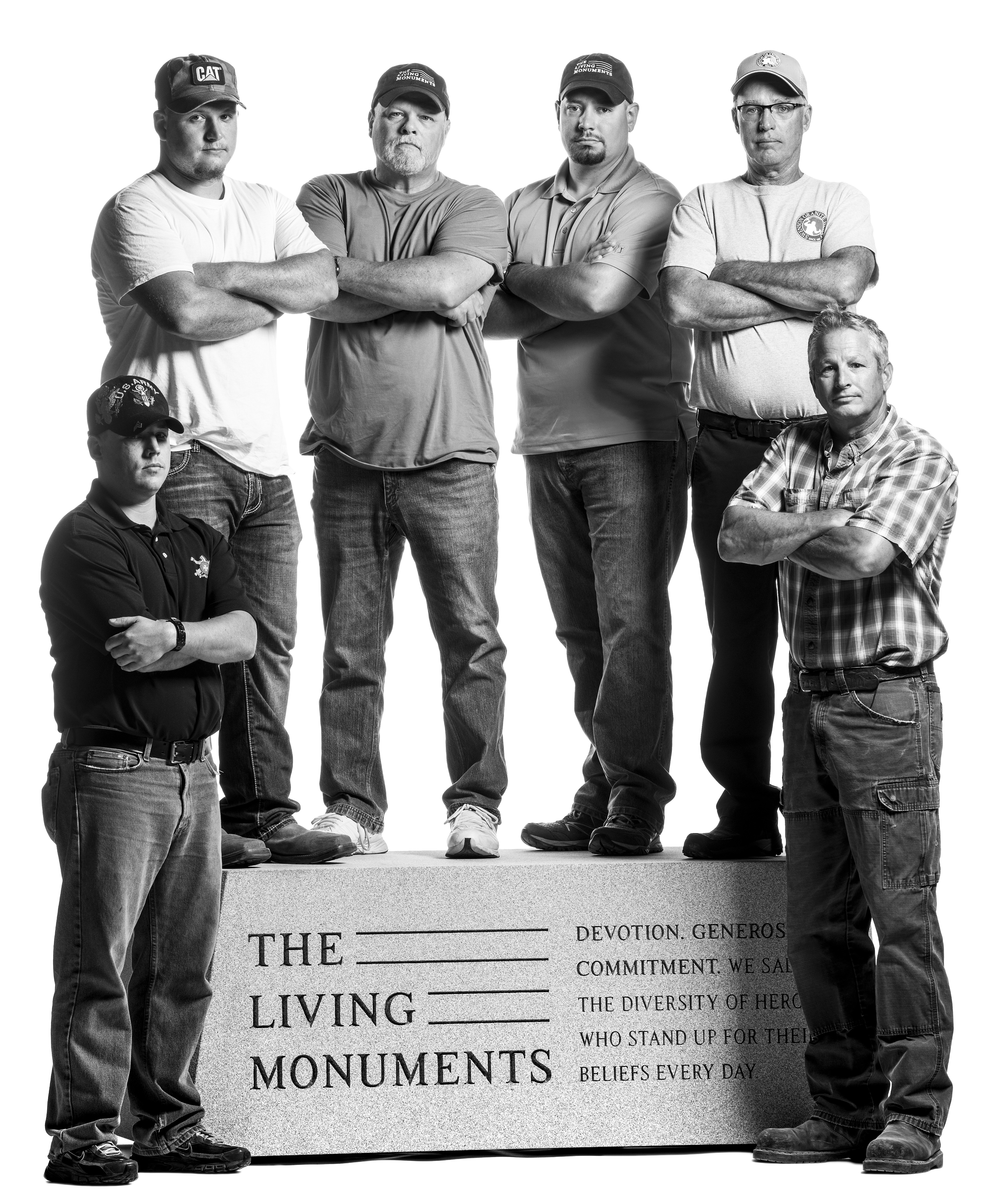 Pearsall's Veterans Portrait Project brought her to Polycor's Vermont quarry to capture veterans employees
Pearsall then traveled to Barre, Vermont to capture 34 veterans at Polycor's Barre quarry, from all generations and services, in a moving series of photos, posed atop a carved granite pedestal for Polycor's "The Living Monuments" project. The monument serves as both a marker of service as well as a podium upon which veterans can stand. The monument is installed at the Rock of Ages Visitors' Center— one of Polycor's family of brands —where guests can view the video of the collaboration as well as the iconic images Pearsall captured. The "Living Monuments" project was a learning experience for Pearsall in a way she did not anticipate.
"I've been to Arlington, I have friends who were laid to rest there," said Pearsall. "My late father-in-law is interred in a military cemetery in Texas, one of the largest anywhere in the nation. And, I don't know how many times I looked around and saw all those beautiful white headstones and never really gave much thought about where they came from, and who quarried them and who chiseled them in. So when I found out about Polycor, and about their stones, I was like, 'Wow, this is really so special.'"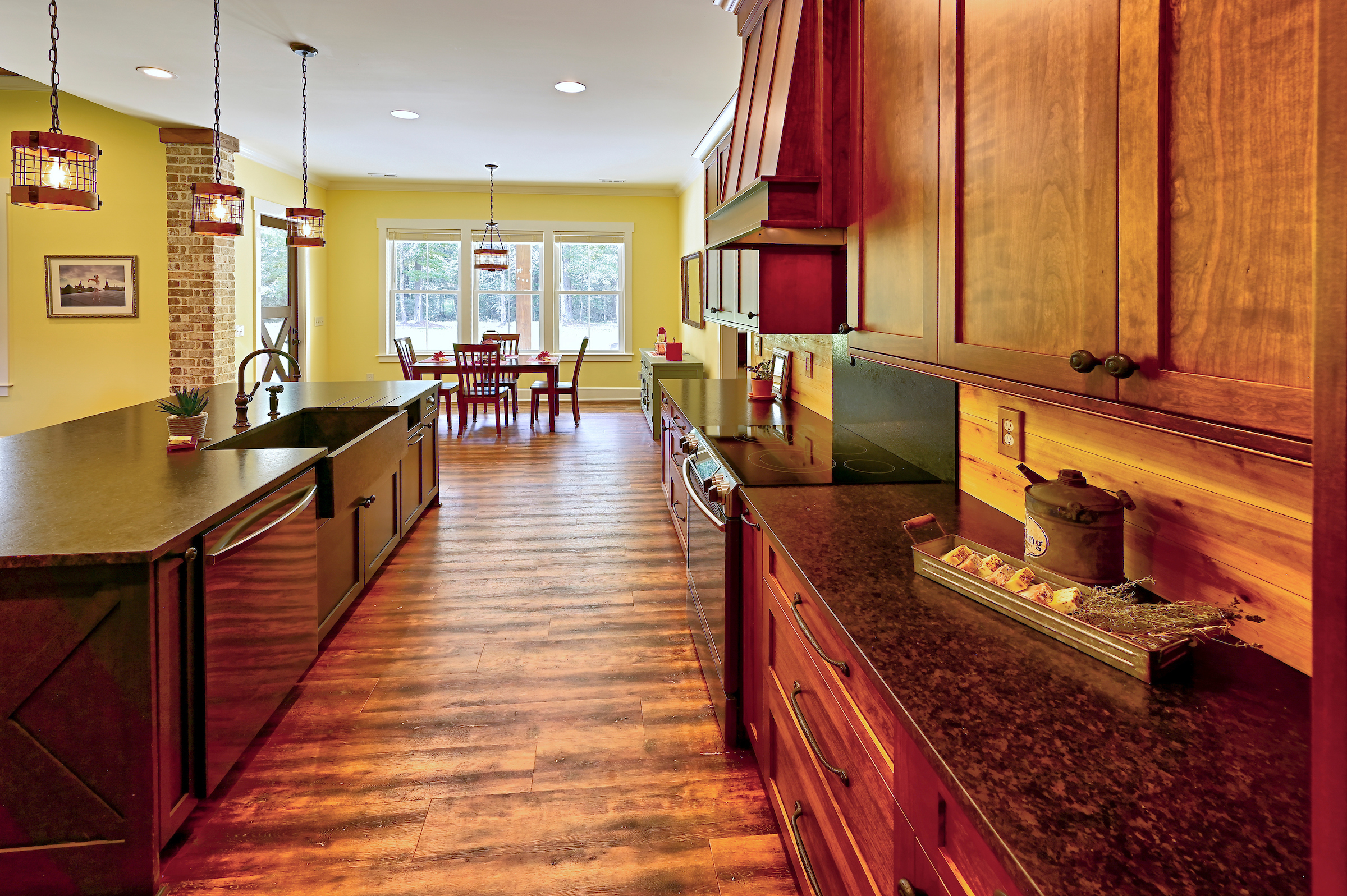 Rich textures, warm tones and natural materials like antiqued KODIAK BROWN™ granite countertops add to the farmhouse feel
"And when I found out that they make such an effort to have veterans in their quarries, and every facet of their business, I thought that was really special, too."
When it came time to build her forever home, Pearsall and her husband Andy Dunaway, who is also a retired combat photographer, found an idyllic 45 acre lot just outside of Charleston, South Carolina, which was their last duty station. As they began thinking about all the details that would go into creating a space they could stay in for years—a foreign concept to them both—they realized while the design was important, hiring craftsman who were military or veteran affiliated, and companies who sourced materials within the United States and made an effort to hire veterans, was just as valuable to them.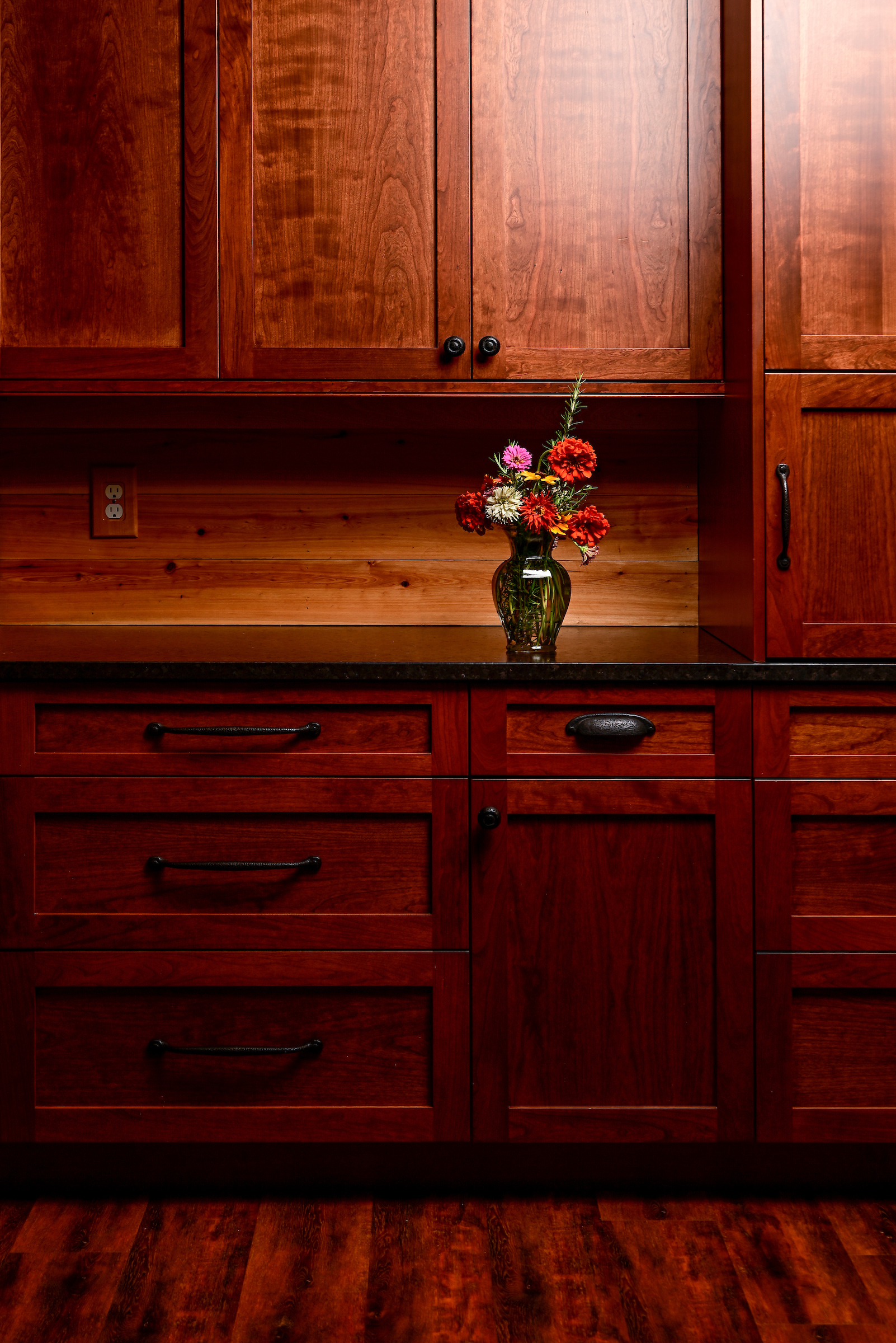 Stained custom hardwood cherry cabinets, wide plank wood floors and wrought iron hardware set the mood in Pearsall's open-plan home.
"We wanted to make this house super special, and we put a lot of thought into how we could do that," said Pearsall. "And that was through ensuring that—as much as we could—we use U.S. sourced materials as much as possible. And to have craftsmen and contractors who are veterans, using veteran-owned small businesses or family of military was something that we tried really hard to do as well. So that made things a bigger challenge."
But one thing that was not a challenge for Pearsall was deciding on what stone she wanted. Polycor, with its veteran staff and monuments honoring veterans carved in American stone, immediately came to mind, but she wasn't sure the company would handle a "small fries" project like her home.
"I had always thought about Polycor for their portfolio of monuments, museums, larger-than-life buildings," said Pearsall. "And I was like, 'I just love Polycor, I love everything about them. What are the odds that they would sell me some stone?'"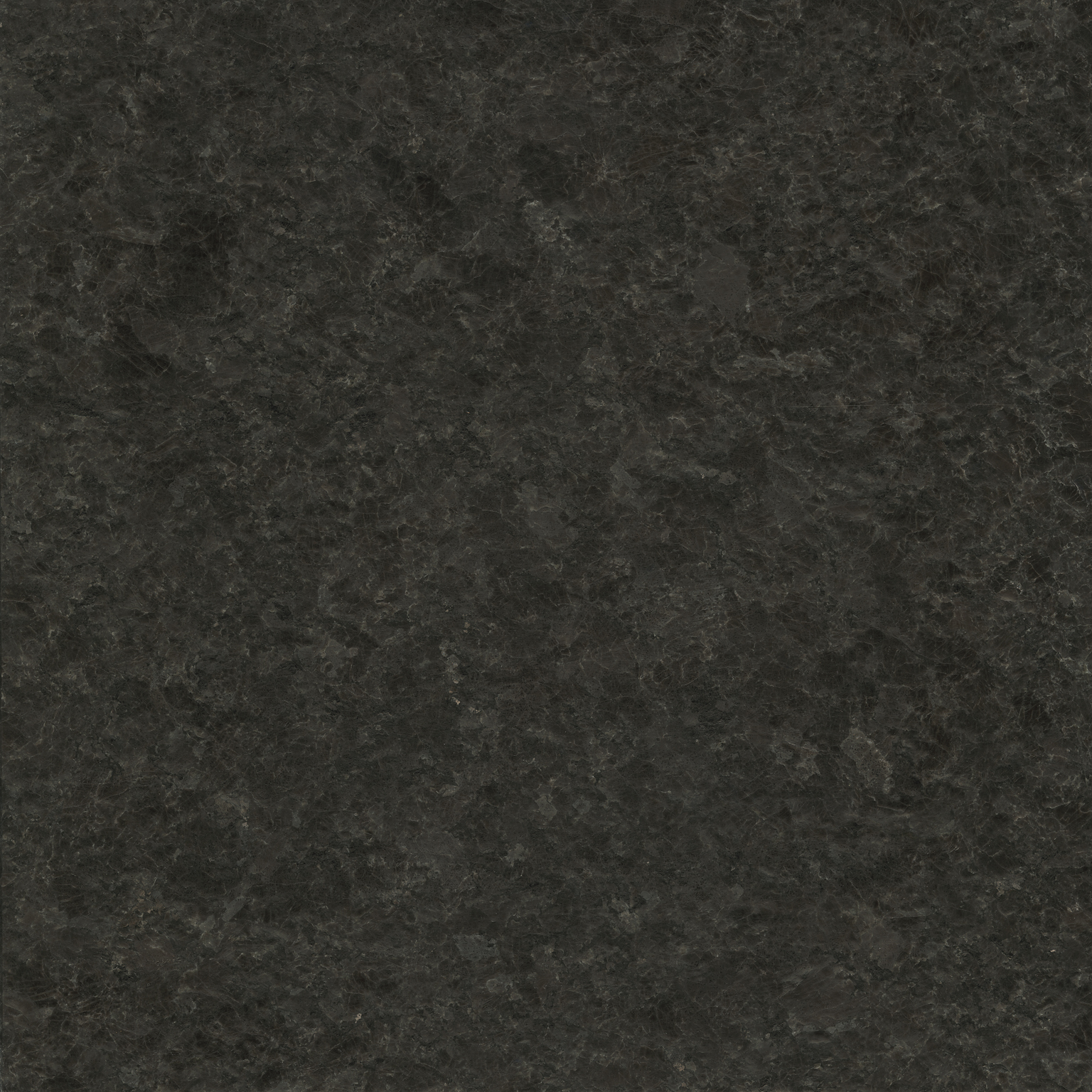 The neutral pattern and warm brownish black tones of antiqued Kodiak Brown™ granite tied together the mixed palette of materials and finishes.
She reached out and was soon thrilled to learn about Polycor's robust residential offerings ranging from countertop slabs to patio pavers and firepits. Soon, Polycor's KODIAK BROWN™ granite in antiqued finish was chosen for the custom-build's countertops in the open-plan kitchen. The North American quarried granite reinforces the all-American farmhouse vibe of the rest of the house, from the custom fabricated granite farm sink in the kitchen—"I could bathe my dogs in that sink it's so big"— and bathroom countertops.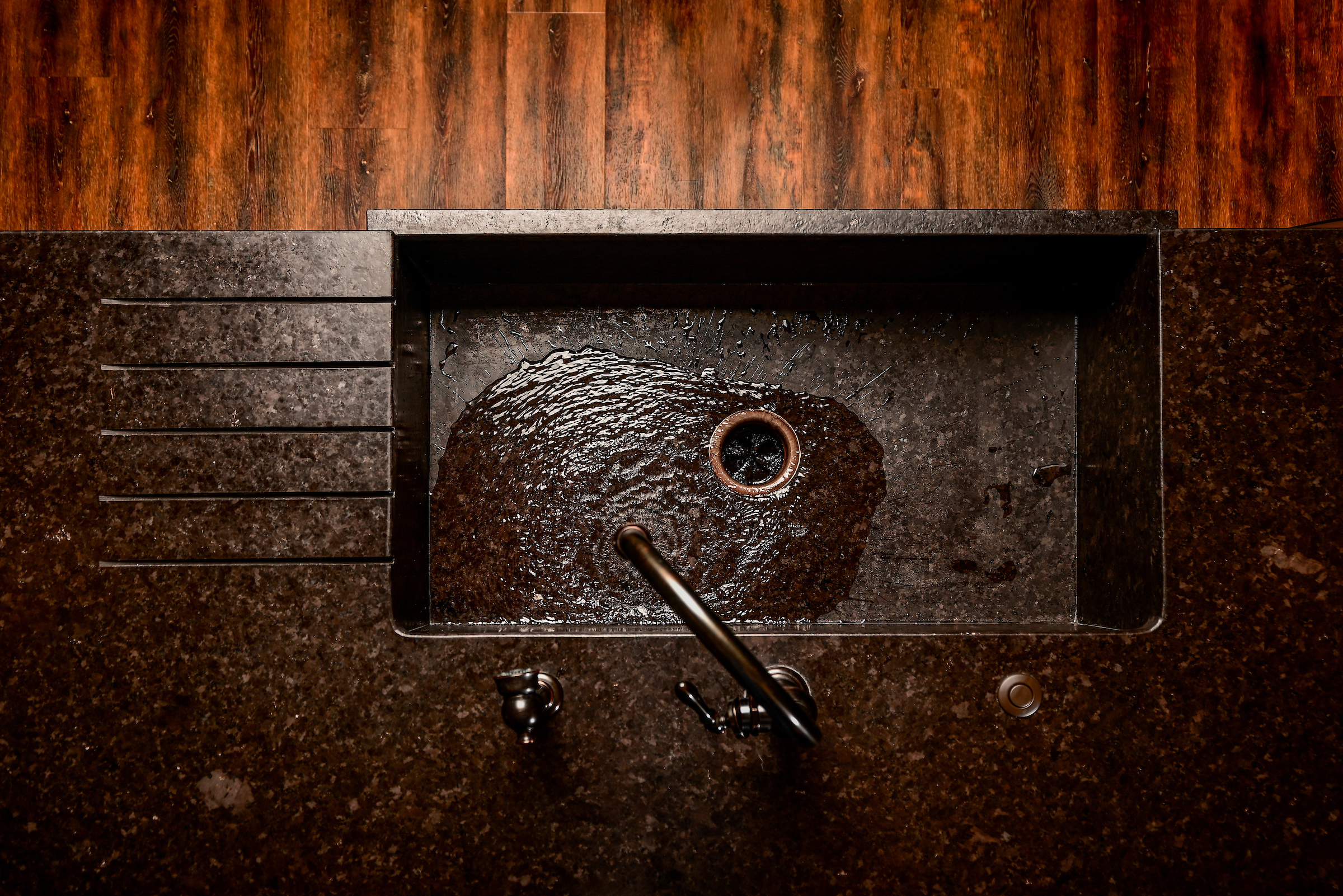 A custom fabricated apron front sink in antiqued Kodiak Brown™ granite kept with the farmhouse theme.
The kitchen design is a tour de force in its use of natural materials, textures and contrasts. Rich wood, granite and rustic bronze and iron finishes tie together the open plan design with the rest of the living room spaces. The two-toned, fully custom hardwood cherry cabinetry was produced by another local veteran-focused company, HWC Cabinets, owned by Navy veteran Jay Miller. From the builder, Donnie Hunt of Hunt Brothers Construction, to the framers, subcontractors and stone fabricators, Pearsall strived to hire teams with military backgrounds whenever possible.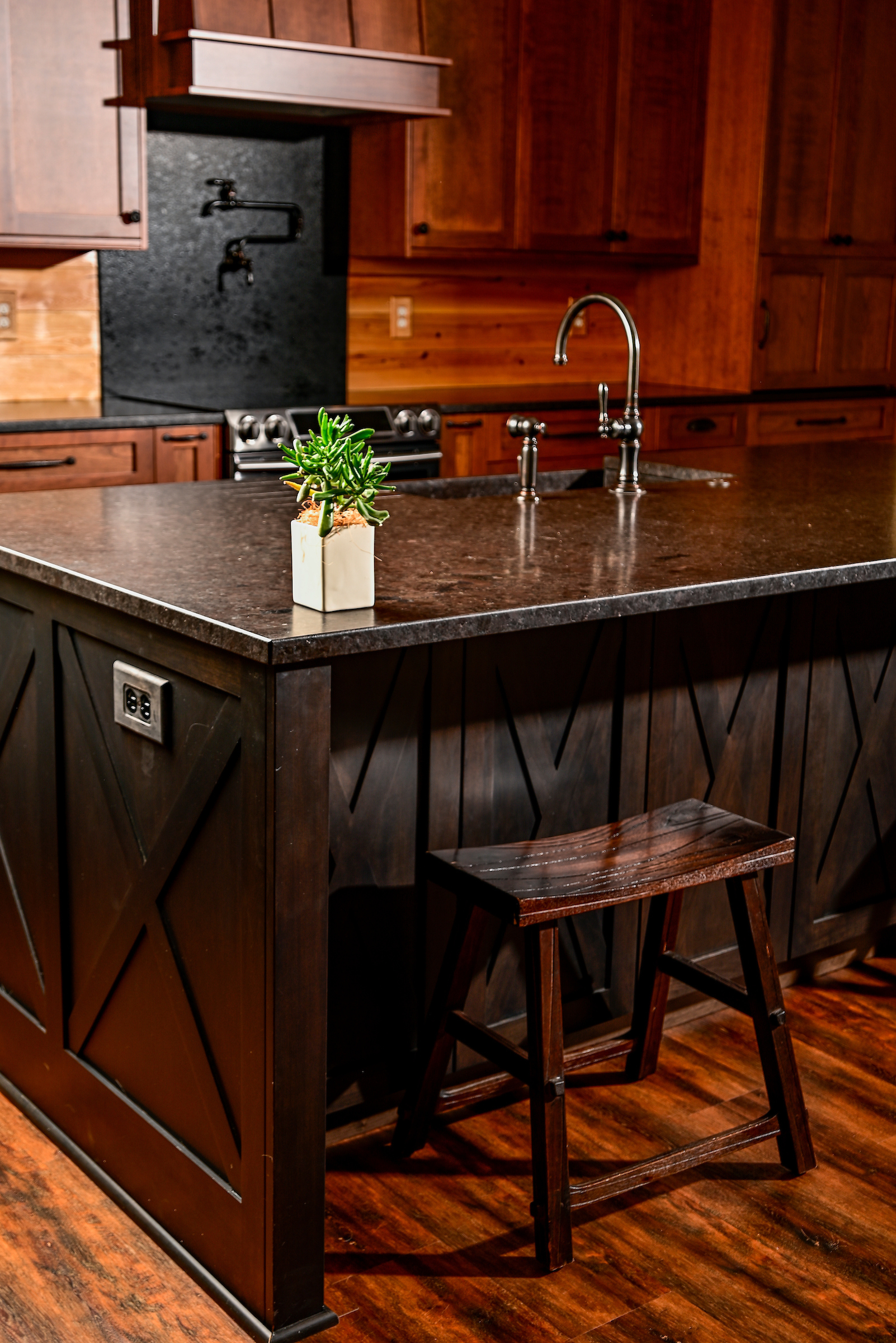 Two-toned cabinetry provides contrast to break up the various wood species and grain.
In the kitchen, the dark "Nightfall" stain on the island contrasts with a lighter, warmer "Colonial" hue on the perimeter, and both are anchored by the antiqued Kodiak Brown™ granite countertops. The oversized apron front farm sink and custom cut drainboard runnels on the island countertop are quintessential farmhouse style elements, as are the rustic black iron drawer pulls from Hickory Hardware. The centerpiece of the perimeter countertops has to be the striking full height Kodiak Brown™ granite backsplash stretching all the way up to the Stanisci wood range hood, and drilled for a wall-mount, two handle, oil rubbed bronze pot filler by Kohler. The granite behind the range is flanked on the adjoining sides by a locally-harvested cypress plank wood backsplash with clear coat.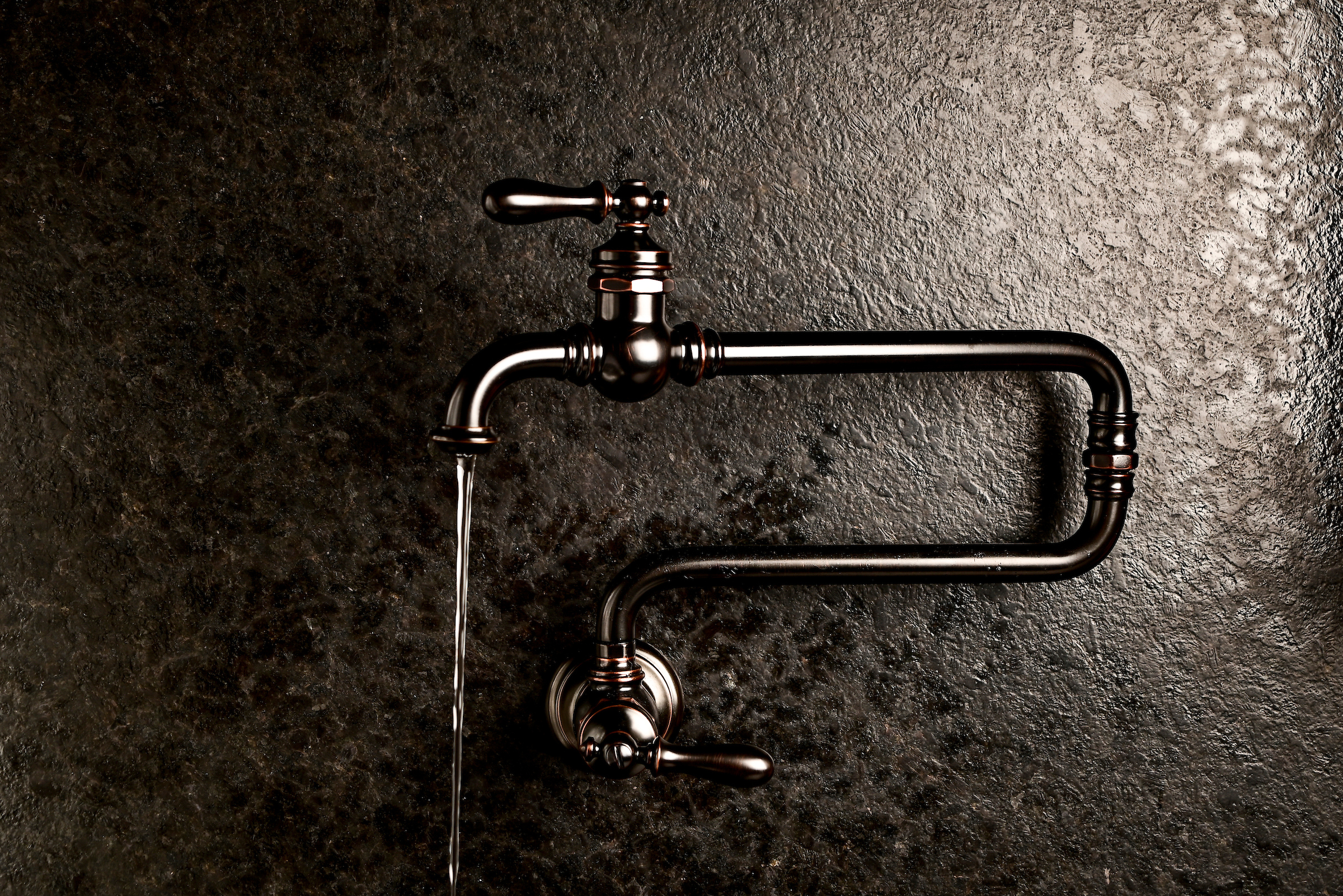 Oil-rubbed bronze fixtures pair well with the deep, warm tones of the antiqued Kodiak Brown™ granite, especially on the full backsplash feature wall.
The master and guest bathrooms in the home are fitted with light-toned BETHEL WHITE® granite countertops originating from Polycor's Bethel, Vermont quarry. Bethel White is renowned for being the only truly white granite in the world that will not oxidize or rust. Warm flecks of beige and brown minerals enrich the pattern and underlying tone of this historic American granite that has built architectural icons such as the Smithsonian Museum of Natural History and Union Station in Washington, D.C.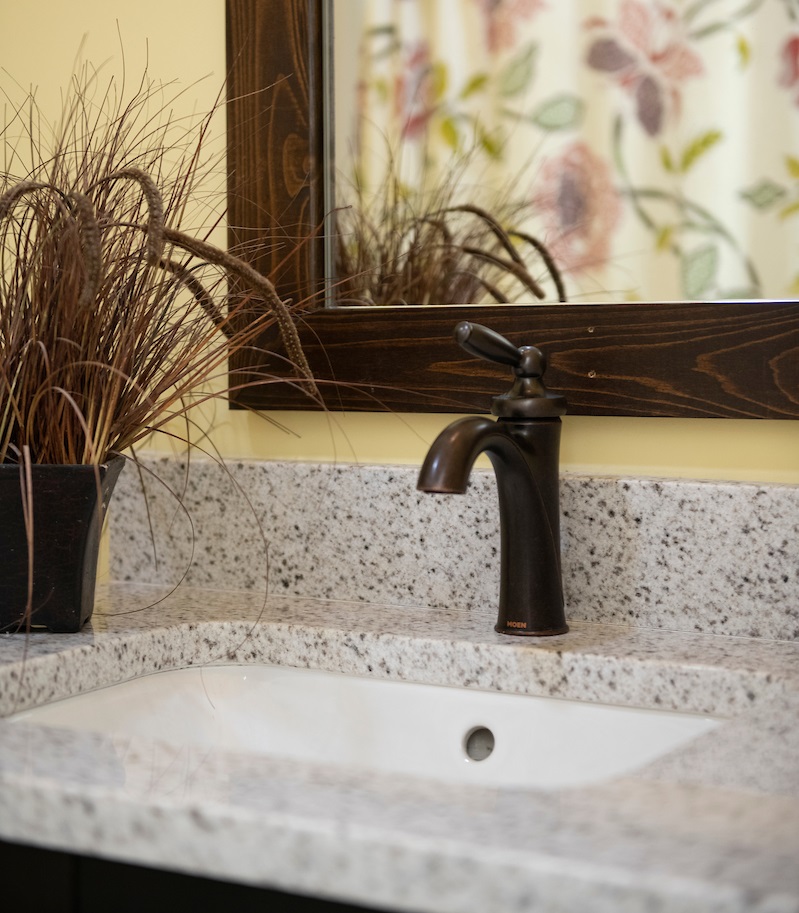 Warm white tones of Bethel White® granite from Polycor's Vermont quarry lighten up the master and guest bathrooms.
Just outside the kitchen, large format INDIANA LIMESTONE – FULL COLOR BLEND™ slab pavers are used to define the patio and walkways wrapping around the house leading to the entry of the home. WOODBURY GRAY™ granite from Polycor's Vermont quarry is used for 2" thick stair treads at the front entry to the home, as well as the walk out to the back patio and for a two-tiered fire pit focal point. Pearsall's mason, fellow veteran John Syrjala, came up with a creative use for off-cuts and extra material that ended up being a surprising addition to the home. See more of Pearsall's outdoor escape here.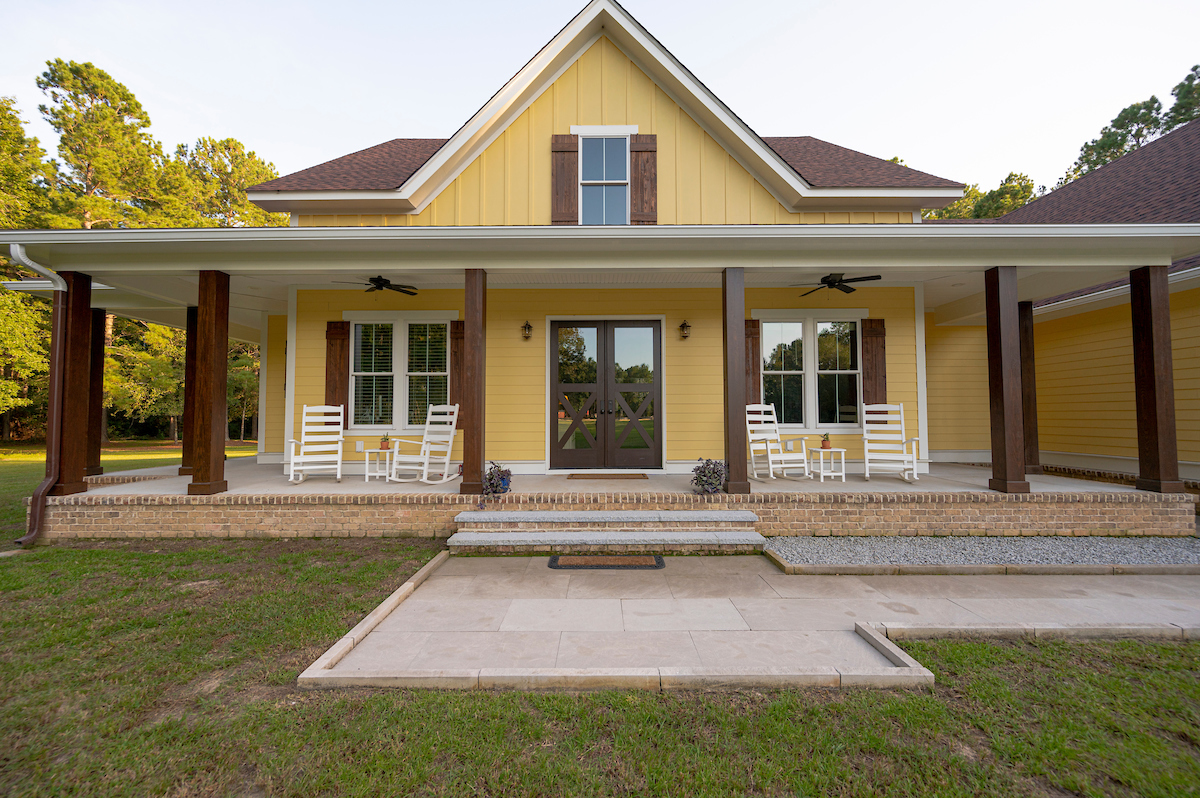 A mix of other American quarried stones with historic lineage were used for hardscapes and masonry applications outside the farmhouse. Pictured: Indiana Limestone – Full Color Blend™ and Woodbury Gray™ granite
"The stone was so beautiful, we didn't want it to go to waste," said Pearsall. "He suggested we do floating benches. And, oh my gosh, that's probably one of my favorite features. And I love that it wasn't part of the plan, it was like a bonus."
While Pearsall and her husband have made time to enjoy their home since moving in at the beginning of the year, she is still focused on elevating the commitment and generosity of the men and women who have dedicated their lives to America. She continues to do the Veterans Portrait Project, has started a podcast, and is in pre production for a PBS television series that she is hosting called "After Action", a roundtable discussion with veterans intended to demystify and educate the general public about the military experience and the veteran community. But she promises she is finding time to enjoy her home.
"We are really quite good," said Pearsall. "Bring our cups of coffee out to the porch and relax, which is the whole point of the place."