Want an Inside Look at a Quarry? Here's Your Chance
Designers, including Tamara Eaton (at left) and Toni Sabatino (at right), at a tour of Polycor's Georgia Marble quarry in 2015.
UPDATE: Thank you to all our entrants! The contest is now closed a winner will be announced shortly.
You know the thrill of installation day when that full slab island goes in and everyone on the jobsite stops to say, "WOW, that looks amazing." It's been a long journey from samples to this moment.But what happened before that big reveal? How did this carefully fabricated surface using American marble go from being part of a mountain to the center of family life in a home kitchen? Even for those in the design and build industry, it's a process as veiled as how our food arrives on our table. It comes from the store, right?
For us, the quarrier, it's important that we educate the designers and architects of those beautiful spaces, and it's why Polycor is offering a select number of all inclusive tours to our Georgia Marble and Cambrian Black Granite quarries in the US and Canada.From now until April 20 we're offering you – the architects, designers, and those who write about the industry, a chance to win an inside look at how we quarry and cut the blocks of marble and granite you spec. We'll choose three winners for all inclusive trips.
Last year we took a group of designers to our US marble quarry in Tate, Georgia and while they loved seeing the soaring walls of white marble and the naturally occurring waterfall there, it was the window into the process that stayed with them."You go to a showroom and pick out a stone and you don't understand the global impact," said Tamara Eaton, an NYC designer who specializes in high end residential work with a modern, eclectic style.
The tour she said changed her mind to thinking about the natural stone slabs as a culmination of its origin and the people who made them, rather than a product.
"It's not a commodity," she said. "It's a unique thing that a lot of people have touched."
The Tate quarry has been in operation since 1835 and has supplied the marble to iconic American structures like the Lincoln Memorial, the United States Capitol, the New York Stock Exchange and even for the restoration St. Patrick's Cathedral.
In addition to White Georgia Marble the quarry is home to White Cherokee, Pearl Grey and Solar Grey. There is even an older area we called the Etowah Quarry, where we extract a light pink colored marble with a pronounced white and grey vein pattern that happens to be very on trend with Pantone's 2016 color of the year, Rose Quartz.
The site is also where our sister brand, Vetrazzo, a recycled glass material is passionately made by hand. Seeing how Vetrazzo turns shards of glass into countertops is part of the tour.
Interior designer and blogger Toni Sabatino, who specializes in kitchen and bath design, toured the Tate quarry and production facilities last year and experienced firsthand our newest recycled glass finish called Sea Pearl. She loved the tactile and organic feel of the stippled glass finish so much that she's featuring it in a Long Island, NY installation.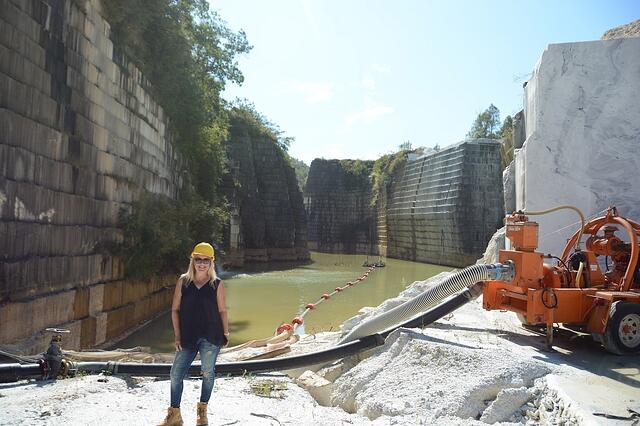 Designer Toni Sabatino toured the Tate, Georgia quarry last year.
For those who want a look at the truest black stone, we also offer a tour of our Cambrian Black Granite quarry up in the Canadian wild.
Designer Justin Capuco of Rafael de Cárdenas / Architecture at Large. made the rugged trip to spec the stone he used in the design of Baccarat's flagship store on Madison Avenue.
They demonstrated how the stone would be cut using 42 wires to saw cleanly through the massive block. Seeing the consistency of the material and its subtle qualities sealed the choice for Capuco.
"We could see the level of veining, and level of detail in the stone, even a slight fossilizing," he said. "The veining was thin and elegant. It wasn't hard and black."
Whether you're sourcing for a project or just want to understand the process of how raw mineral rock becomes your designs, the trip will be one that stays with you, as it did with Toni Sabatino.
"The opportunities that come along like a quarry tour and hike in the mountains are little perks that make working in this business extra worthwhile," she said. "The trip was amazing. There were breathtaking views, inspiring company camaraderie and I am grateful for the hospitality."
UPDATE: Thank you to all our entrants! The contest is now closed a winner will be announced shortly.