When is Italian Marble Not Actually Italian?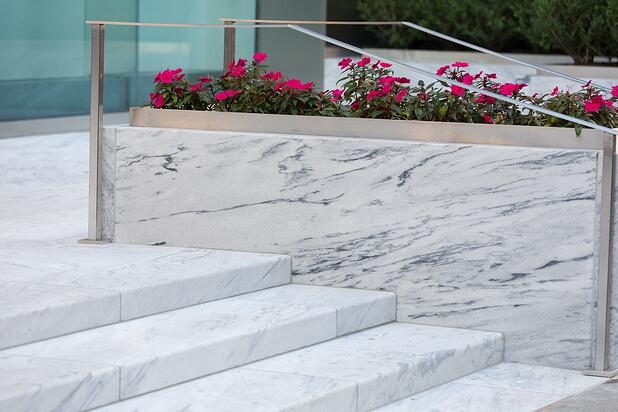 In the global market, the marble business has gone the way of most industries. The supply chain is longer than it has ever been, with more players and less tracking along the way. And it's getting messy.
Take for example the food industry.
Many of the foods we eat are grown or processed far from home (sometimes even several continents away) and for years most of us didn't give it a thought. But with increasing attention put on origin, quality, safety and environmental impact, we've become attune to who is growing our food, where and how. And the result is more of us are buying local and organic products.
But unlike that organic avocado you bought with the sticker that says, "grown in Mexico," the stone industry doesn't require a label of origin.
WHERE DOES MARBLE COME FROM?
All over the world actually, and in some places you'd be surprised.
Besides the most widely known source Italy — Turkey, Brazil, India, China, Afghanistan, Canada and the US. Many people don't even know that marble is quarried here in the United States, but US marble is actually a part of our most beloved monuments, historic buildings and places of worship. The GM Building, St Patrick's Cathedral in New York and the Field Museum in Chicago were built and/or restored with US marble from Polycor quarries.
And it's not just the general public who are in the dark. Many architects and designers are still surprised to learn of the existence of these prized domestic natural stones. After years of looking at swatches of materials to specify on projects (and as more middle men come into the design build process) design professionals begin to lose track of where products originate and how they arrived on their desk.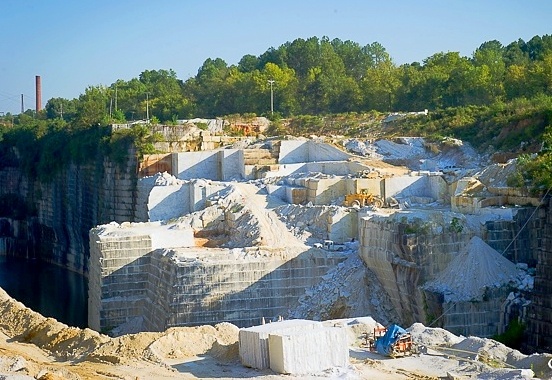 Polycor Georgia Marble Quarry, Tate, GA
THEN WHY IS MARBLE SO OFTEN LISTED AS ITALIAN?
Italy has a heritage of artisan stone work that is unparalleled. Italians remain some of the most skilled cutters and carvers of stone in the world. For that reason, stone is often shipped to Italy from its origin in raw block form to be cut and carved by those experts.
Because there is not industry regulation on origin labeling, the stone that is cut there is often tagged as "Italian". After all who wouldn't want their stone tagged "Italian marble" with a reputation like that. The reality is that stone may have been quarried in other countries like Afghanistan, cut in Italy, and exported to the US for distribution.
To give some context here, consider that in the worldwide trade of stone, many companies ship their blocks to China for cutting, but no one is labeling their stone "Chinese marble."
A story published in the Guardian recently shows the relabeling happening in Afghanistan where quarrying and the natural stone trade are strained by local government groups. The report alleges that exporting is so difficult in Afghanistan that often the stone is taken quietly to Pakistan to be sold.
"They put their own stamp on it and call it Pakistani marble," said one Afghani marble factory owner. And when this marble is specified for a large scale building project like stone facades the chain of custody becomes increasingly important.
The term "Carrara marble" literally means marble from Carrara in Tuscany, Italy, an area known for yielding the very white marble seen in many of the European masterpieces we know and love like Michelangelo's Pieta. Is that marble labeled "Carrara" at the box store or the kitchen and bath shop actually from Italy? Or was it just cut there? Or did it never even pass through there? These are questions almost no one is asking (and fewer are answering.)
Origin in this industry is hard to determine unless the quarrier is the seller.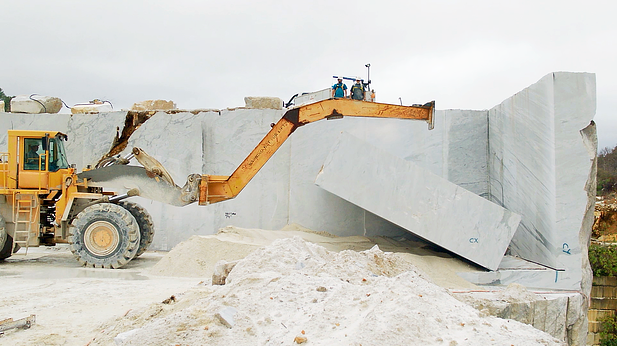 Polycor Georgia Marble Quarry, Tate, GA
HOW CAN YOU TELL WHERE THE STONE YOU'RE BUYING ORIGINATED?
In many cases you can't. When stones are imported to the US and Canada by brokers who sell to distributors, few keep a record of exactly where they came from. (In most cases, even the names and grades of the stones are changed.)
The exception is US marble.
At Polycor we quarry our marble in America, from quarries we own. We process our traditional and ultra-thin reinforced 1 cm slabs, tiles, monuments and other architectural stone products on our own equipment, in our own factories. Our Tate, Georgia quarry for instance yields three American marbles known for their shimmering white crystals: GEORGIA MARBLE-WHITE CHEROKEE™, PEARL GREY™ and SOLAR GREY™. See a recent Pearl Grey kitchen here and a Solar Grey beachside cabana here.
We coordinate our own deliveries, crate and ship our finished stone by truck or rail in the most direct route to trusted partners in a well established distribution network, with complete transparency of origin and a clear chain of custody. (This is part of what enables Polycor to be Cradle 2 Cradle Silver Certified, a third party verification process that evaluates the lifecycle of a product.)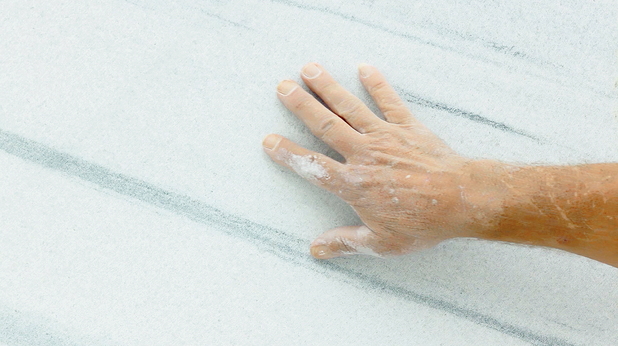 White Cherokee American Marble
Additionally, many of these other countries of origin have little or no mining and occupational safety regulations such as MSHA and OSHA to ensure proper safety and sound operating practices, which raises concerns when it comes to the working conditions of the employees as well. At our marble quarries in Georgia and Oklahoma, we employ our own workers who are earning a living wage with opportunities for advancement and adequate benefits.
The lure of cheap labor and lack of regulations help importers drive down costs, even as they dig their stone in one country and ship it to another to be cut or processed. Adding a new origin label, like "Italian marble" helps cover these tracks for a consumer market that might care about the effects of their stone purchase, if they could see the trail.