Natural Stone Cladding: Anchored In The Past, But Ready For The Future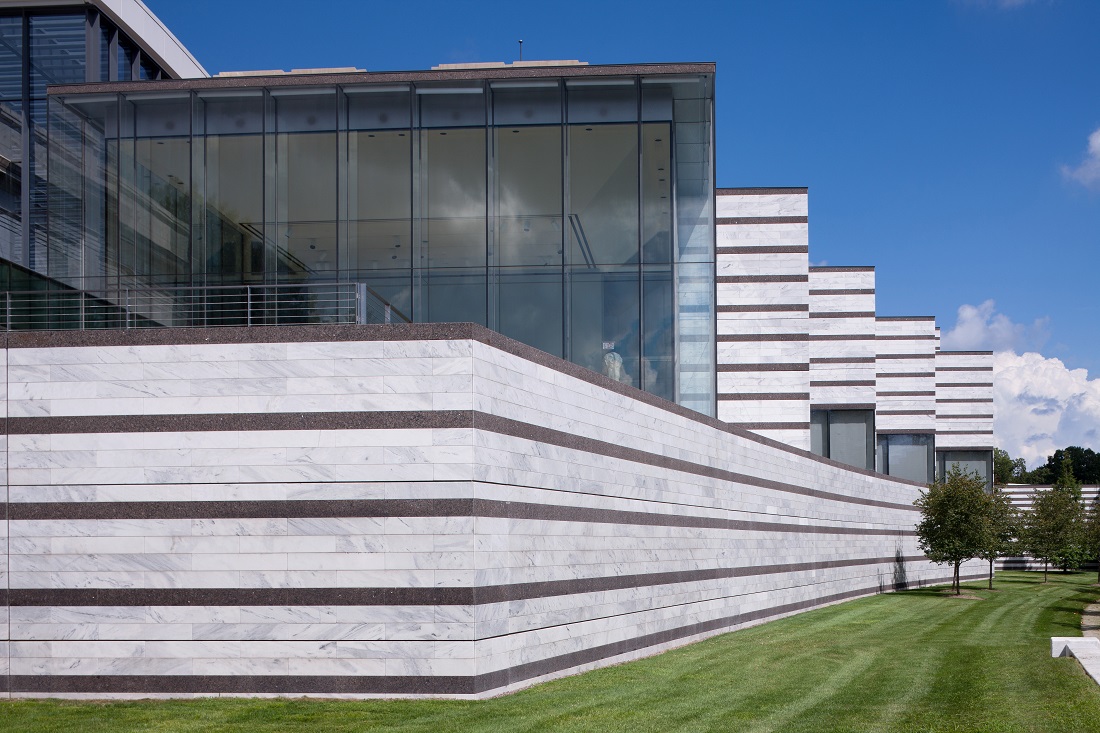 The longevity of stone puts any human concept of old age to shame. Stone creates a sense of permanence and solidity, even when worn and weathered. It's been used throughout history as the structure and facade of buildings- buildings that have literally stood the test of time.
While natural stone has been the material of choice for millennia, glass has dominated commercial construction—especially large scale projects like skyscrapers—in recent years. But architects are increasingly reacting to this glut of glass by returning to stone for their projects. For many developers and architects, glass had become the default, a sterile, too obvious choice which resulted in a flat, texture-less and uninspired design.
The transition from glass back to stone is also a result of environmental concerns. New York City mayor Bill De Blasio recently moved to ban new glass skyscrapers in the city, making New York the first city to mandate energy efficiency. But it won't be the last: According to the United Nations, 40% of the world's energy consumption can be attributed to buildings. Pressure to construct buildings in a sustainably responsible manner is being felt by developers and architects around the world.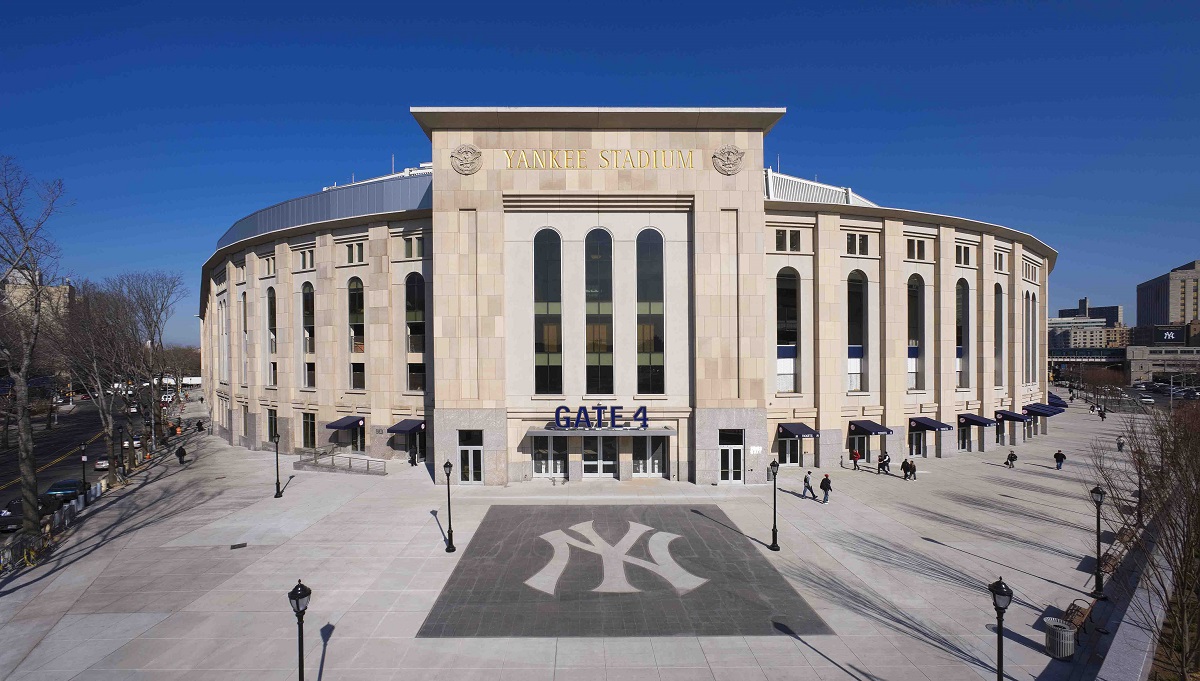 INDIANA LIMESTONE – FULL COLOR BLEND™ facade on precast concrete | Yankee Stadium | Architect: Populous
"It's pretty well known in the industry that those glass facade buildings are not energy efficient," said Hugo Vega, vice president of Architectural Sales at Polycor. "Meaning that in the summer it becomes super hot and you need to have an extensive system of air conditioning and in the winter you need a lot of heating as compared to a traditional building with more stone."
The design community has been embracing stone for facade design instead, and just in time, as changes in building codes and regulations are set to further tighten architects' design choices. Natural stone plays an important role in the future of sustainable architecture thanks to its life-cycle, durability, ease of care, low maintenance, and energy efficiency— the list goes on. The minimal environmental impact that innovative cladding wall systems provide is another reason the building industry is moving back to natural materials.
Polycor natural stones are applicable for a variety of facade anchoring and support systems. See how.
"Energy inefficient glass facades concerns are a good driver for the growing popularity of stone cladding," said Vega.
Vega understands this continued demand for stone cladding better than just about anyone: he's been the driving force behind the development of the cladding division of Polycor and he has an in-depth understanding of what architects and builders are looking for in their products.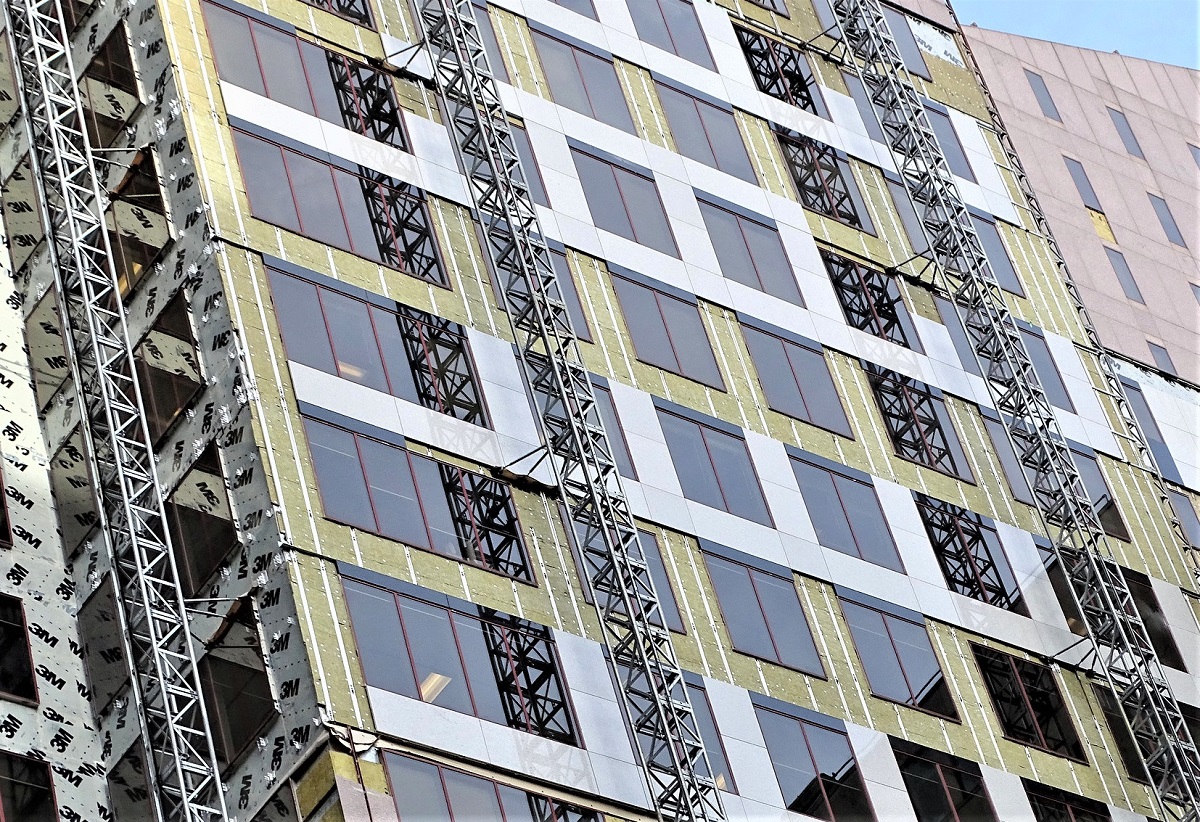 BETHEL WHITE® and CAMBRIAN BLACK® granite 3cm panels on Eclad system installed over existing structure | TD Building | Architect: WZMH
"The type of stone will dictate possible finishes, thickness, and more," said Vega. "For example, it's inadvisable to use polished 3cm marble and expose it to the elements for cladding. Direct communication with selected quarries will help validate the block sizes and thus the maximum finished panel sizes, what natural features can be expected in the stone, and the availability of the material according to job size and phases." Specification challenges can present themselves throughout a project, such as alternate stones being introduced by other parties and detracting from the initial design intent. Maintaining a close contact with the quarry teams helps ensure this is preserved. As Hugo points out, "Make sure to specify the true, branded names of the materials to avoid being supplied with undesired alternates." The old days of calling out Italian marble doesn't cut it anymore.
AT THE FOREFRONT OF NATURAL STONE CLADDING INNOVATION
Stone cladding isn't just the smart alternative to energy efficient glass, it's also the simple choice, thanks to new cladding attachment systems.
"These new attachment systems allow stone to be used for lighter applications, when the structure has not been designed for a heavy full bed," said Vega. "They also allow for a faster installation compared to traditional methods."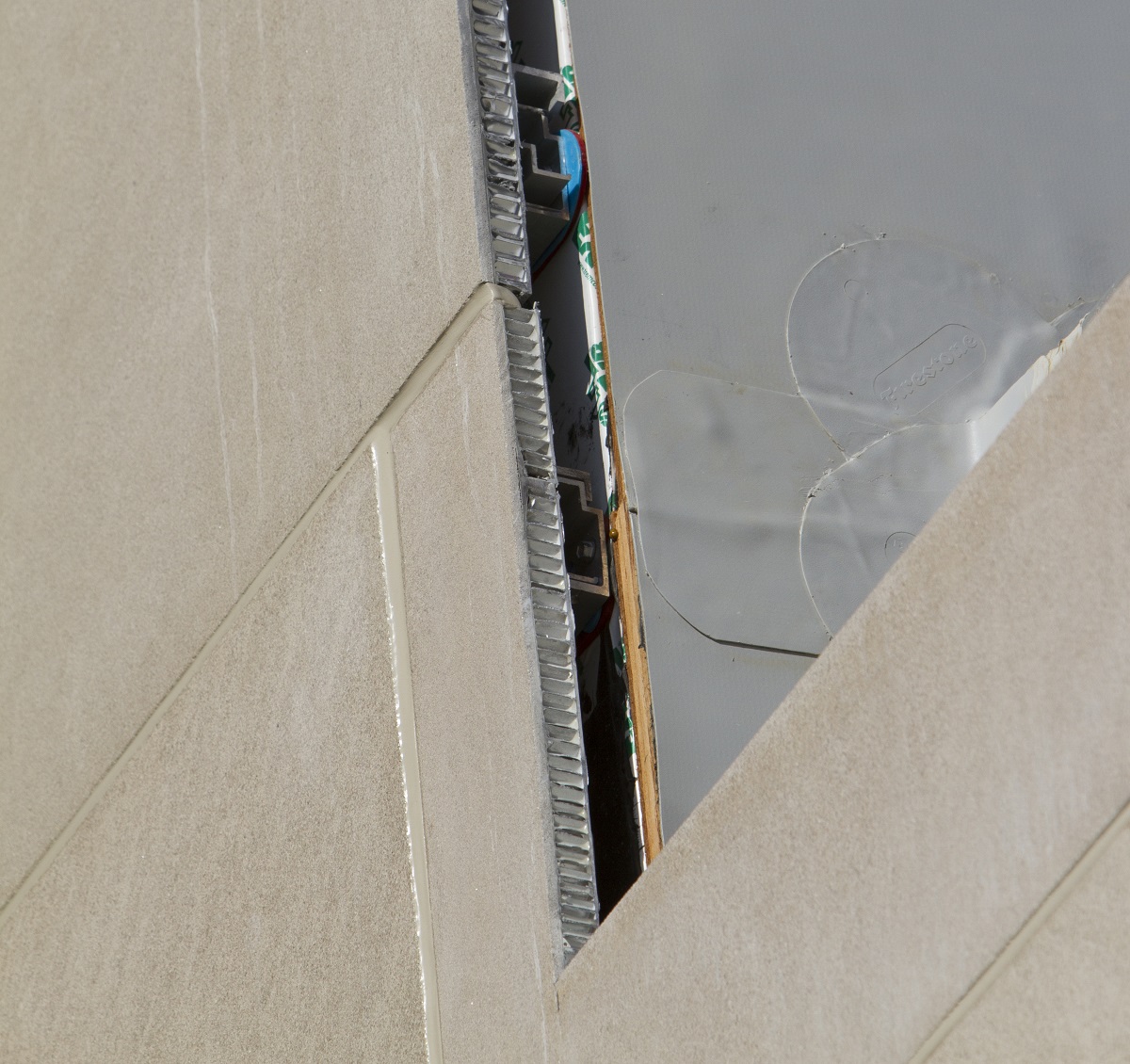 Innovative cladding solutions allow for greater design possibilities | Pictured: Litecore thin cut Indiana Limestone adhered to aluminum honeycomb backing
Cladding innovations can offer an elegant and cost-efficient solution for incorporating the colors and textures of natural stone without the complications of costly transportation and lengthy installation. While personifying the authentic character of natural stone, some of these systems remain lightweight for ease-of-use, making it a smart choice for addressing the strict requirements that architects must meet in modern building codes.
Polycor natural stones are applicable for a variety of facade anchoring and support systems. Originating at the Polycor quarries and all through production, the stones are manufactured to each of our partner system's specifications from ultra-thin profiles up to full thickness dimensional elements complimenting a wide range of facade structures.
When choosing a stone for cladding, architects need to weigh many factors: appearance, intended use, size of the project, strength, durability and performance. By choosing Polycor stones for facades, architects benefit from our full ownership of the supply chain, from all the way down in the bedrock up to the point of installation. The value of working with a company like Polycor, is that since we own our quarries, we can answer directly to any questions or concerns an architect might have during the process of developing a spec for a facade instead of having 2-3 middle men.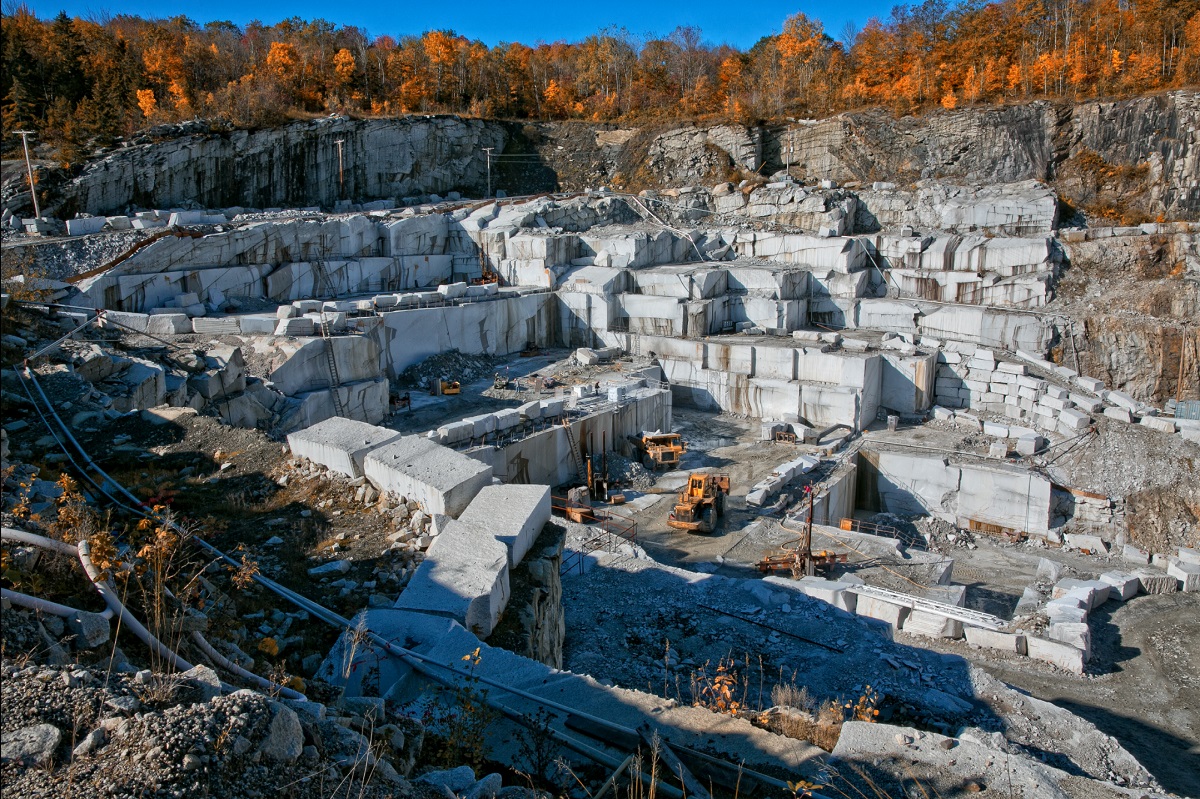 Polycor Bethel White® granite quarry | Bethel, VT
"We have a wide array of our own limestone, granite and marble, so architects can discuss with the source and get accurate and reliable information," said Vega. "We fabricate ourselves and sell blocks to other fabricators, ensuring competitiveness of the offers, while preserving the design intent. We work with industry leaders like Eclad, Hofmann Stone and others to offer a complete cladding solution for the project."
Vega has been interested in innovative cladding technologies and worked with research and development experts at our manufacturing plants to make natural stone cladding of variable thickness that can be used either inside or outside a building. It is generally affixed via an independent rail and clamp system.
Polycor's stone veneer can be installed over solid facing, which eliminates the challenge of removing the original substructure in some cases. Some stone panels are cut thin, while still maintaining the authentic look and feel of a thicker stone without the heavy weight of a 3-6 inch deep stone veneer, making installation fast and simple. Polycor's thin stones are compatible in many cladding configurations and are manufactured for systems like Litecore, a solution that offers stone at a fraction of the weight and installation at twice the speed.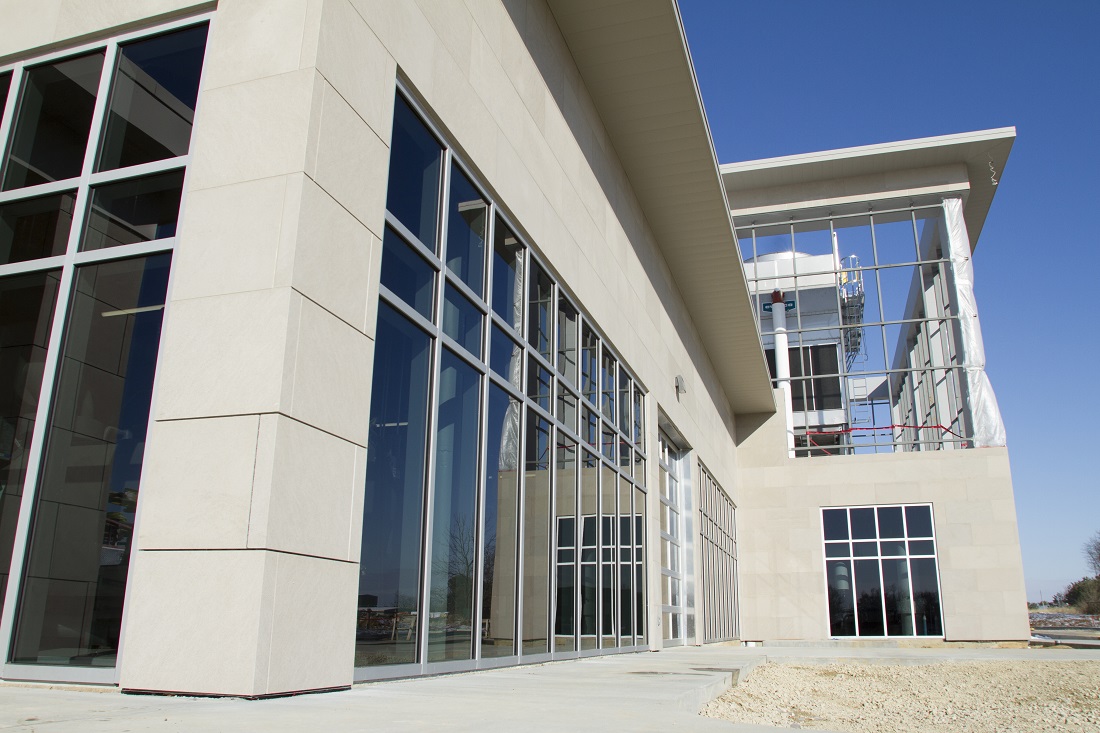 Image courtesy of: Litecore
Stone on Honeycomb with the Litecore system
These versatile, composite wall panels use Polycor stone cut into an ultra-thin veneer. Adhered to layered honeycomb, sandwiched between aluminum sheets and fiberglass mesh, the panels provide a low-density, high strength, and lightweight facade system.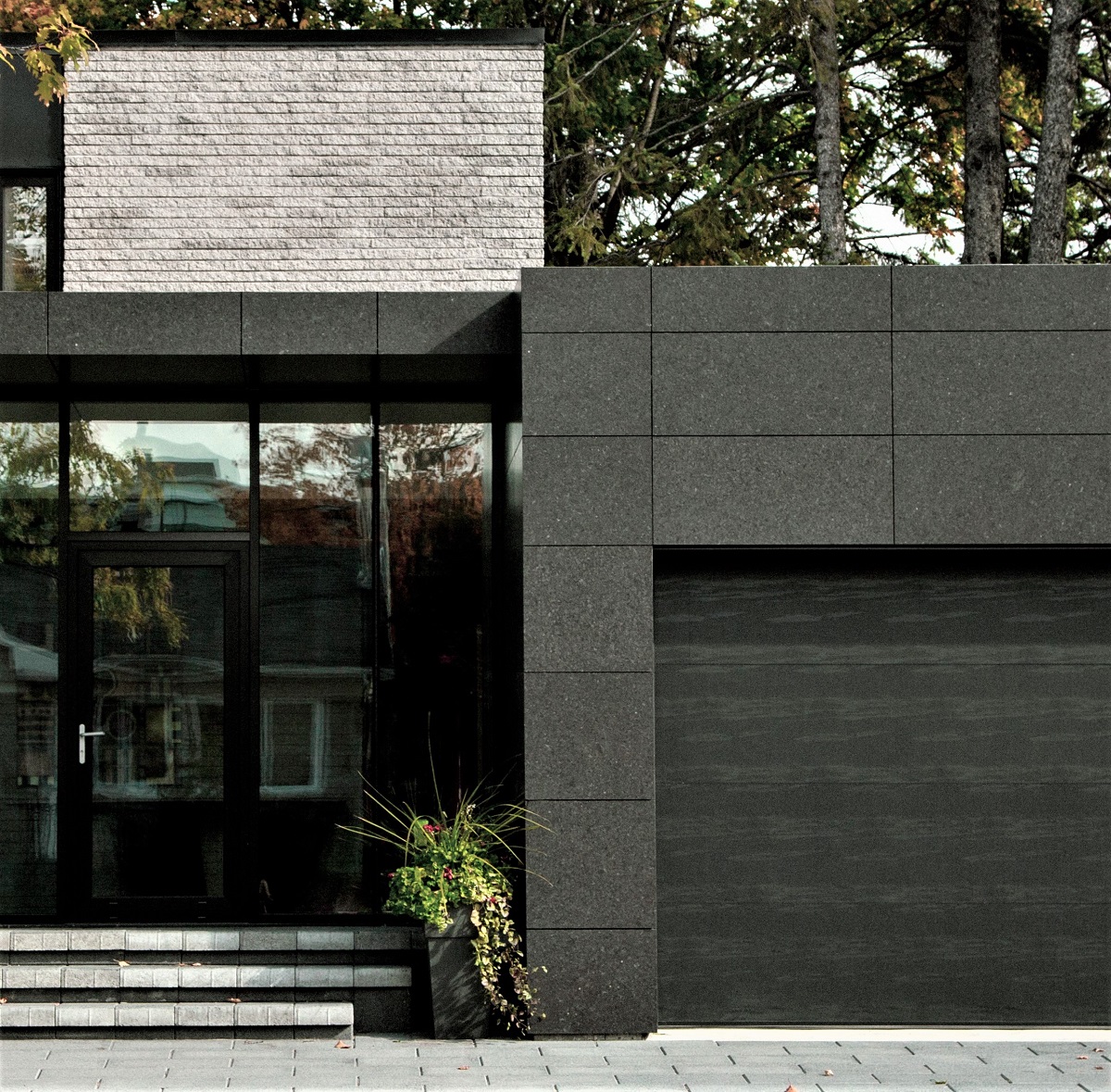 KODIAK BROWN™ ultra thin 1cm granite with carbon fiber backing on Eclad system | Architect: Régis Côtés
1cm Carbon-Backed Stone with Eclad and Elemex systems
Polycor 1cm carbon fiber backed slabs are ultra thin, lightweight, and durable natural stone products that rely on an adhered proprietary backing used in place of aluminum. The resulting stone panels are adapted to integrate into both Eclad and Elemex cladding systems.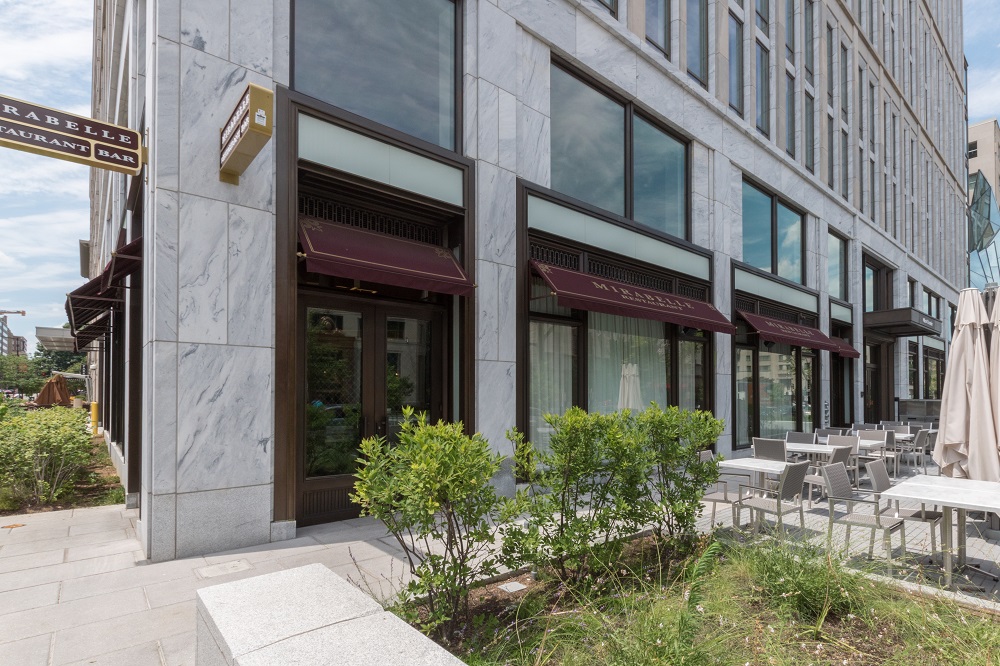 GEORGIA MARBLE – WHITE CHEROKEE™and Indiana Limestone facade on precast concrete | 900 16th St. Washington, D.C. | Architect: Robert AM Stern
Stone on Ultra-high Performance Concrete
3cm stone mechanically anchored to thin, precast concrete panels provides additional installation advantages. Companies such as Hoffman Stone systems are compatible with Polycor's stones.
Polycor has the expertise to create any project from a simple wall to benches, outstanding architectural projects and high rise lobby interiors. Each solution allows architects to design innovative, sustainable and aesthetically pleasing building exteriors incorporating stone surfaces.
"These solutions can also be used interchangeably to blend with more traditional architectural elements and stone masonry construction such as full bed trim, cornices, lintels and things of that nature," said Vega. "And again, once the material is specified, it can be used on any cladding system, traditional masonry and fabricated by pretty much all the fabricators operating on the market today. This way architects can lock in their design intent, and let engineers and builders establish means and methods to realize the design within budget."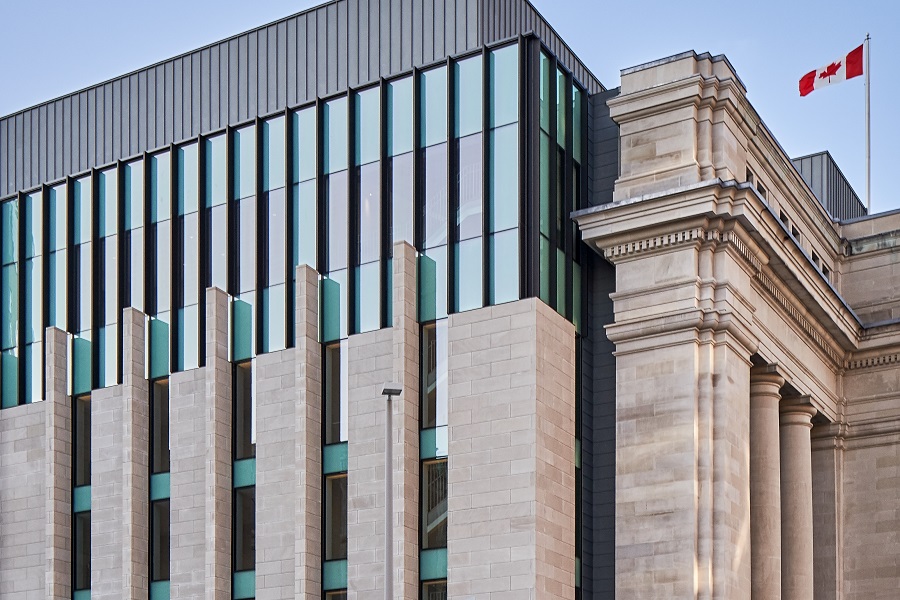 INDIANA LIMESTONE – STANDARD BUFF™ cladding blending a modern addition with traditional stonework | Senate of Canada, Ottawa, CA | Architect: Diamond Schmitt
Anchored in the past but ready for the future, natural stone cladding meets the needs of modern architecture and design. And while cladding innovations continue to make thin stone easier than ever to use, cladding is not the only future of natural stone.
"Actually, there is an opposite trend growing in Europe right now: instead of going thinner and lighter, we're seeing load bearing stone construction making a comeback. It's the New Stone age," said Vega.