9 Rock Solid Farmhouse Sink Designs With Soapstone, Granite and More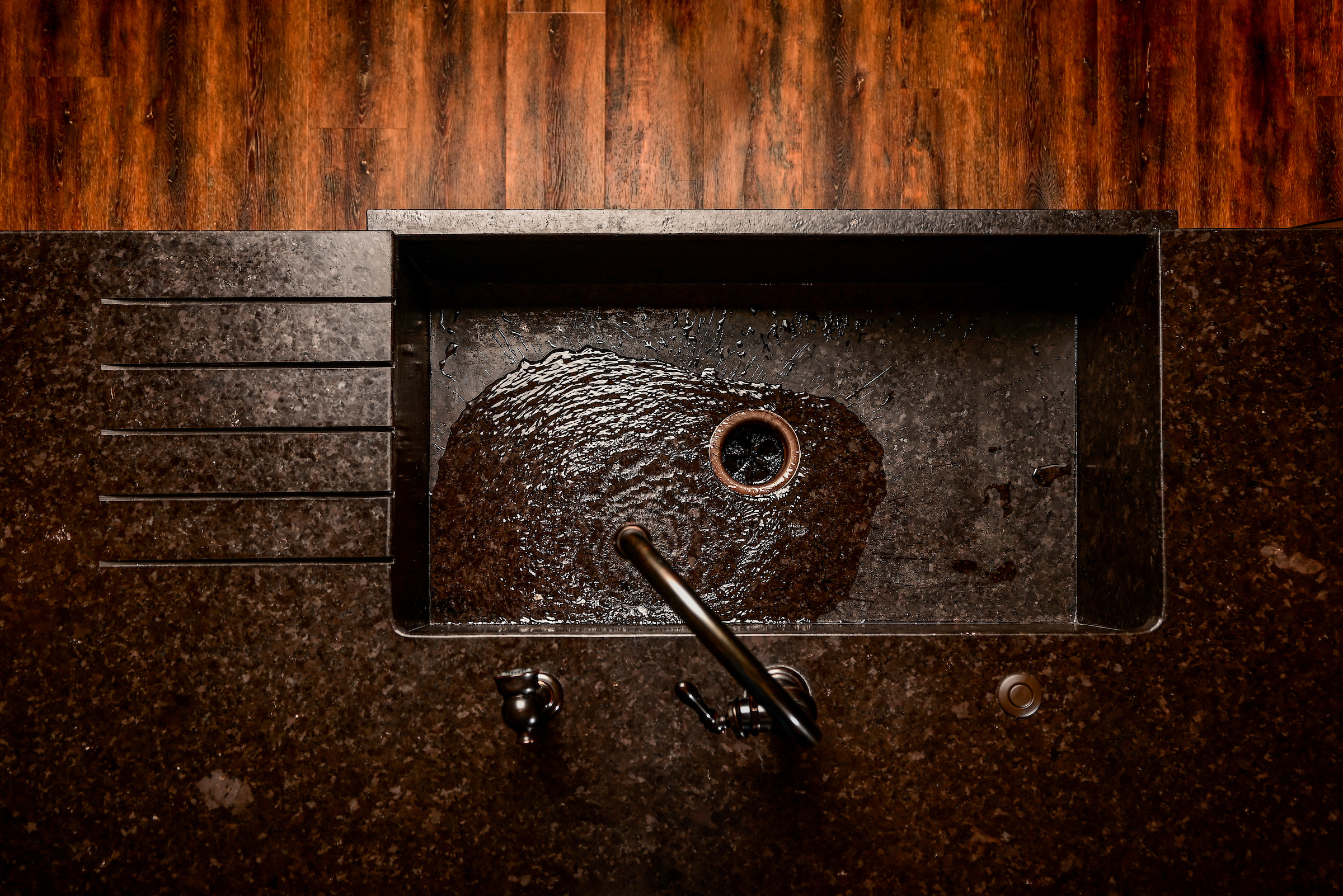 Why does the farmhouse sink endure? Is it the sink's timeless look or it's ability to hold up to washing babies, dogs and giant spaghetti pots?
I'm going to say both. Perhaps what also keeps the farmhouse sink on trend is the variety of materials and styles it comes in. Farmhouse sinks (or apron sinks) can be crafted out of almost any material – porcelain glazed cast iron, fireclay, ceramic, stainless, composite and even natural stone. For example, fabricators can custom make sinks from marble, granite or soapstone.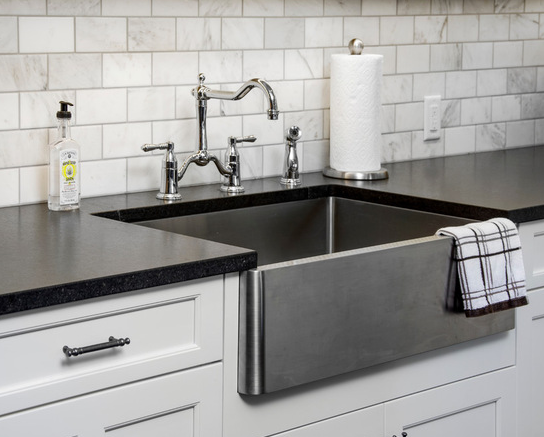 Stainless steel, porcelain and fireclay sinks are all made in molds and on an assembly line, whereas stone sinks are more customized and can be made to fit any size opening. Stainless apron sink above shown with Cambrian Black granite countertops.
Glazed cast iron sinks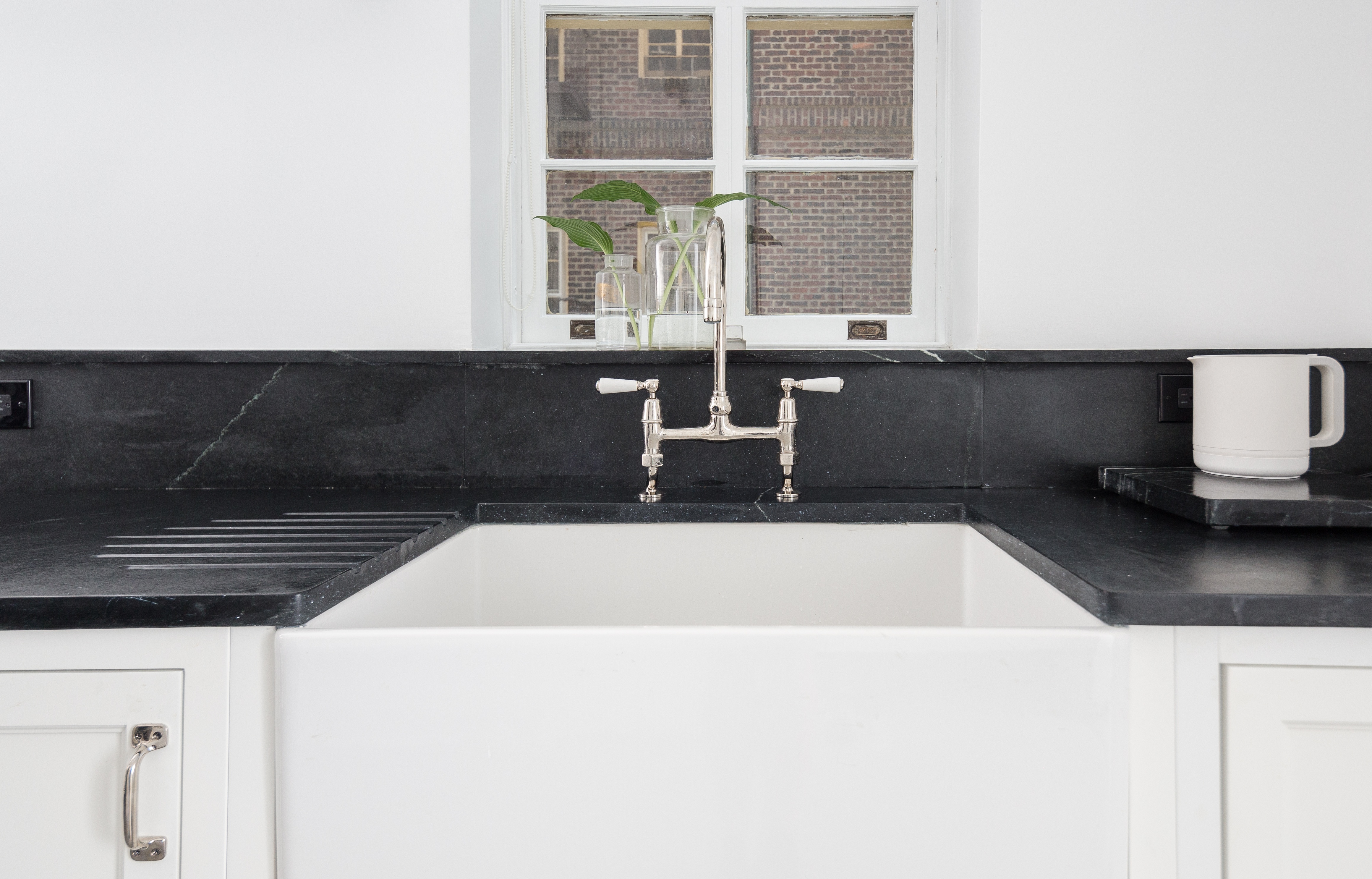 A white apron sink makes for a crisp, clean tuxedo look against oiled soapstone countertops in a Brooklyn brownstone. The classic white pairs well in modern, traditional and eclectic interiors.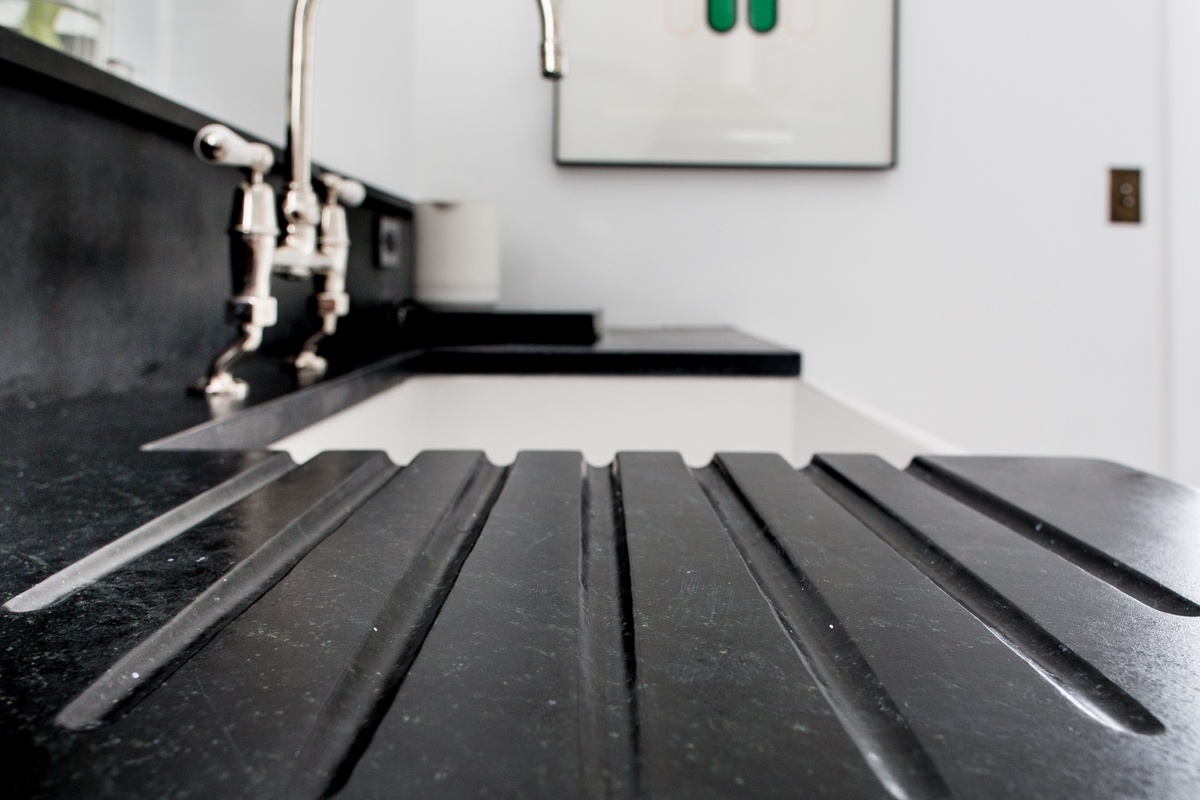 Deep sinks are great for hiding dirty pots and pans and built in drain boards (carved right into the soapstone countertop!) maintain practicality, minimalism and high design. Fabrication by Garden State Soapstone which also makes soapstone sinks in a variety of designs some featuring ALBERENE SOAPSTONE™ from Virginia.
Carved granite sinks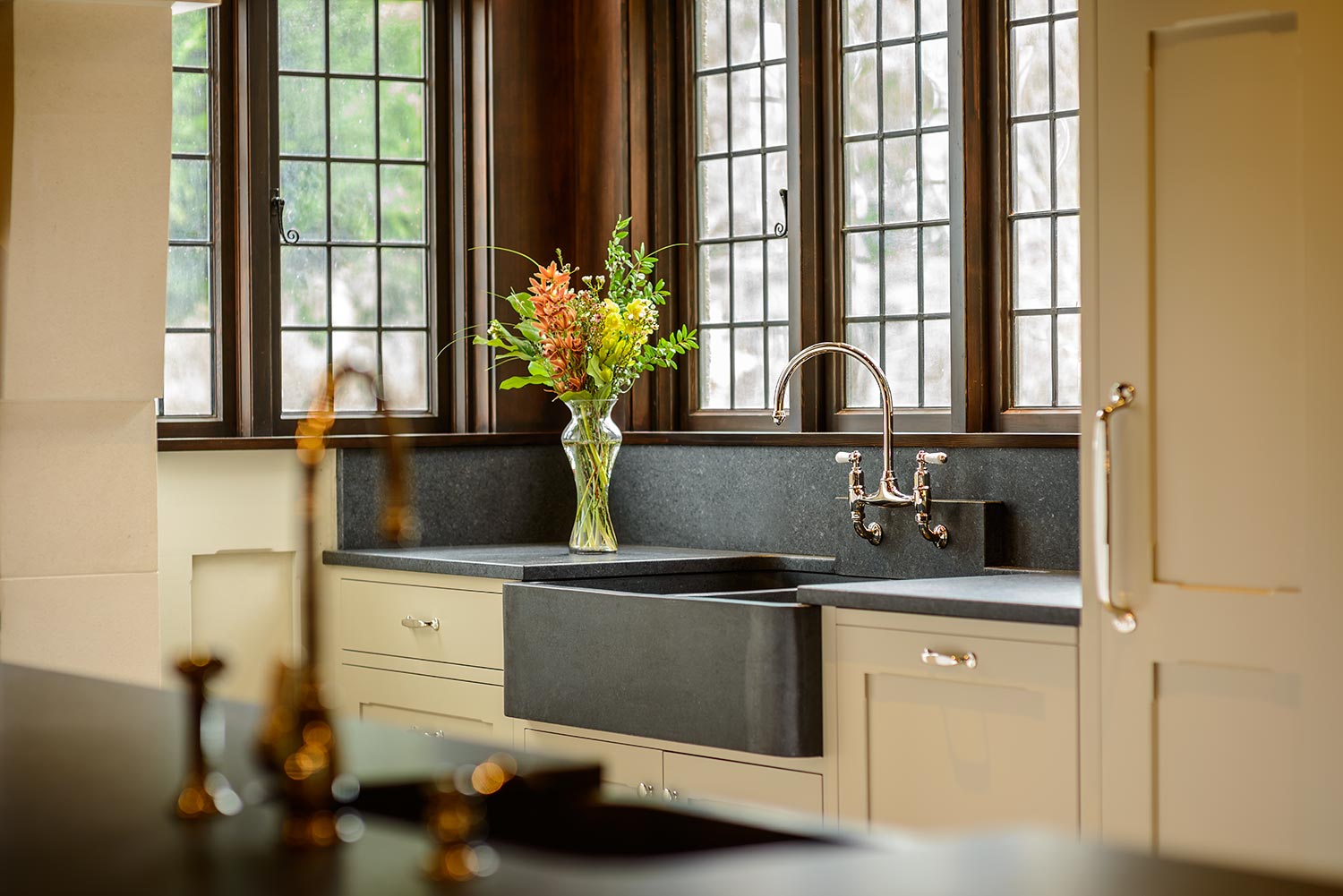 This carved CAMBRIAN BLACK® granite sink and matching countertops and backsplash give a sculptural quality to an everyday space. The naturally black granite from Canada is one of the most durable natural stones on earth. Also interesting, the sink's large radius has curved corners so they aren't as sharp. And fabricated in the same granite, the integrated faucet plinth built into the sink's back wall becomes an interesting feature.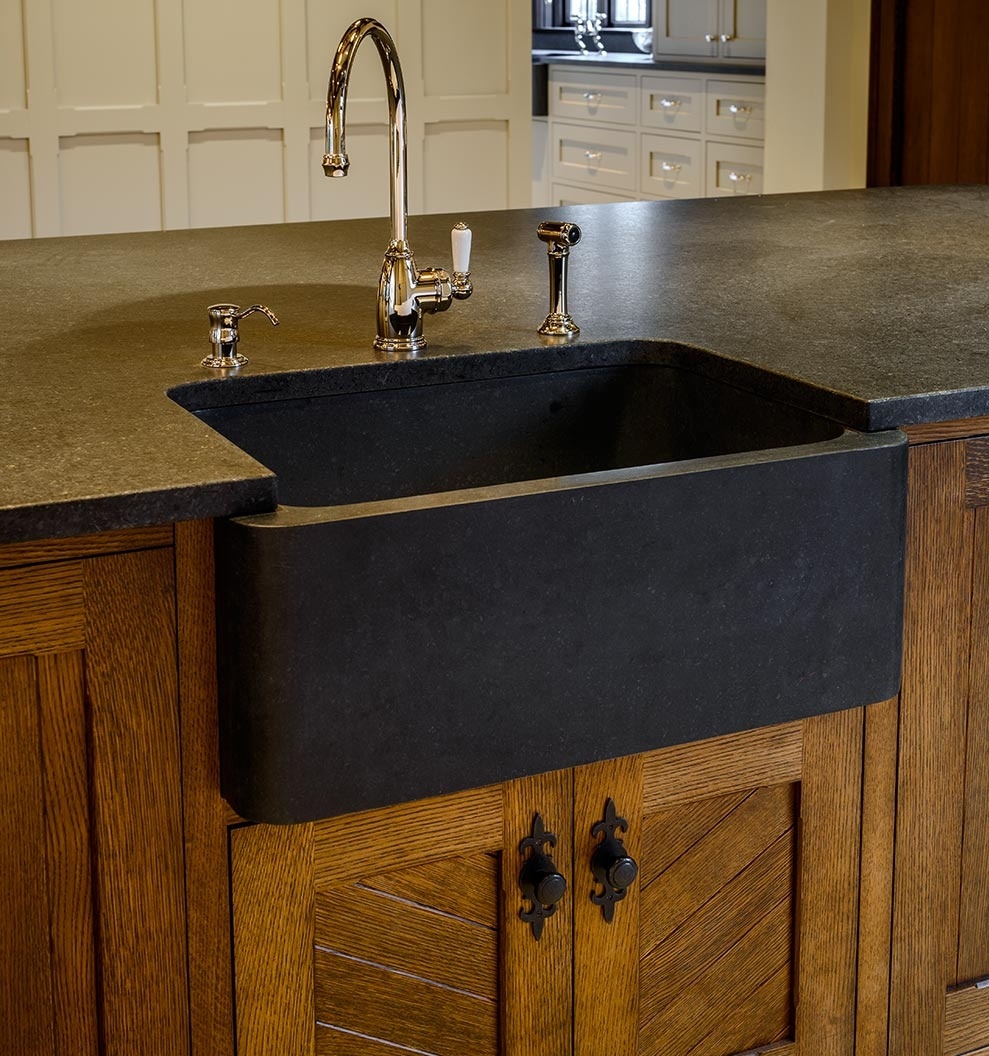 Warm woodcabinetryis the perfect compliment to the deep black tone of this Cambrian Black granite sink and countertops and oiled bronze hardware. Another example of one carved from a single block of stone by fabricator Stone Age Marble in British Columbia. Cabinetry by Jason Good Custom Cabinets.
Soapstone sinks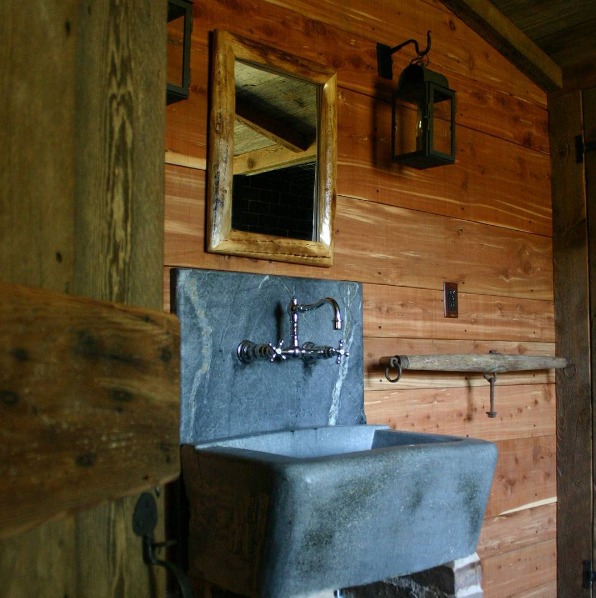 Soapstone farmhouse sinks carved from a block of soapstone feel especially rustic, great for country homes or outdoor installations. – notably if custom carved with ornamentation or artistic motifs. Natural stone sinks can be crafted from individual pieces of stone attached to each other with adhesives (known as an additive process) or carved from a solid block of stone (the reductive process), which can offer a broader range of design possibilities.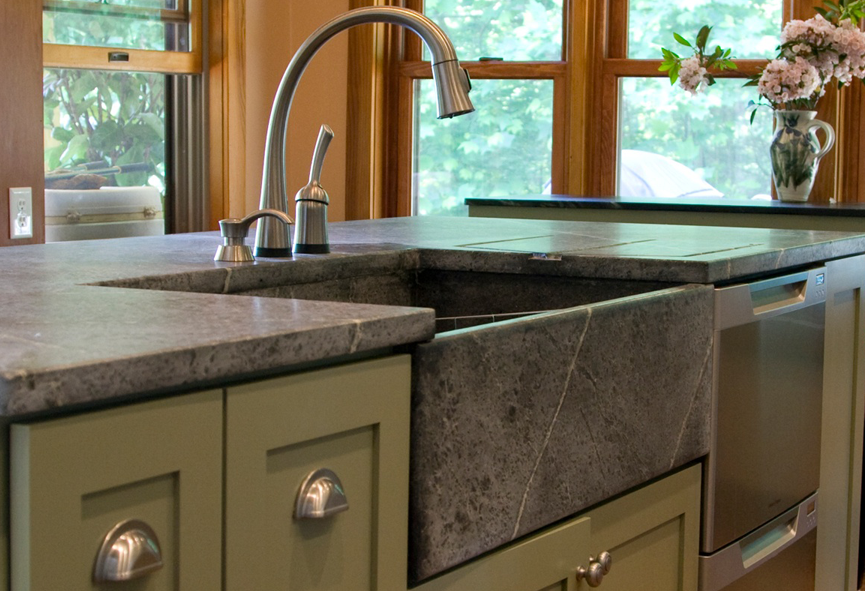 Still in the hands of the right craftsmen and designers, the additive process can result in a stunning sink. Soapstone sinks can have a variety of looks depending on whether they are treated, with oil, enhancer, wax, or left natural. Naturally occurring veining also adds one-of-a-kind character to soapstone sinks that can't be replicated in other materials.
FIND AN ALBERENE SOAPSTONE EXPERT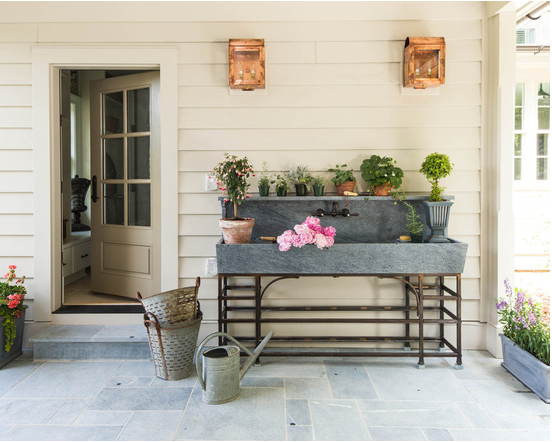 Fabrication by European Stone Concepts
Not all farmhouse sinks are IN the house. This soapstone porch sink makes potting, watering and displaying plants easy and beautiful. (Love that natural grey against a pink flower…)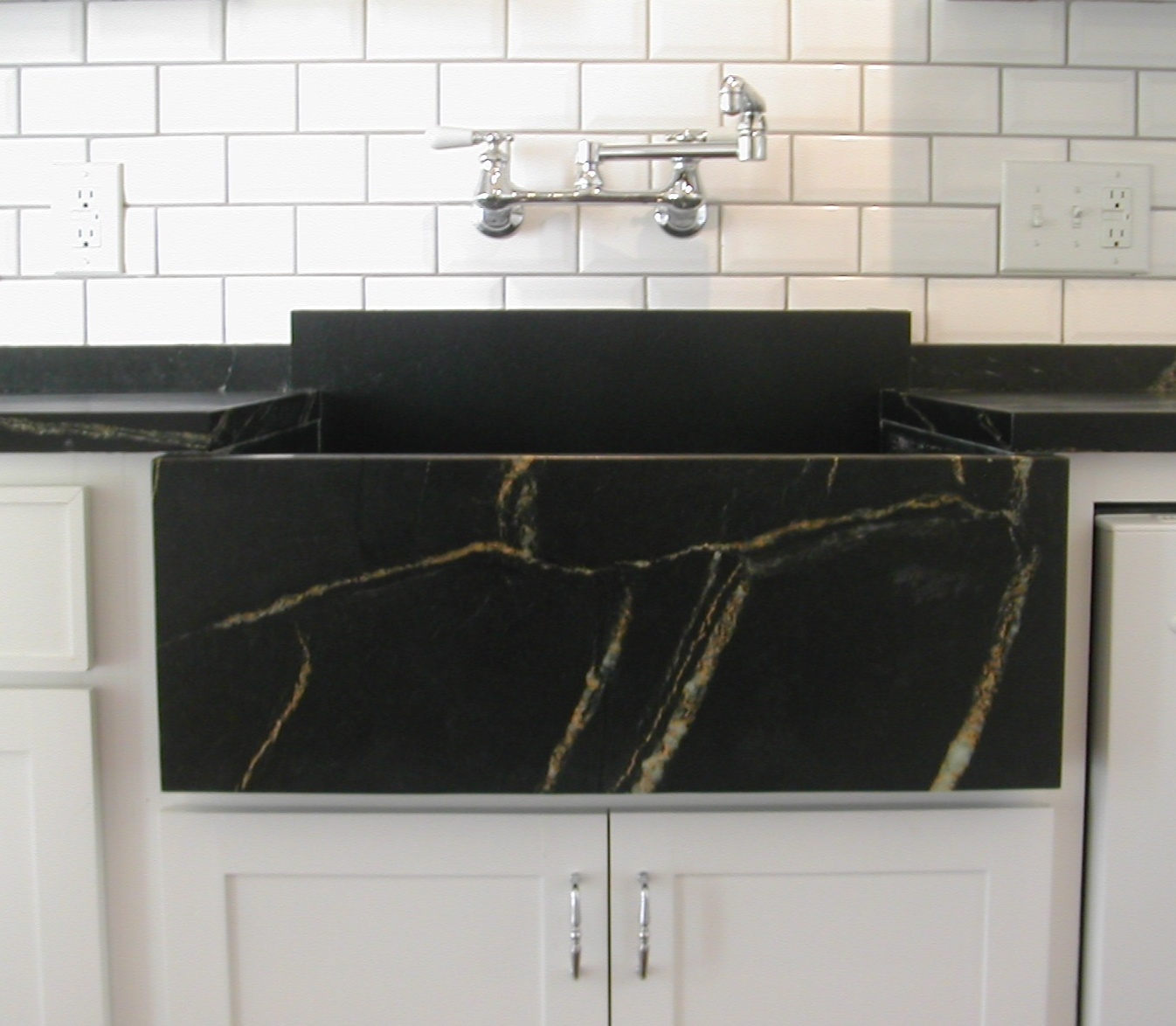 While some farmhouse sinks are designed to blend in, this one is designed to stand out as a work of art. Clients can shape the character of their own sink by choosing their own slab of natural stone before custom fabrication and even choosing what areas and pieces they want to highlight for the front or interior sections of the sink. Here, prominent veining of the Old Dominion variety of Alberene Soapstone makes the sink a focal point in the black and white kitchen.
Each type of farmhouse sink whether stainless, natural stone or porcelain will require its own special care and cleaning.