A Sustainable Modern Homestead Takes Shape With Alberene Soapstone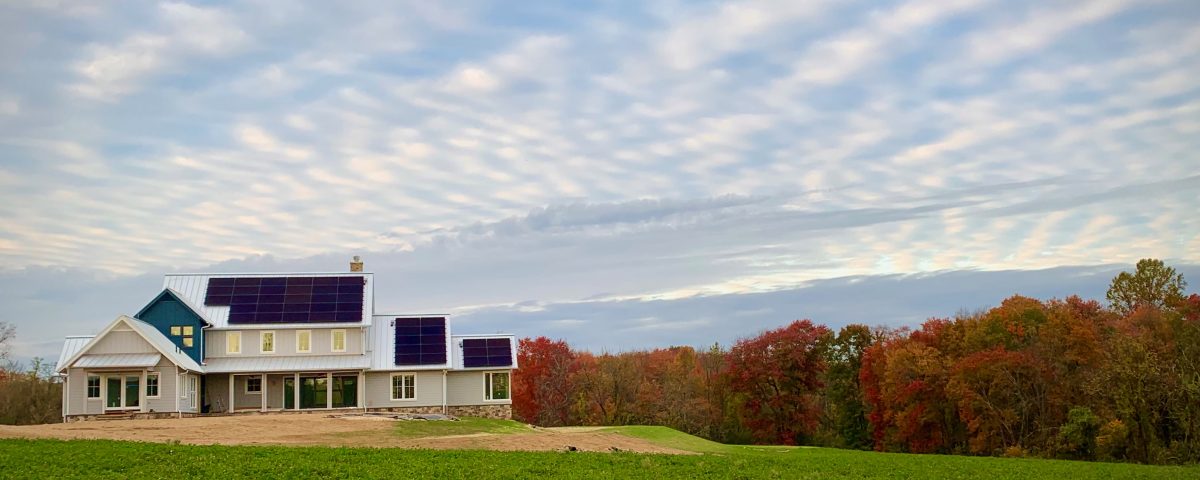 Sustainability starts at home for Jason DeSalvo, or more accurately, at the homestead. Together with his wife Deborah, the DeSalvos wanted to build a home in New Jersey guided by their worldview and focused on principles of sustainability, energy-efficiency, and the home's integration with the land surrounding it.
"There are people that put natural stone around their house, and there are people that use engineered stone," said Jason." It's been a rare experience that I've seen humans do something better than nature did it. By way of example, man-made things age, natural products patina. And I think that's a real difference."
The couple strives to live a life that is sustainable, in harmony with nature, and supportive of their local community. Their vision for a modern homestead, where life is just as much about the land as the home, came to life on a 43-acre site in the rolling hills of Oldwick, with a large open agricultural field, a wetland, and more than 25 acres of woods. The land had never had a house on it, and it was of extreme importance that the home have a small carbon footprint and that it be surrounded by native plants to negate that footprint. It was a balance of respecting what had been there before them while also looking ahead to the future.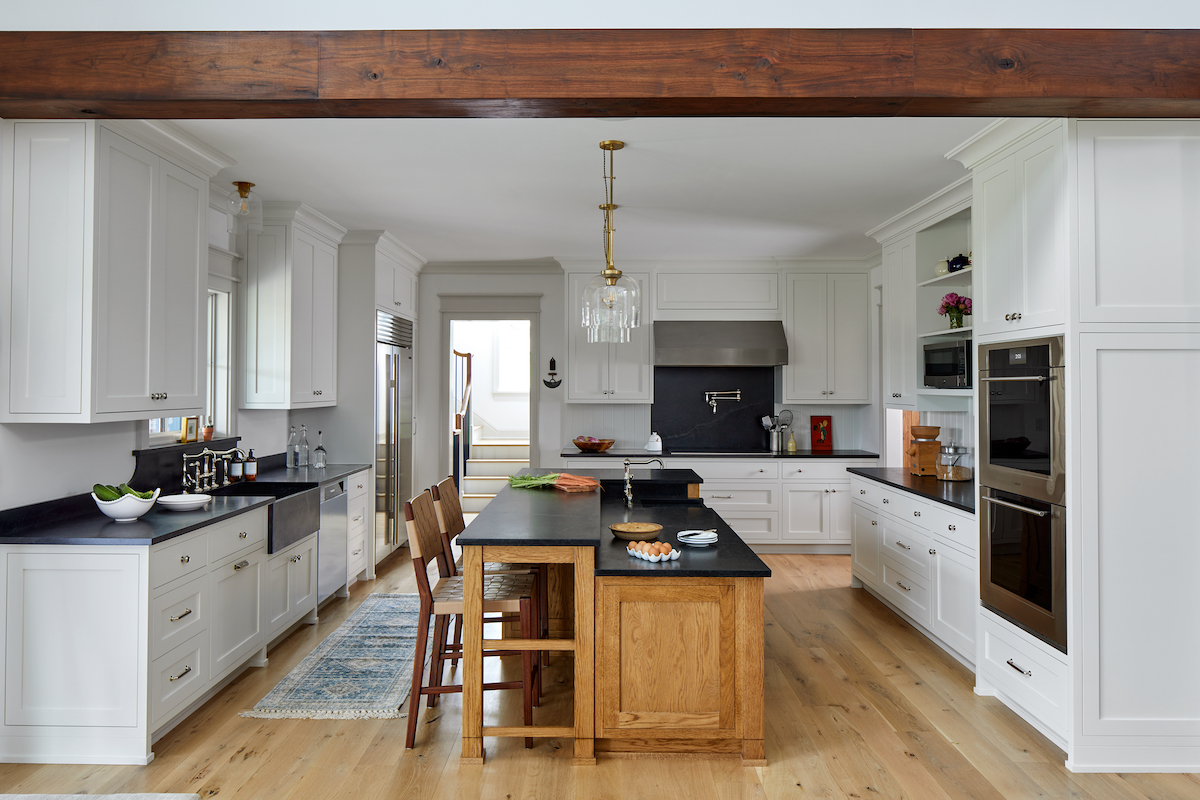 Their design-build choices reflect that vision; sourcing materials locally and embracing the stewardship of the land—leaving it better than how they found it. By employing state-of-the-art construction techniques in virtually all areas, today Cold Brook Farm is a net zero-energy passive house that generates all the energy required by their household through renewable energy sources – 72 solar panels and geothermal heating and cooling.
The house, designed and built by WESKetch Architecture + Construction, appears on first look as though it's a traditional, rustic Craftsman farmhouse, appropriate for the local architectural vernacular. Led by Bill Kaufman, Owner and Principal Architect of WESKetch and a pioneer of sustainable design for decades — he was the first LEED-accredited architect in New Jersey— who brought his deep understanding and environmental sensitivity to the project.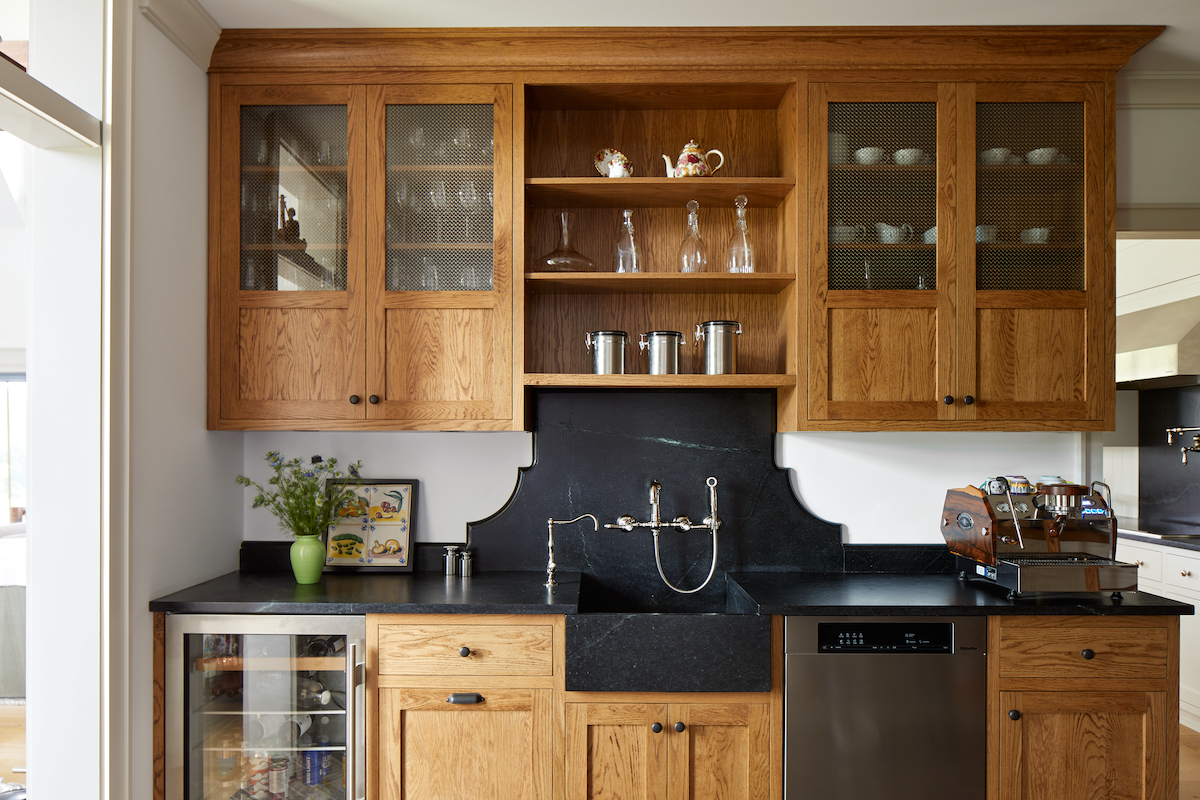 A custom sink and ornamental backsplash define the adjacent bar area off the main kitchen. Soapstone is a great choice for solid sinks. Read more about these rock-solid soapstone farm sinks.
"We were not going to plop a McMansion down in an area that's been permanently settled from 1740, with all these beautiful old local farmhouses," said Jason. "Although it's more challenging to build a NetZero house that looks like a farmhouse, than it is to build one that is a square rectangle like a California modern."
While much goes into the construction of any home, creating a self sustainable ecological home that is environmentally responsible and improves the ecosystem around it comes with a completely different set of challenges. During a time when many businesses are struggling under the weight of collapsing supply chains, local sourcing has become more important than ever.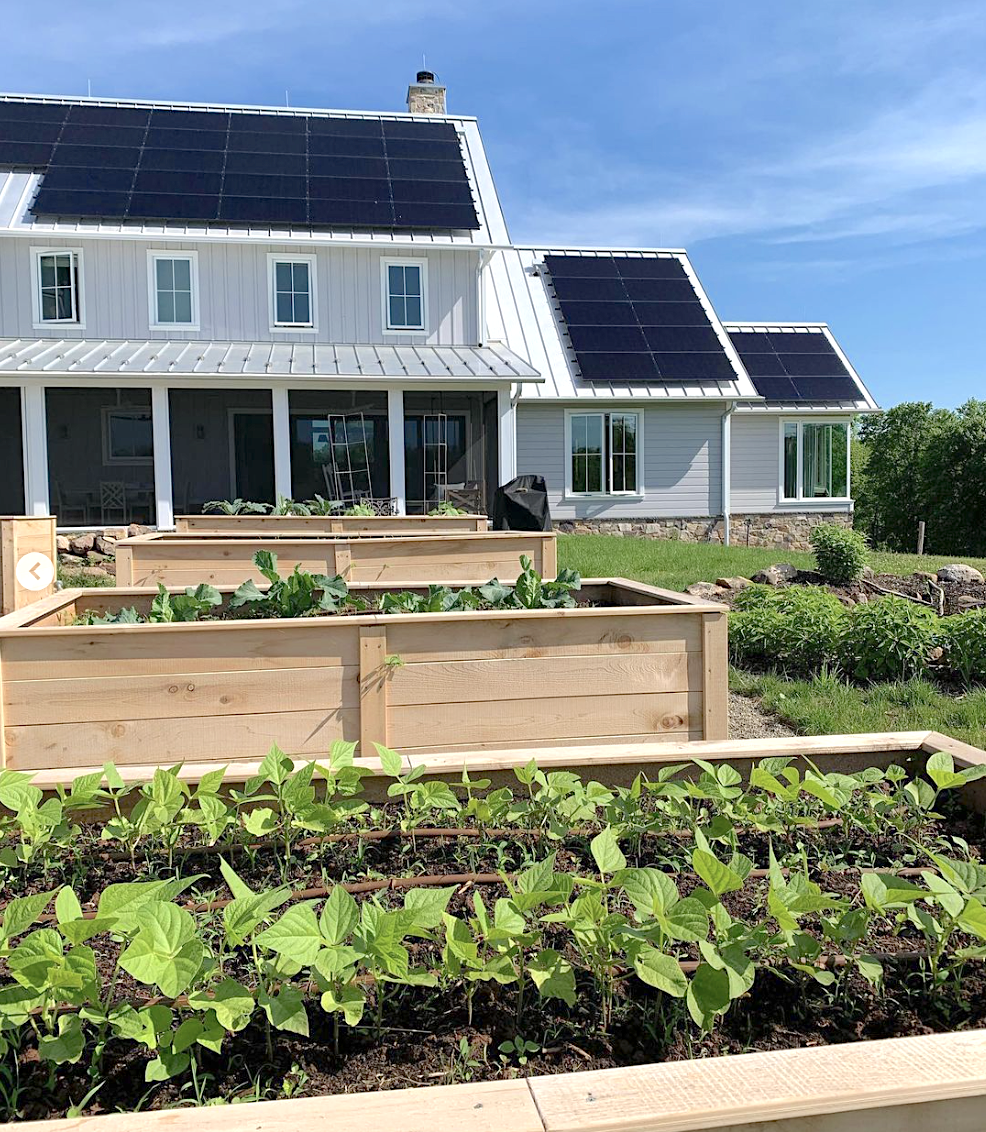 Sourcing materials locally added yet another layer of complexity but the DeSalvos were committed to using materials that were both sustainable and produced or harvested within 500 miles of the property. It took a village of stakeholders, sharing a holistic view that encompassed both the architectural design and the construction process, to make that vision a reality.
DISCOVER MORE ABOUTPOLYCOR'S MADE IN AMERICA, END-TO-END, SUPPLY CHAIN
The exterior is covered in finger-jointed redwood made out of scrap and cut-off pieces from post-industrial manufacturing sources that would otherwise have been destined for the landfill. Finishes inside the home include other responsibly sourced materials like live-sawn natural white oak flooring from Hull Forest Products, an award-winning Connecticut-based sawmill that sources all their wood products from local woodlands that they both own and manage, and utilize zero VOC paint.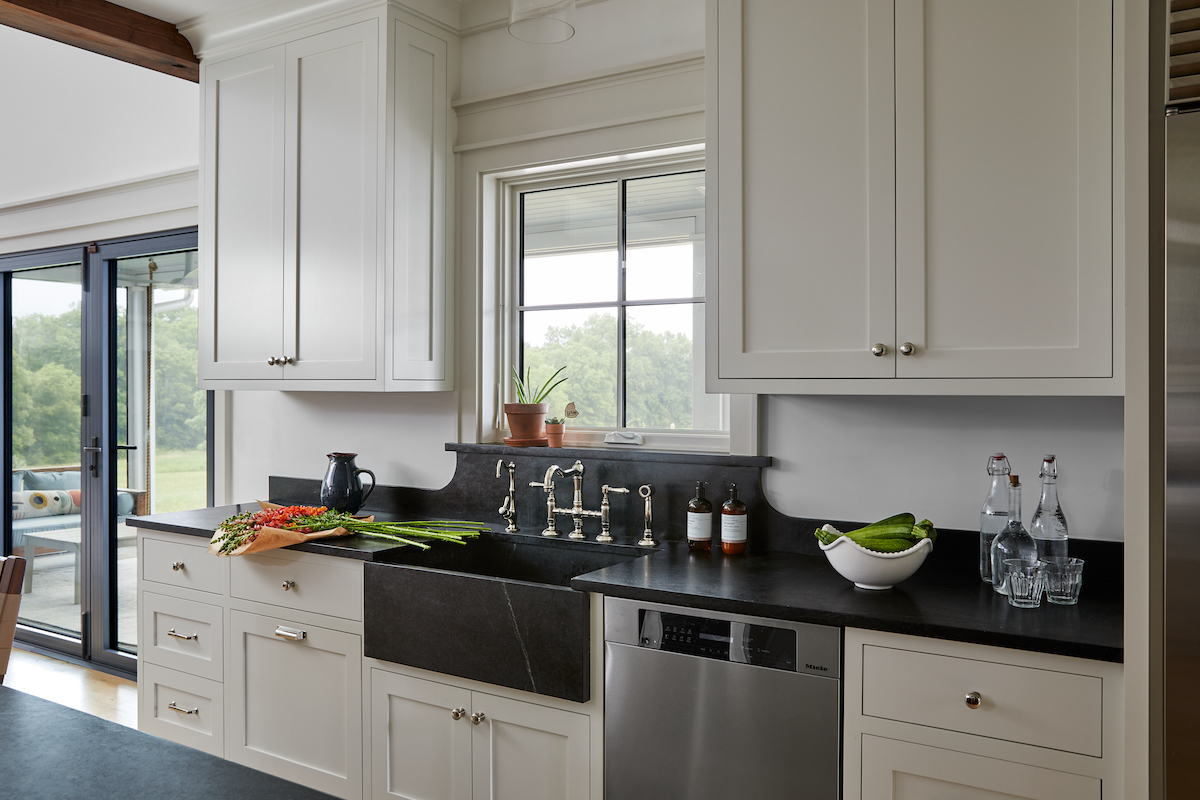 Another custom soapstone farm sink cut from the same Alberene Soapstone provides a durable, and attractive alternative to stainless steel or porcelain sinks.
The kitchen includes an induction stove — as part of their suite of high-efficiency electric appliances — formaldehyde-free custom cabinets made of white oak and maple from a local Bergen County cabinet maker and ALBERENE SOAPSTONE™ countertops. Much like the choice of cabinetry, the soapstone is naturrally ocurring and does not contain any harmful ingredients – just as nature intended. Whereas quartz countertops attempt to mimic the look and feel of natural stone, those manmade slabs use petrochemicals and petroleum distillates in the resin binders and added pigments that makeup the material.
"Soapstone is far and away the most environmental choice you can have for a countertop material," said Jason. "It's not as hard as granite, so you're using a lot less energy to machine it. With soapstone you don't have to put noxious chemicals on it to seal it, so maintenance-wise you don't have to throw other garbage into the environment."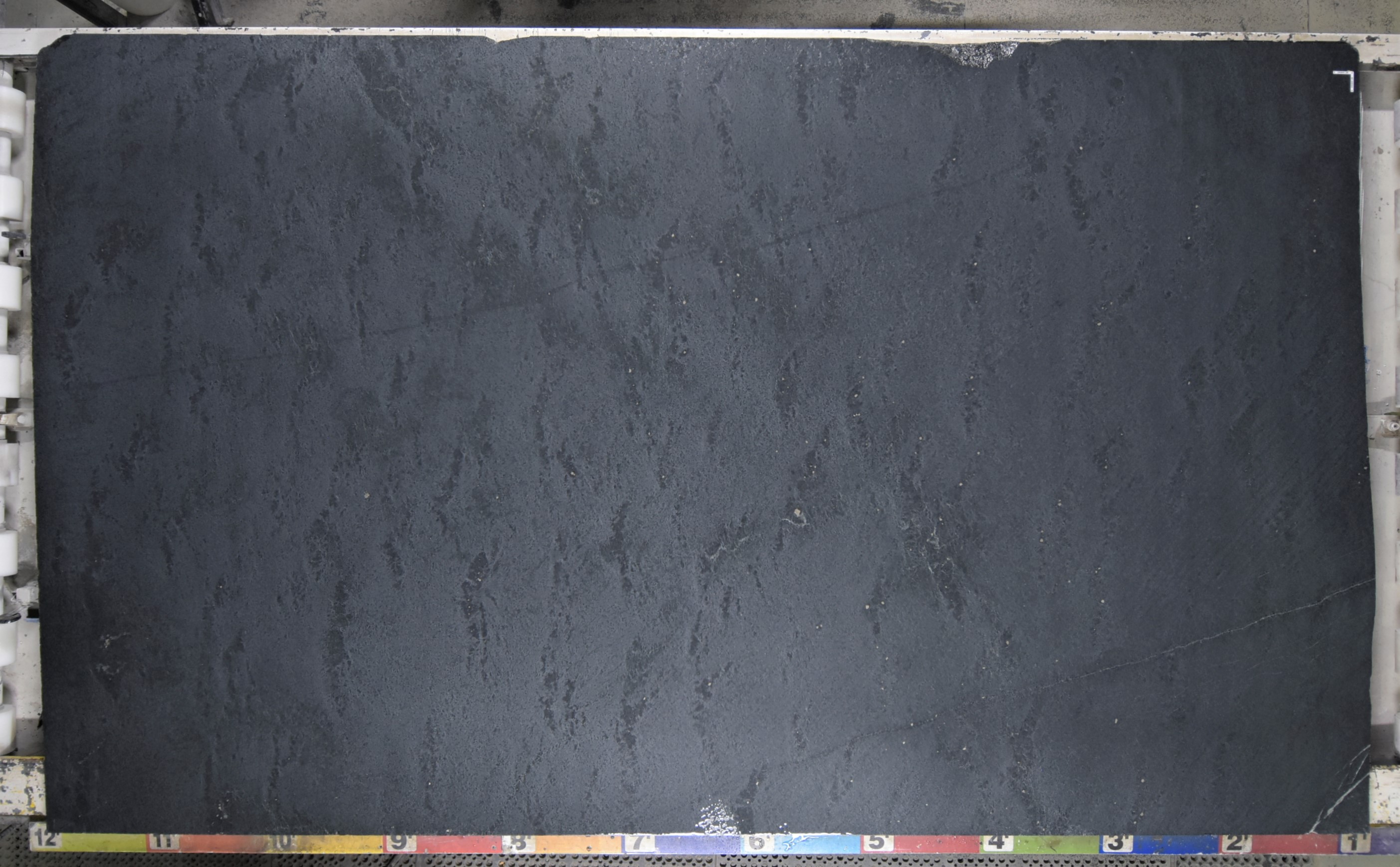 Alberene Soapstone is the only soapstone quarried in the United States and is also one of the only types that turns to a deep, dark black soapstone color when waxed or enhanced. Pictured is a slab as it comes from the Polycor processing plant.
Unfortunately, most of the soapstone used in residential construction in the United States is quarried overseas and then transported here—a logistical process that countered their sustainability commitments. Alberene Soapstone, quarried in the Blue Ridge Mountains of Schuyler, Virginia, is the only soapstone that is still actively quarried in the United States. It is classified as architectural grade soapstone meaning it has a higher density than other imported soapstones due to its lower talc content. This results in greater resiliency and improved performance over other soapstones on the market. It is also one of the most eco-friendly countertops available anywhere.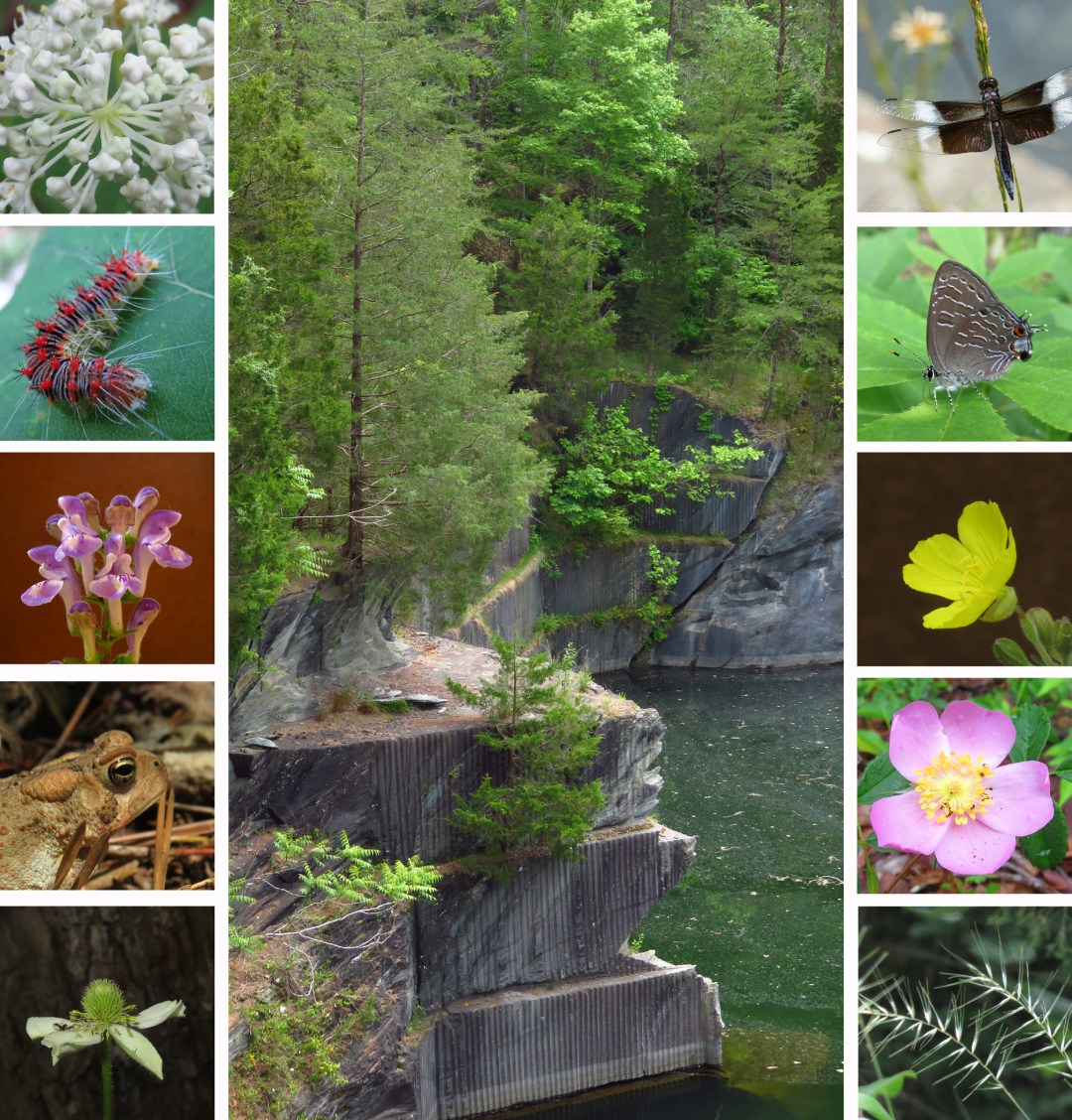 Some the local flora and fauna that thrives around the natural mineral deposits of Alberene Soapstone, rich in magnesium steatite. A non-profit nature preserve, Quarry Gardens, is situated alongside Polycor's quarry providing thousands of acres of open land, and lush trails, and is a popular destination for horticulturists, bird watchers and nature lovers.
The choice of sustainable countertops for Cold Brook Farm aligned with the same values and vision which guided the entirety of the zero-energy home project from inception: products that ticked all the DeSalvos' boxes—locally harvested and produced, built-to-last, and low embodied carbon.
"I chose soapstone, and it was fortuitous that Polycor has that same environmental mission because it fits in with what we're doing," said Jason. He partnered with local company M. Teixeira Soapstone that specializes in soapstone fabrication and installation. They have been working with Alberene Soapstone for decades and appreciate its consistency and local availability and enjoy visiting the quarry regularly to select slabs for their inventory.
Read more about Polyor's commitment to sustainability here.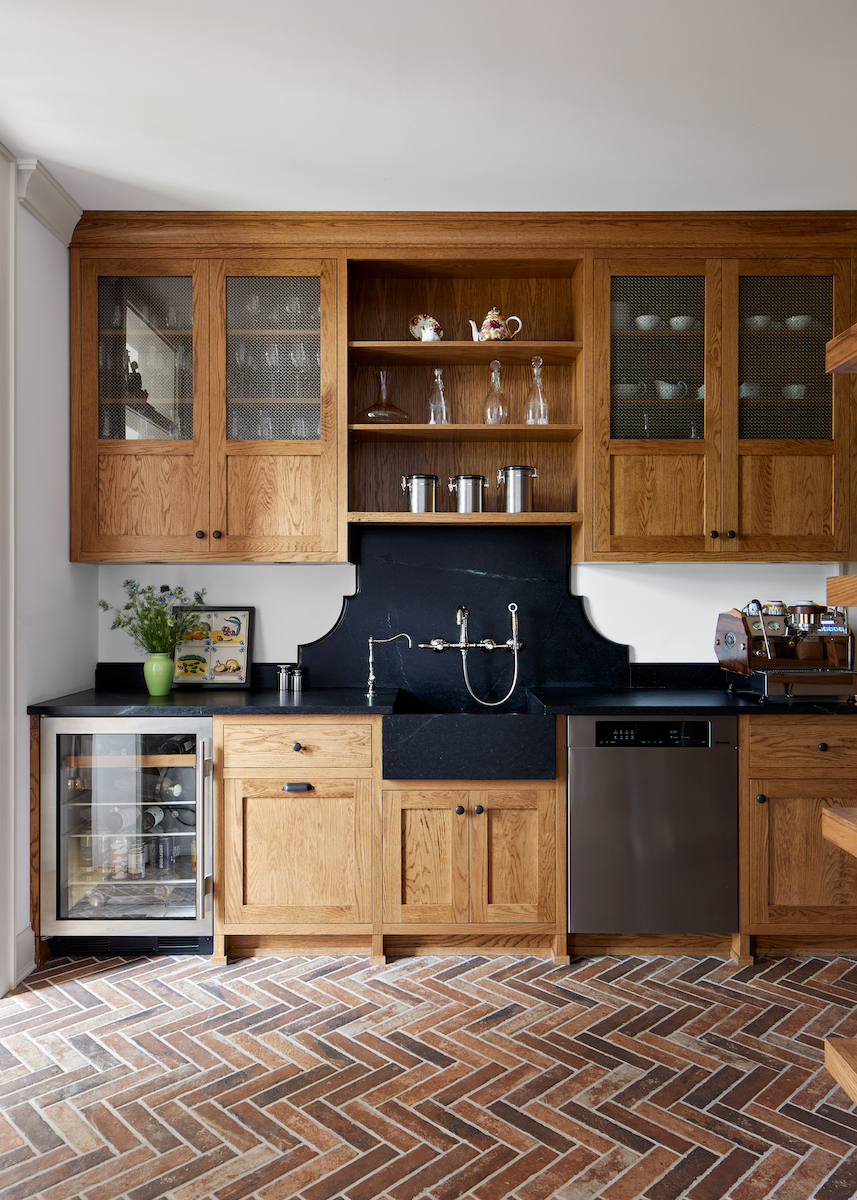 The herringbone brick floor in the bar adds to the rustic farmhouse aesthetic in much the same way as the Alberene Soapstone countertops, sink and backsplash do.
They started the build with an extremely tight, well-insulated "envelope" for the exterior walls that allows the space inside the home to be virtually unaffected by the temperature outside. Framed with Tstuds, an energy-efficient, innovative lumber-replacement product with an internal truss system, with damp-spray cellulose insulation that prevents both conduction and convection in the above-grade, exterior building walls. Comprised of 80% recycled paper and 20% borate, the insulation is fire-retardant, resistant to insects and rodents, and anti-fungal. Cold Brook Farm also used cellulose insulation as loose-fill in the attics and dense-packed in the basement and foundation walls.
WESKetch worked with the couple to evaluate factors like geographical proximity to the homestead and the carbon footprint associated with transporting materials to find suppliers, distributors, and products that could make their vision a reality – but it didn't end with the construction of the house.
Passionate about maximizing the biodiversity and health of the land that surrounds their zero-energy home, the DeSalvos run an organic farm on the site dedicated to regenerative agriculture and farming practices with an eye toward sustainable land use. By growing local grains, fruits and vegetables they fully embrace a field-to-cupboard and farm-to-table way of life. There is even a 2,500 gallon cistern, 'the mother of all rain barrels' Jason likes to call it, installed on the property that is used for irrigation in their homestead garden and food forest areas.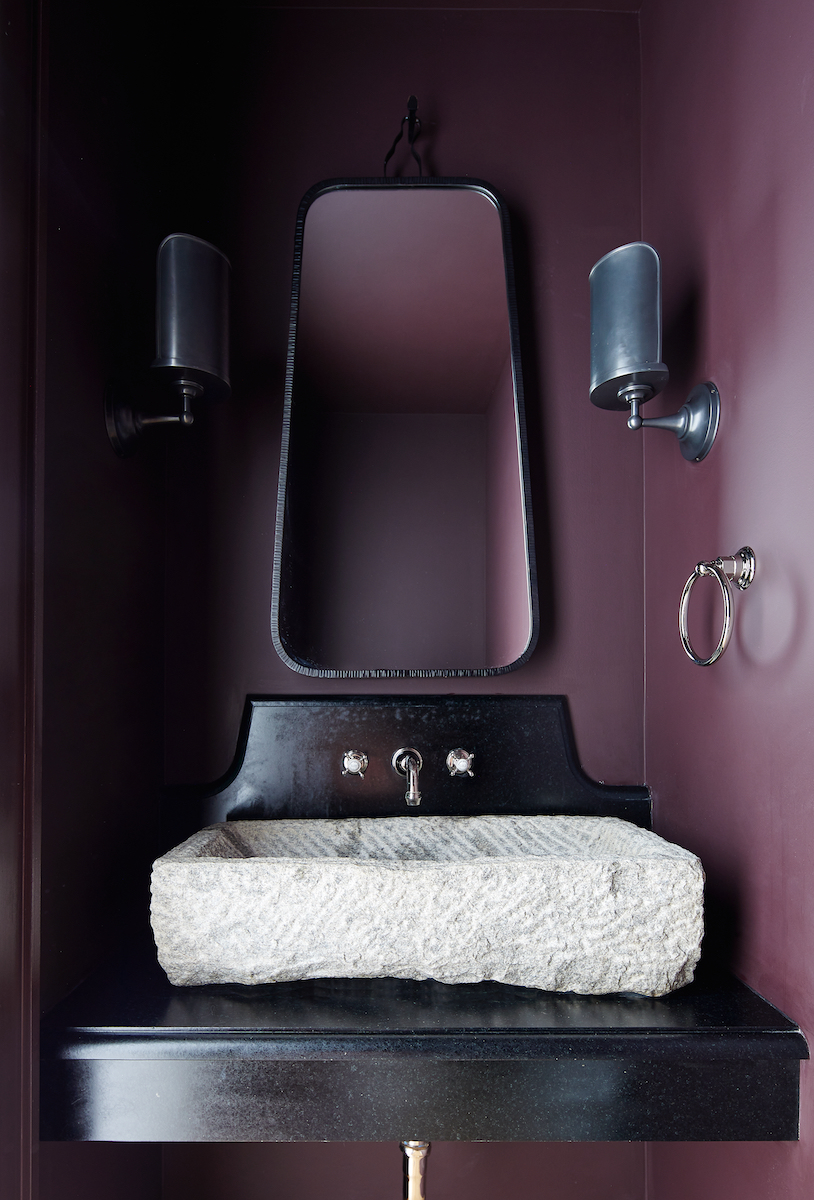 A custom Alberene Soapstone vanity and sink are the centerpiece of this moody powder room.
"I think you have a responsibility to do as little harm as you can," said Jason. "So that means doing things like driving electric vehicles, it means taking a farm that's been farmed conventionally for the last 200 years and converting it to organic, which we've done."
The DeSalvos partnered with local farmers at River Bend Farms to convert their farm to organic, regenerative agriculture. In 2020, for the first time in many decades, the farm's crop of oats and crimson clover was grown without any synthetic fertilizers, pesticides, or herbicides like glyphosate which is responsible for so many illnesses across the globe. By utilizing regenerative permaculture and farming techniques, they are increasing the biodiversity and health of the flora and fauna of the land, ultimately creating a vibrant, organic, permaculture ecosystem. And their soapstone countertops are very much a key part of their biophilic design inside the home.
"It's not rocket science," said Jason. "It's just being caring enough to make decisions that matter, that are healthy and sustainable."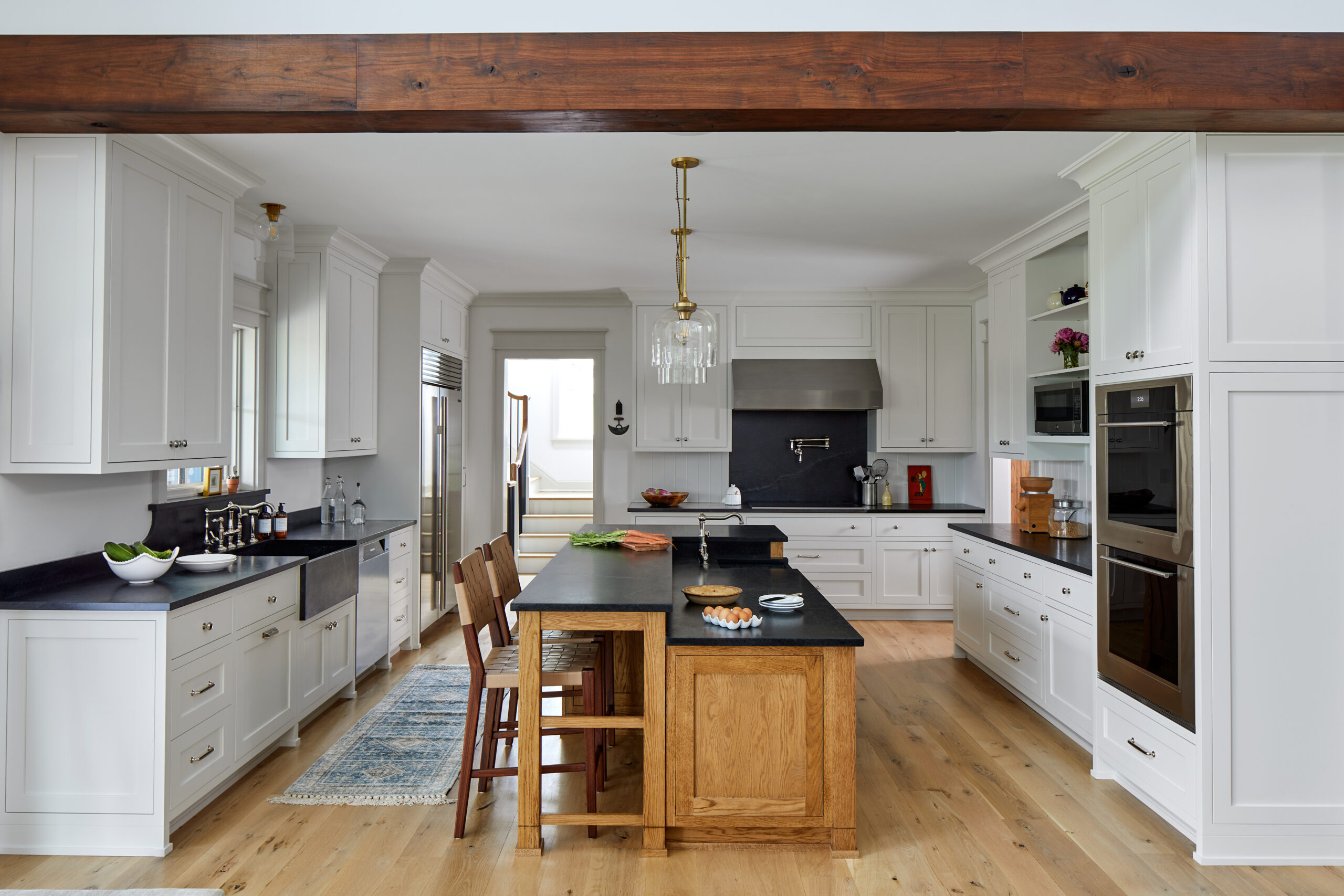 Sustainable Stone
Resources about Natural
Stone & Sustainability
---