Concrete Front Steps Makeover Using Granite Entry Steps
If you recently stepped up to your home and noticed cracked concrete, wobbly bricks, or sagging wood on your front door steps, it's likely time for a much needed replacement. Outdoor steps ideas come in a variety of materials, shapes, sizes, colors and finishes – from natural to synthetic. But before you rush to replace your entry stairs with the same material, or something else that's only going to fail again in a few years, take a moment to consider natural granite as the fail-safe solution.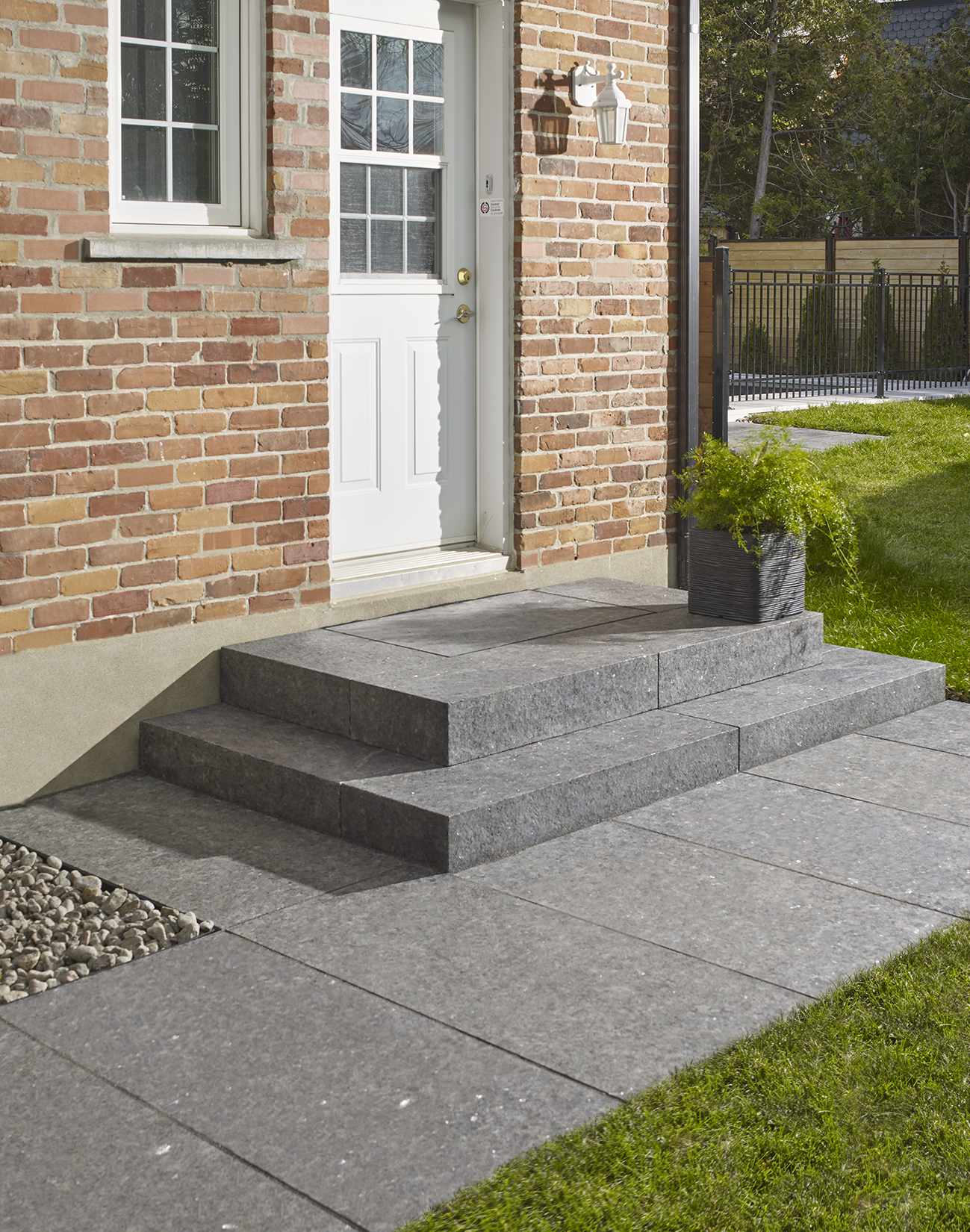 Aesthetically pleasing, durable, and long-lasting, granite may surprise you as an alternative to the standard wood, brick, and concrete options that quickly come to mind. Here's why granite steps are better for your concrete front steps makeover.
SOLID AS A ROCK
Made by Mother Nature herself, granite entry steps from Polycor come in solid stone cut in one piece from blocks of granite pulled from Polycor-owned quarries throughout the U.S. Because they are made out of stone formed by intense geological forces and pressure inside the earth, they are a one-and-done solution. They are naturally sustainable, literally solid as a rock, and will never require maintenance or replacement for cracks or chips.
"These outdoor steps will outlast humans," says Polycor's design consultant, Steve Schrenk. "They are practically ready-made outdoor steps that you simply set and forget. They're especially appealing for people in colder climates who are constantly battling freeze/thaw cycles and need to repair concrete every 10 to 15 years from spalling and cracking. With granite, you don't have to worry about any of that." When it comes to front door step ideas and outdoor stairs it's hard to beat granite from a performance and aesthetics standpoint.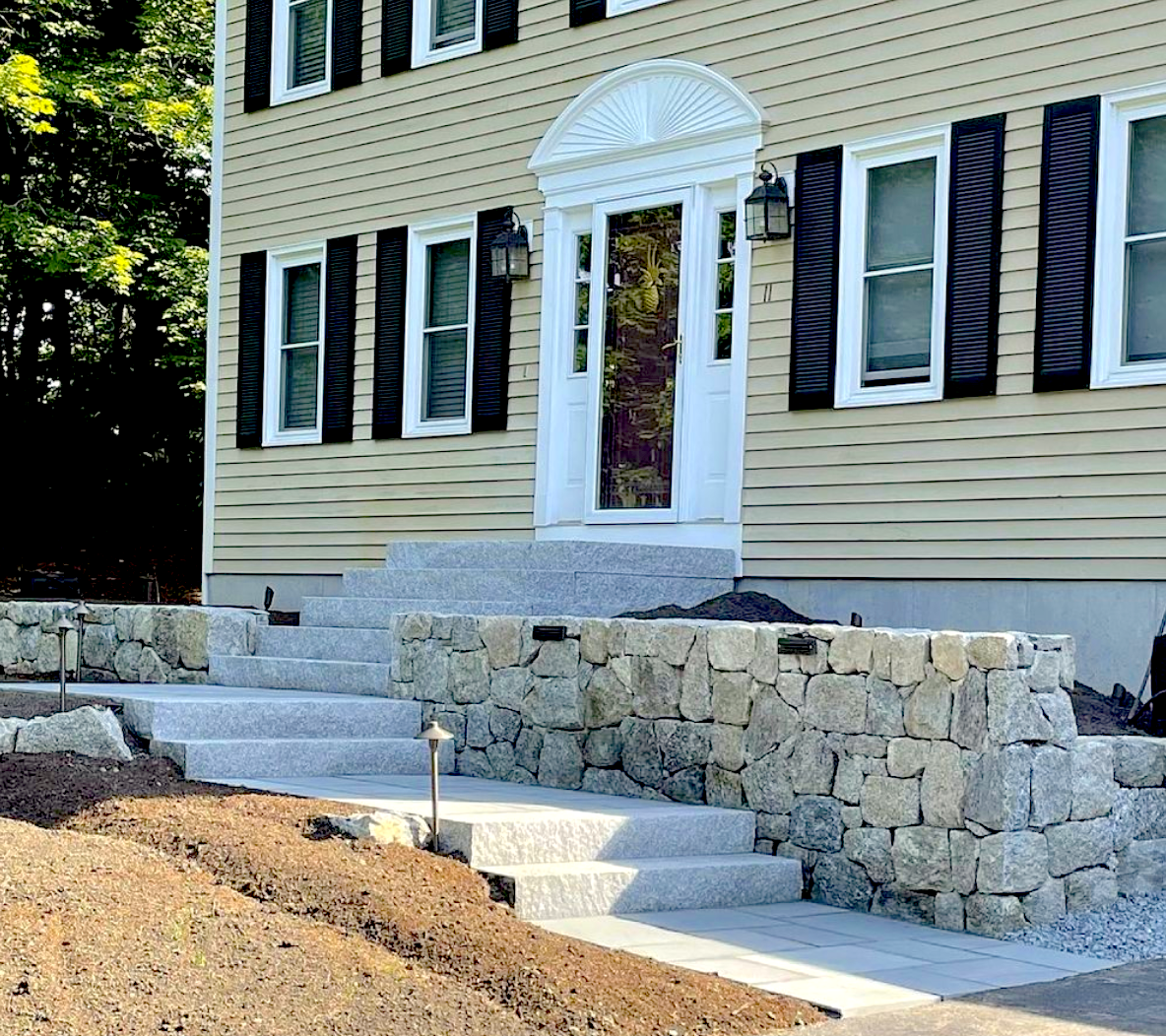 Whereas concrete has an average of between 3,000 – 5,000 pounds per square inch (psi) compressive strength, granite is typically 17,000 psi and sometimes even as high as 23,000 psi – that's practically 4 -5 times the density and durability of concrete steps and brick step tread. This is what makes granite so hard-wearing in the elements. Freeze/thaw cycles, UV exposure, water, salt, or calcium chloride won't affect it over time. What could be better for your front door stairs?
FASTER INSTALL
With concrete or other materials, you have to account for several days of preparation and installation to build up the structure with concrete forms or CMU blocks, mix bagged mortar materials, and allow for proper cure times of the concrete or mortar so it reaches maximum psi strength. All of that adds up to expense for skilled labor and extended time spent without outside steps.
"With granite, because the steps come pre-cut, you literally just have to pick them up, set them down, and check that they are level. You don't even have to put mortar in between the joints. The sheer weight of the steps keeps them tightly in place," says Schrenk. Granite steps can weigh between 400 and 1,600 pounds, so it's easy to see how they stay in place.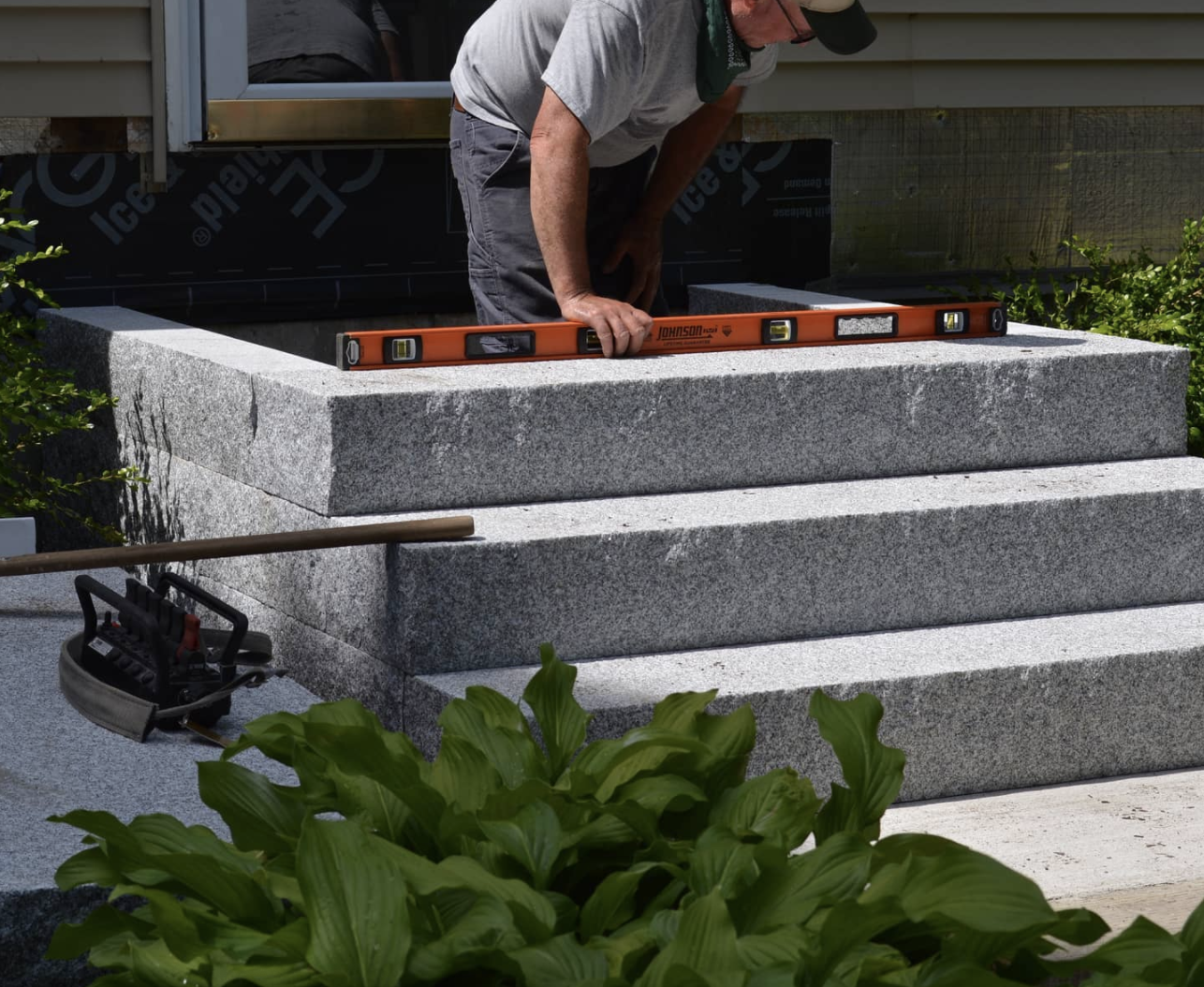 The only prep work needed is to create a level pad made of concrete, gravel or washed stone with the option of fine, crushed stone on top, which can take merely a couple of hours. Granite stone entry steps can take less than a day to install. Rethink the term prefabricated exterior steps because these are literally next level in terms of psi strength of the finished product. And with no alkali-silica reaction from embedded rebar or other headaches that come with precast concrete products, you can confidently set these knowing that they aren't going to decompose.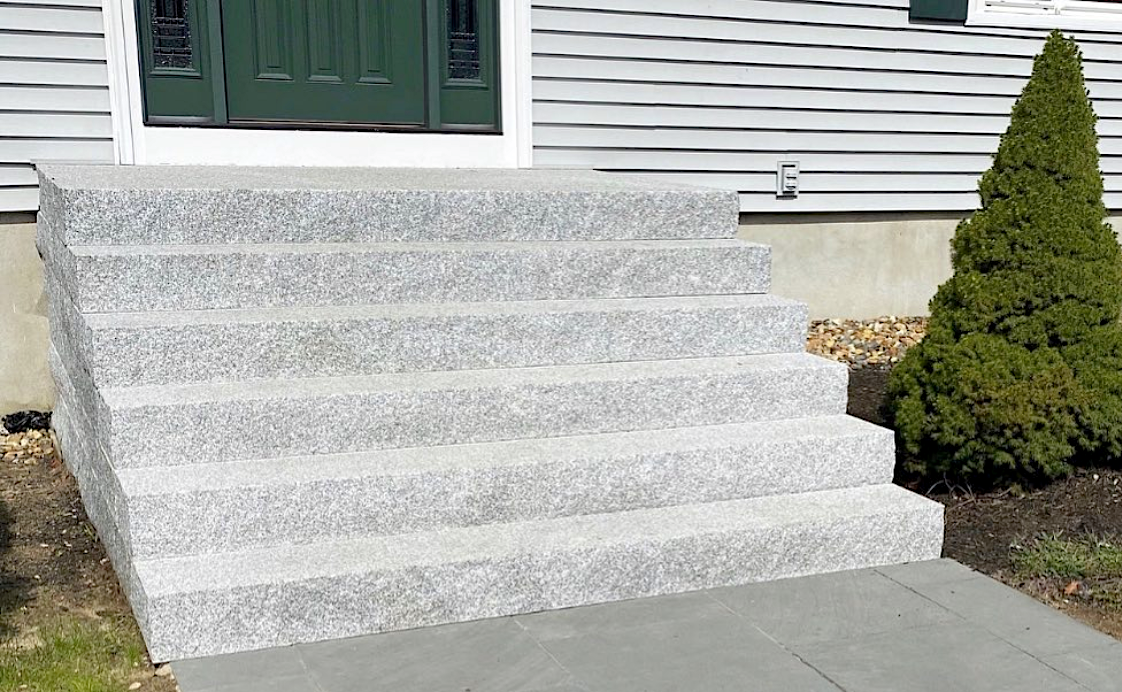 LEARN MORE IN OUR GRANITE ENTRY STEPS INSTALLATION GUIDE
LOWER LABOR COSTS
Because there is less labor involved in installing granite steps, labor costs will be lower than other options. Instead of a five to seven-day installation with concrete or other materials, you pay for one day of labor or less.
"The skillset isn't near what's required for masonry work where you need to make sure the concrete mixture is right, the forms are set correctly, the concrete blocks are going in level and plumb and the right amount of mortar is used on the joints," says Schrenk. "With granite, you just need the lifting equipment to hoist them and put them in place."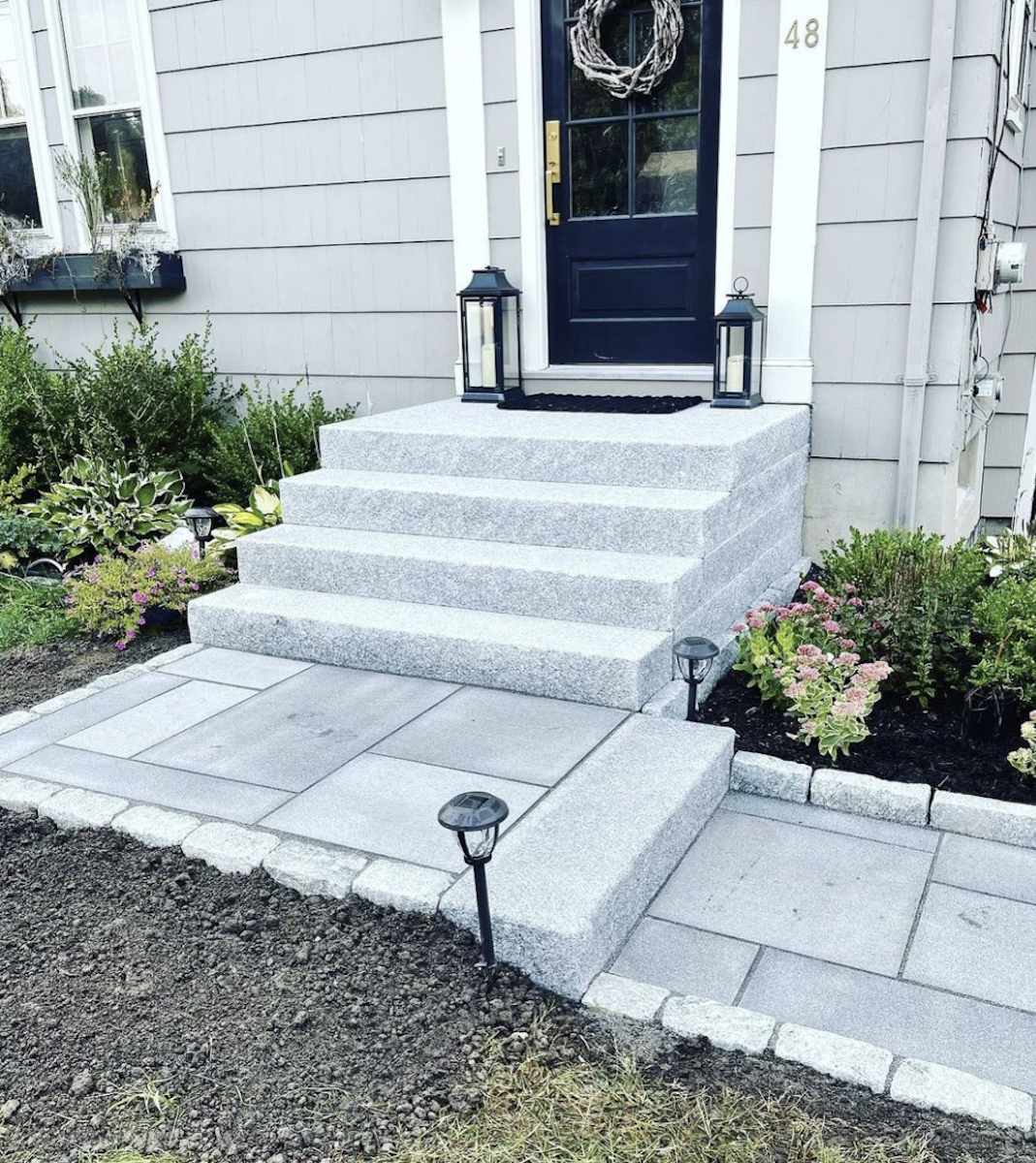 The installation of granite steps is so easy you could even do it yourself. "If you have access to equipment to lift heavy objects and experience using it, it's no problem," says Schrenk. They are even a good option to replace concrete porch steps or any other outdoor steps design where wood or concrete may be used.
GOOD CURB APPEAL
Granite entry steps come in a variety of stone options to provide beautiful curb appeal to the front entry steps of your home.
Stone choices include:
Eastern Gray™ granite – a light silvery grey with black flecks
Bethel White® granite – a white, neutral with beige grains
Caledonia™ granite – a dark, warm beige grey
Carolina Coral™ granite – a rosy color with translucent quartz flecks
Saint Henry Black™ granite – a deep black with mega-crystals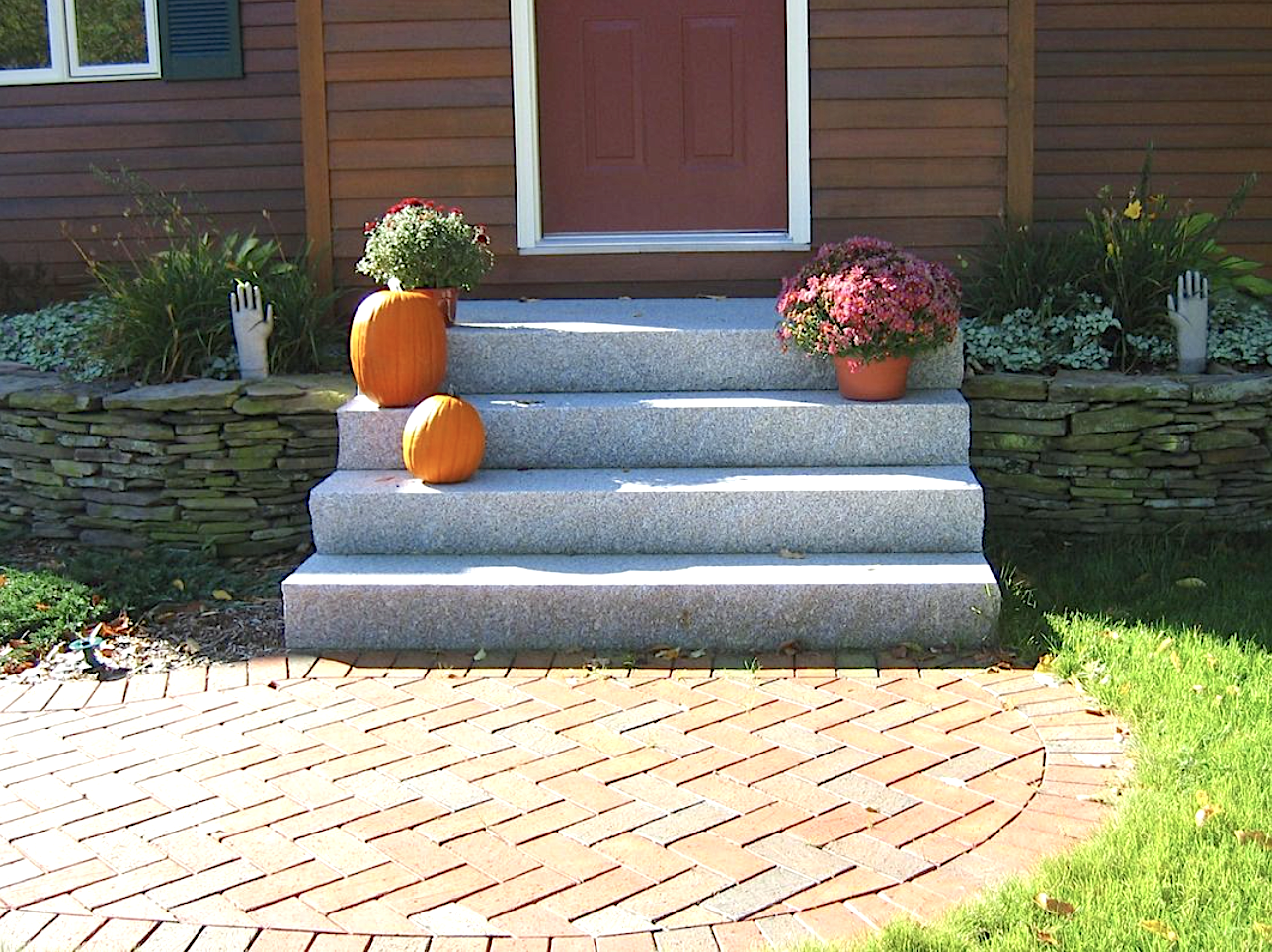 All come with split face edging and a thermal flame finish to make the granite non-slip underfoot.
Front entrance steps made from granite outperform the competition with the added natural beauty of genuine quarried stone, easy installation, and lower maintenance costs. When you're ready to take the next step in creating an attractive, lasting entrance to your home, it's clear why granite entry steps are better.