Gather 'Round the Campfire for Yearlong Patio Fun [VIDEO]
Think your patio space is only good for a few months out of each year? No way!
Adding a fire pit is an easy opportunity to extend your outdoor fun well past Labor Day, and with a Polycor Hardscapes & Masonry granite fire pit kit, you can create an enviable entertaining space in one afternoon that will last for years to come.
Your new fire pit provides the perfect setting for deep conversation or quiet contemplation. Whether you're cozying up on a crisp autumn evening or roasting marshmallows with the family, basically, it's your ultimate backyard hangout.
If you've been tempted to settle for anything less than a natural stone fire pit because installing it just seems too hard – don't settle. You can do this!
YES, IT WILL WORK IN YOUR YARD, TOO.
The easy-to-assemble granite fire pit kit from Polycor Hardscapes & Masonry can be placed over an existing patio, or you can install it directly on the ground with the right base prep. Unlike brick and concrete products used to build fire pits, granite stands up to direct contact with flames and freeze-thaw cycles of colder climates while preserving its inherent color and tonality. Its durability guarantees that it will last for years and is virtually maintenance free.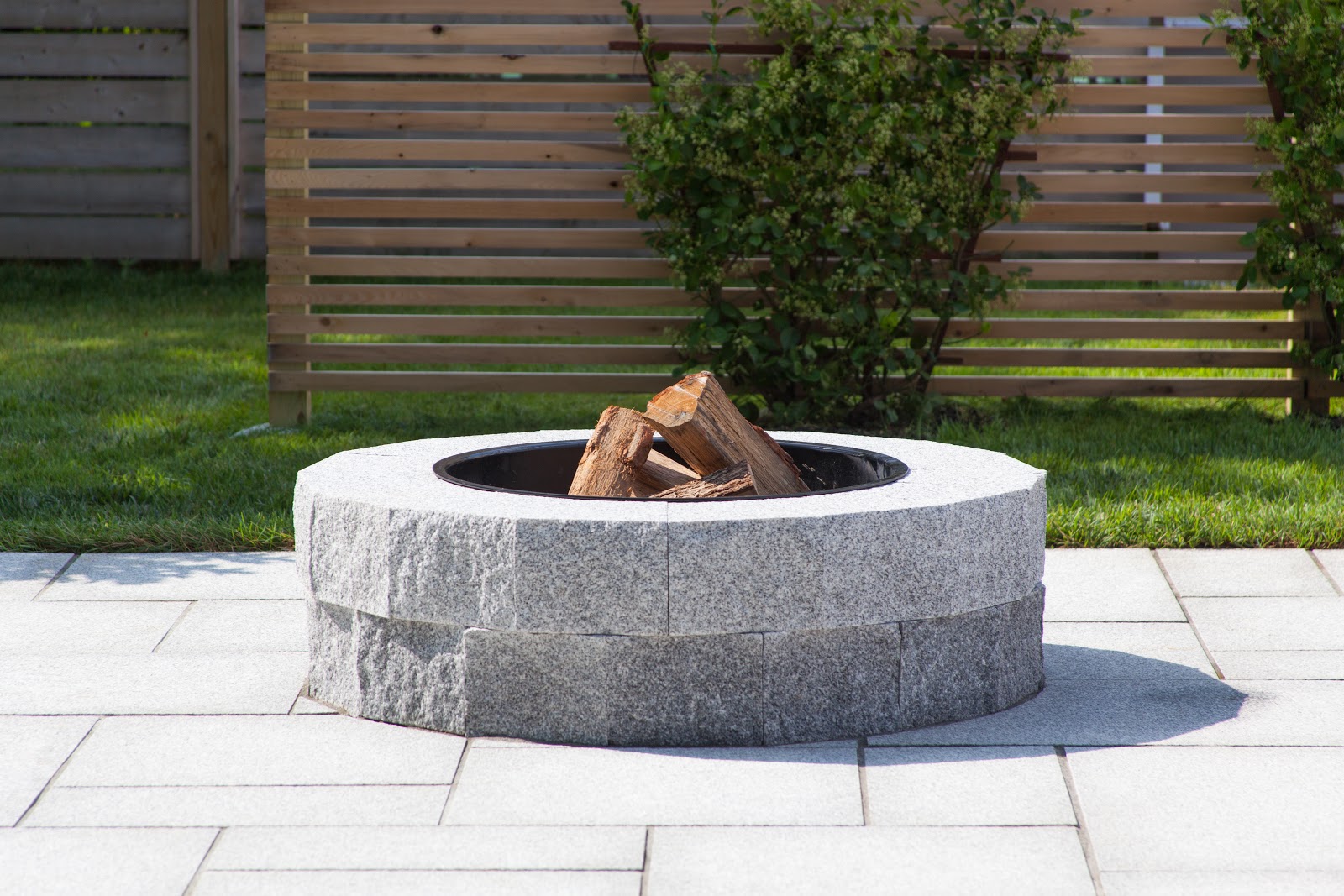 Offered in our historic American stones, CAROLINA CORAL™ granite quarried in North Carolina, and classic WOODBURY GRAY™ granite quarried in Vermont, the natural split face finish around the vertical sides lends an organic, textured surface that highlights the unique grain and minerals and gives a rugged vibe just right for fire building. And, the blocks have a thermal finish on top for a level surface to set plates, drinks and utensils.
Polycor's granites are as natural a material as you'll find, made by the earth itself and quarried according to the most rigorous safety and ethical standards, worldwide. All Polycor stone is delivered to you through a verified chain of custody that guarantees you are getting a sustainable, quality building product, and your choice to use our natural stone also guarantees local jobs, as we are the largest quarrier of natural stone in North America. Buy local, support our shared environment and be part of a community of makers and builders who honor the earth and our future.
Measuring 48-inches in diameter, and two-tiers in height, these granite fire pits come with a metal ring insert that caps off the granite nicely. You also have the option of purchasing a cooking grate to extend its usefulness to open-fire roasting or grilling – and not only marshmallows!
If you've never worked with natural stone before, you're in for a treat and probably have all the tools you need already to get the job done. Also, no mortar or adhesive is required, but can be used if desired – the blocks can easily be dry stacked with their own weight holding them tight together (each piece weighs approximately 30 lbs each). Less prep, less clean up, less time, and best of all, less work for you.
FIRE PIT DOS AND DON'TS
Before getting started assembling your fire pit, there are some important details to keep in mind:
Don't choose a location close to any combustibles such as bushes, sheds, low-hanging branches, etc. Look up and check any obstructions above. Plan to install your fire pit about 15 feet from other residences and set back 10 feet from property lines and any flammable structures.
Do make sure you allow room for seating. A good guideline is to allow for 7 feet of space around your new fire pit, but that could vary depending on the type of seating used or the space layout.
Don't position fire pits in hazard-prone zones with unfavorable winds. Use the National Water and Climate Center's Wind Rose tool to identify the prevailing wind direction in your location to make sure that you won't have smoke blowing into your home through open doors or windows (or your neighbors' as well).
Do consider your return on investment. Fire pits are so coveted these days that you can expect a 67 percent return on your investment when you sell your home, according to the National Association of Realtors.
HOW TO INSTALL A GRANITE FIRE PIT
In this video we demonstrate how to install a Woodbury Gray 48" diameter, two-tier fire pit over an existing granite paver patio. Follow this step-by-step guide, and you can lay it out in the morning and be roasting s'mores by dark! Fire pits can be installed directly on the ground as well.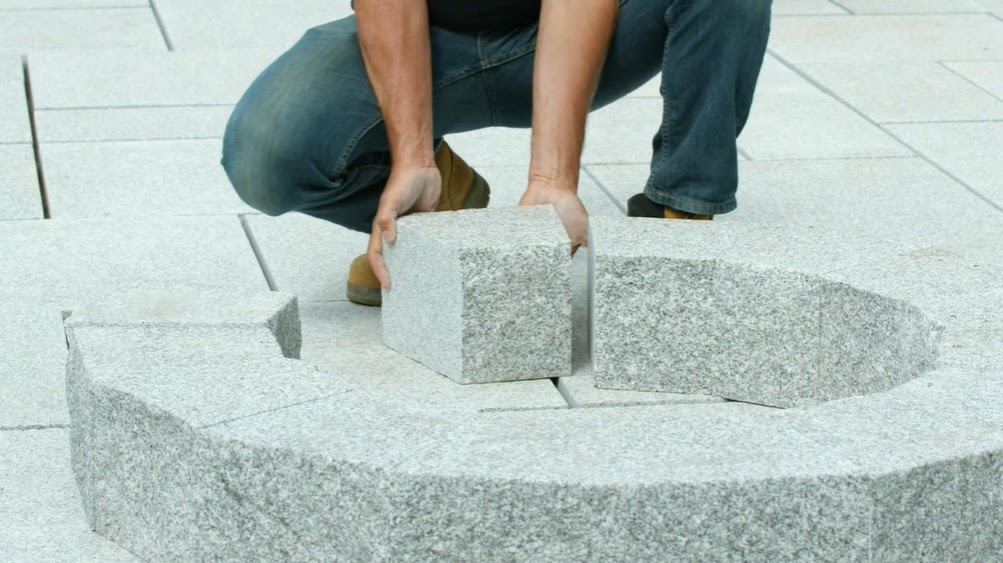 1. Mark off an area approximately 4 feet-6 inches in diameter and dry lay the first course of blocks, tracing the edges onto the paver. For this project, the base material of the patio used a high-density foam panel, called EZ Base, by Techniseal, which replaces a traditional compacted aggregate-base installation. While being a great labor saving tool for paver installations, it should not be in direct contact with open flames. If installing a firepit on top of paving, first verify that the base material underneath is non-combustible.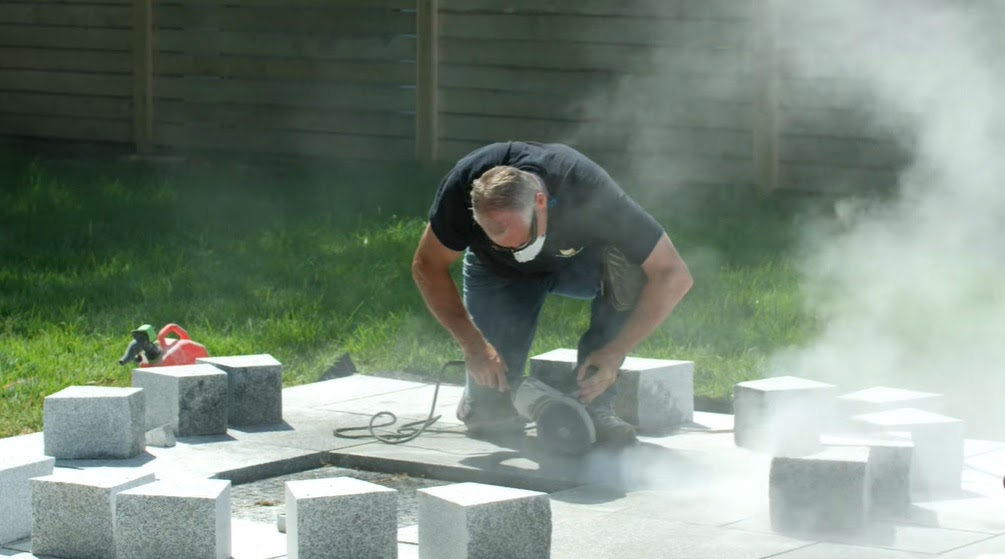 2. Cut out the pavers using a 7-inch grinder and diamond blade. Cut away the EZ Base with a sheetrock knife, preserving the sand bed below. If installing the firepit on the open ground, dig a hole 6 inches deep and fill first with processed gravel or mason sand, compacting until level.
3. Sort through the blocks, choosing 16 pieces to reserve for the top course that match thickness as closely as possible. There will be slight variation in thickness as the blocks were cut from natural stone, which can be accounted for in the first course by adjusting the sand or gravel bed accordingly to make the top course level.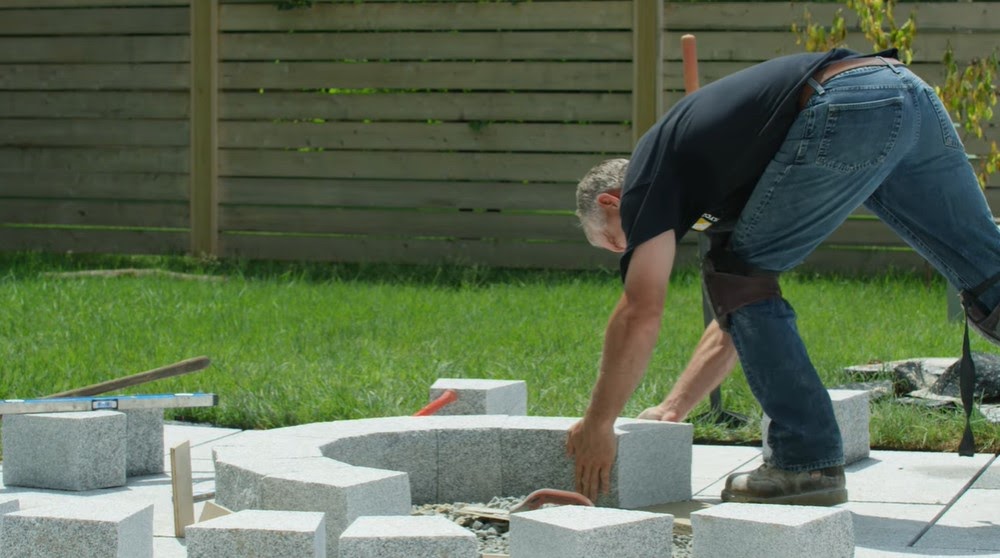 4. Lay the first course of blocks, making sure they fit tightly together and are level, followed by the second course of blocks with the joints overlapping. Pay attention to the faces of the stones that they don't have any gaps or excessive lippage.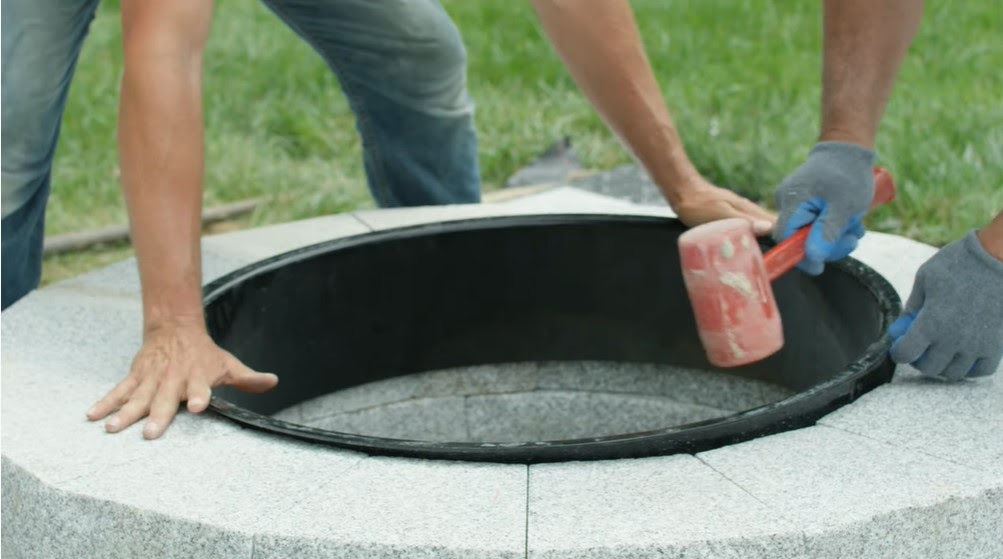 5. Test fit the metal ring to ensure there is clearance and use landscape adhesive, if desired, to glue the top row of blocks to the course below. This project used Structure Bond polyurethane by Techniseal, a super-strength foam adhesive that replaces traditional glue, bonding blocks in just 8 minutes.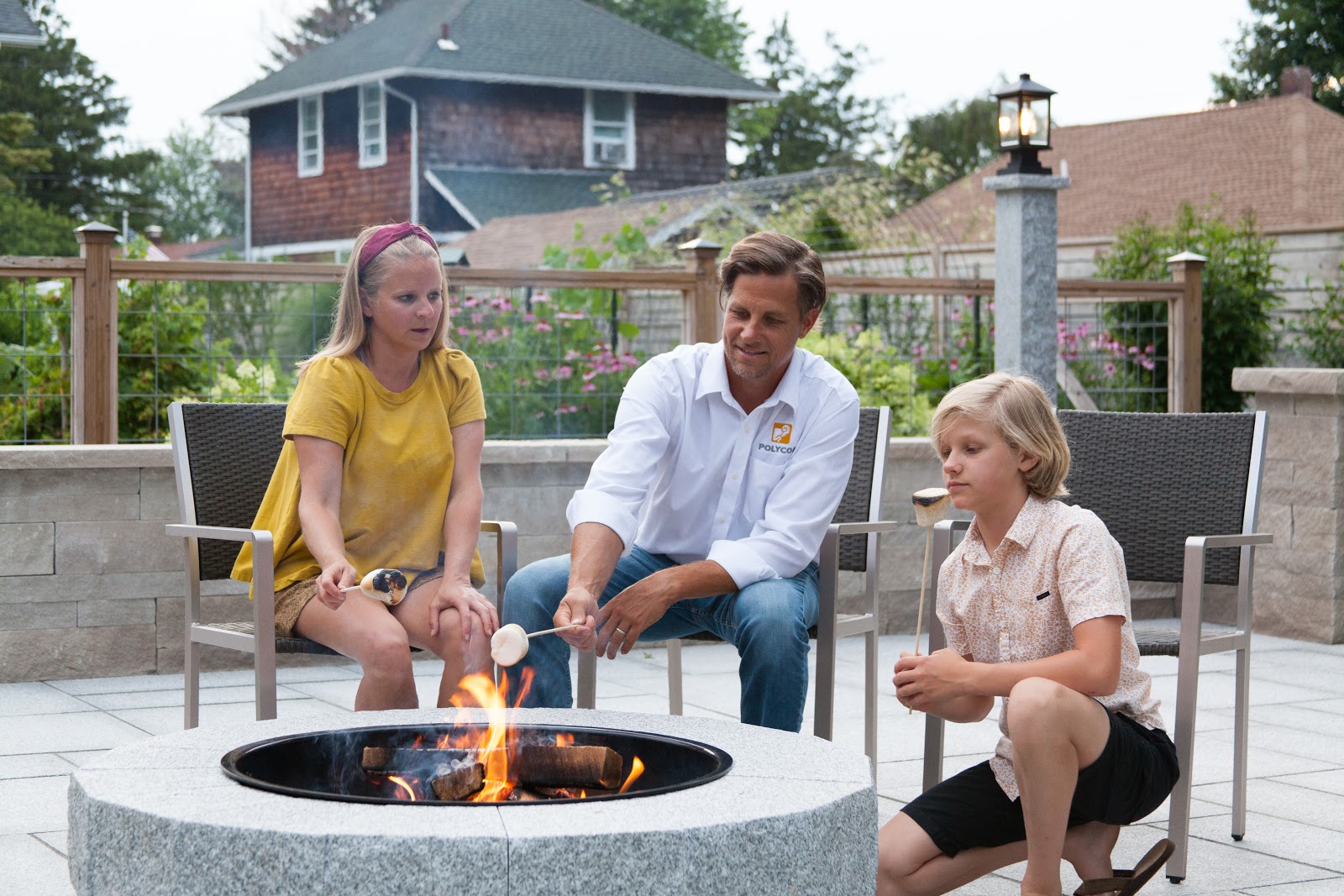 6. Get out your marshmallows, light a fire and enjoy your quality fire pit from Polycor Hardscapes & Masonry. Invest one day and collect your reward – enjoying your outdoor living space long past the summer months.