How Durable Are Soapstone Counters? Enough For This Busy Nashville Restaurant
No one questions the beauty of soapstone counters. But it's the material's durability that gets people talking.
We've covered how soapstone holds up in a home kitchen. But how does it perform as a commercial bar top in a busy restaurant? Can it stand the onslaught of pint glasses and spilled red wine (or bacon wrapped quail…)?
You bet your duck wings and truffle honey it can, and it's gonna look good doin' it.
At 5th and Taylor, a sophisticated family restaurant in Nashville, Chef Daniel Lindley has built an homage to the American family meal inside a historic Germantown warehouse – and he chose Alberene Soapstone from Virginia.

The chef-designer worked with Nashville architect firm, Smith Gee Studio, to draft his plans from graph paper to architectural drawings as well as Chattanooga-based Range Projects on furnishings, new storefronts and custom kitchen cabinetry. Lindley collaborated with Ruth De JONG of LA-based De JONG & Co for furniture design and interior decorating. Tennessee Tile and Marble did the stone fabrication and the general contractor was Phil Lyons.
5TH AND TAYLOR
AMERICAN RESTAURANT
NASHVILLE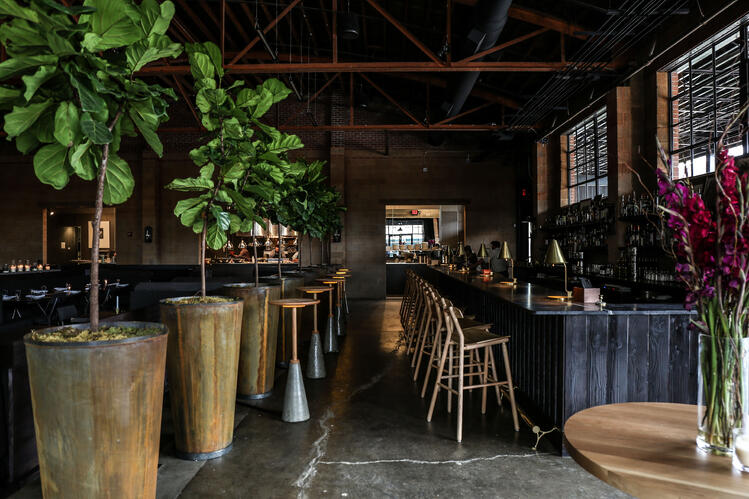 De JONG & Co. project manager Jared Dyer and 5th and Taylor's general manager Nate Cannon spoke with us about why they chose soapstone counters and just how the stone (with a rap for being delicate) holds up to the crowds of hungry beer-can-chicken-eating crowds.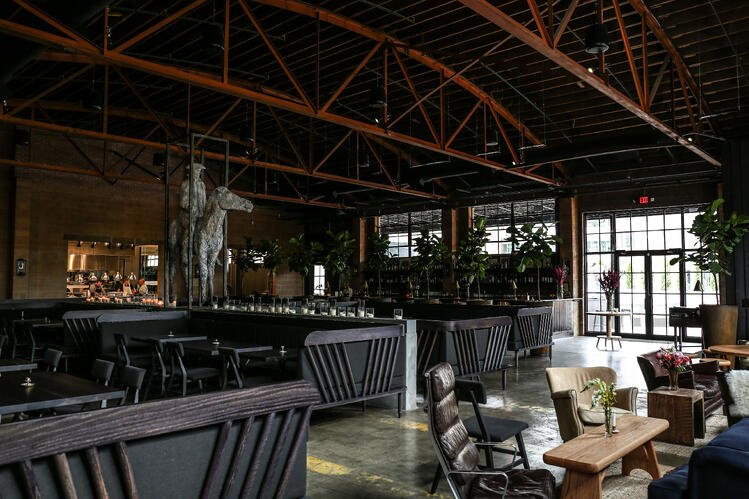 Chef Lindley asked De JONG & Co. to turn the industrial space with its worn and cracked concrete floors and exposed concrete block walls into a family-style restaurant with communal areas for gathering. The team at De JONG & Co., which is also a furniture studio, pulled from its Virginia roots to add a farmhouse feel, but used high end and refined materials (you can see their custom stools at the bar). The interior is rustic and welcoming, but maintains the character of the original space.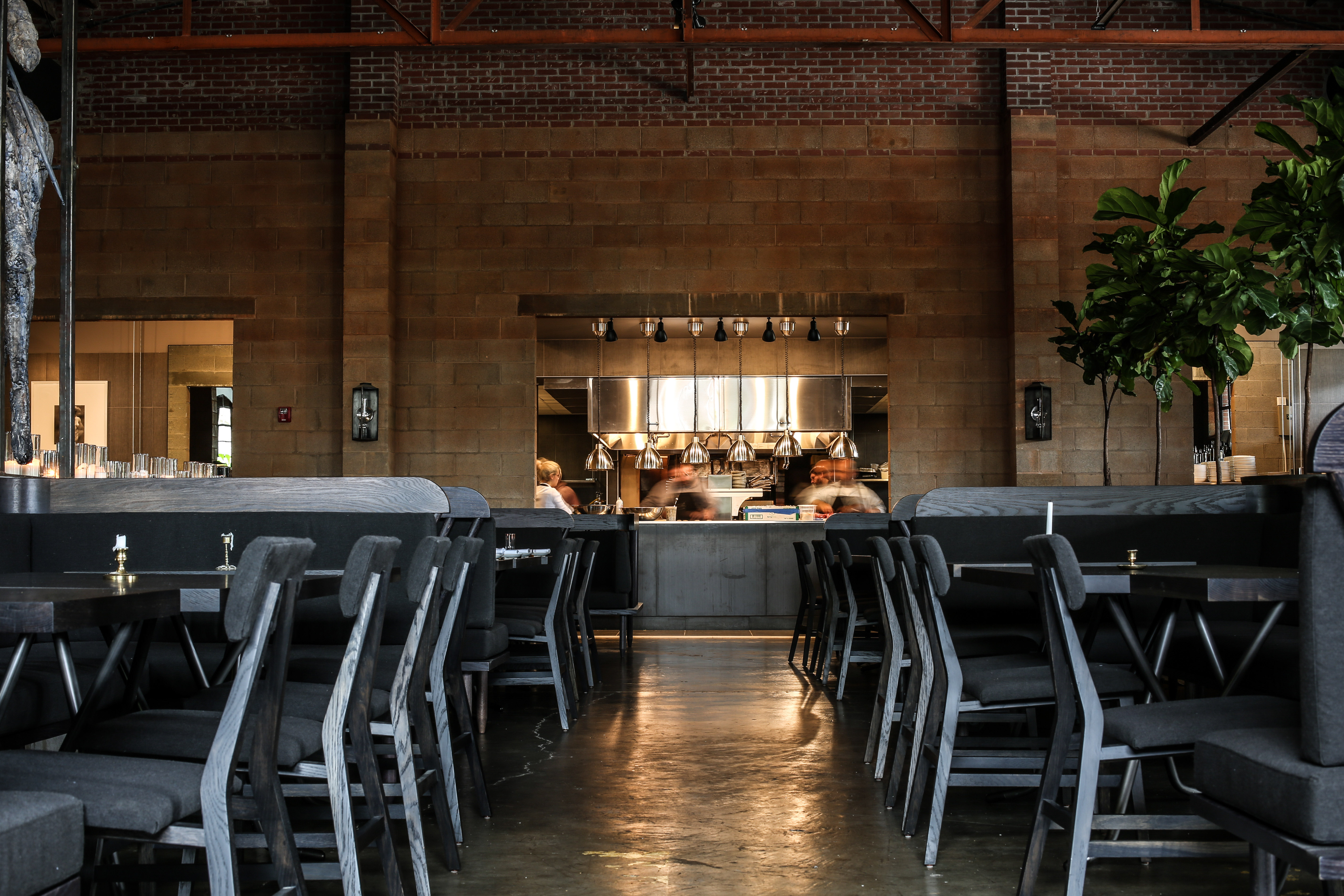 Immediately noticeable is how the soaring ceiling is grounded by the color black in the furnishings and tempered by texture and accents of brass. The wood in the restaurant went through an oxidizing process that gives it a silver-blue tinge.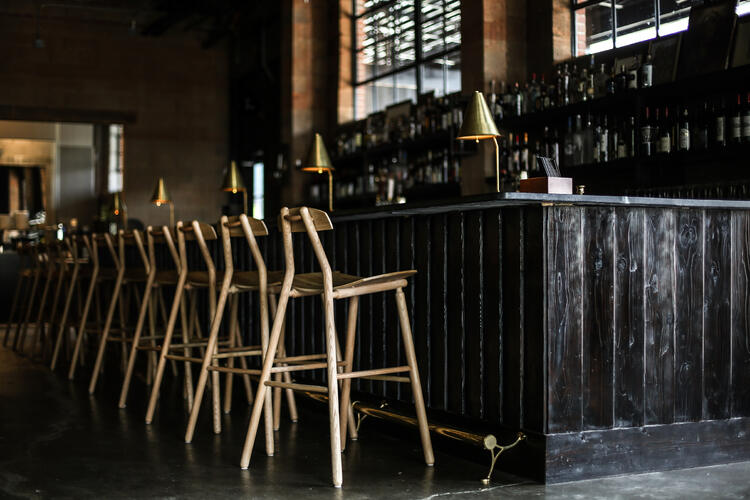 "We knew straight away we wanted a certain softness that would counterbalance all of the wood," Dyer said. "Soapstone came up right away and it had the depth and character we were looking for. Plus it's just a beautiful stone."
"The soapstone is a beautiful complement to our simplistic, layered interior," Cannon said. "Stunning white veins run throughout the slab, deepening in contrast as we continue to oil the bar top. Our goal is to create timeless experiences through food, service and hospitality. The soapstone is equally as timeless, and it grounds the restaurant without being an ostentatious statement (like marble can often be)."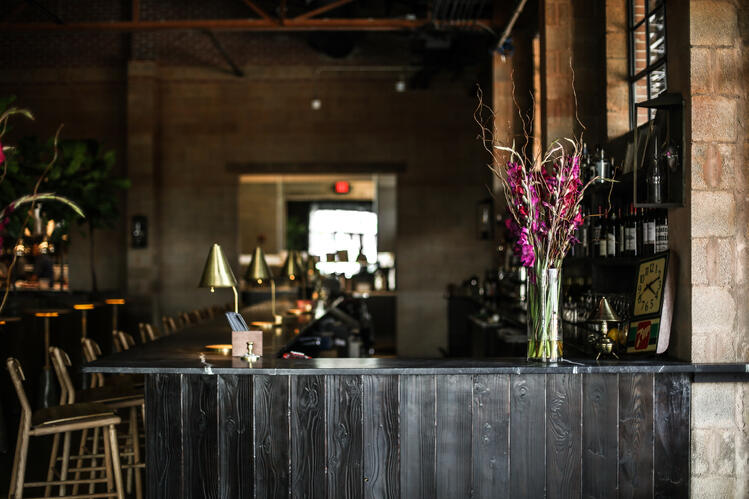 "The soapstone is one of many textural layers in the restaurant," Cannon said. "Although it is a dark stone, the beautiful oiled reflection provides a light contrast to the charred wood it's mounted on."
Soapstone doesn't need to be sealed, but oiling or waxing its surface deepens the grey color to black and provides protection against the appearance of scratches. Plus it gives off that subtle reflection Cannon mentioned, which also factored into lighting design.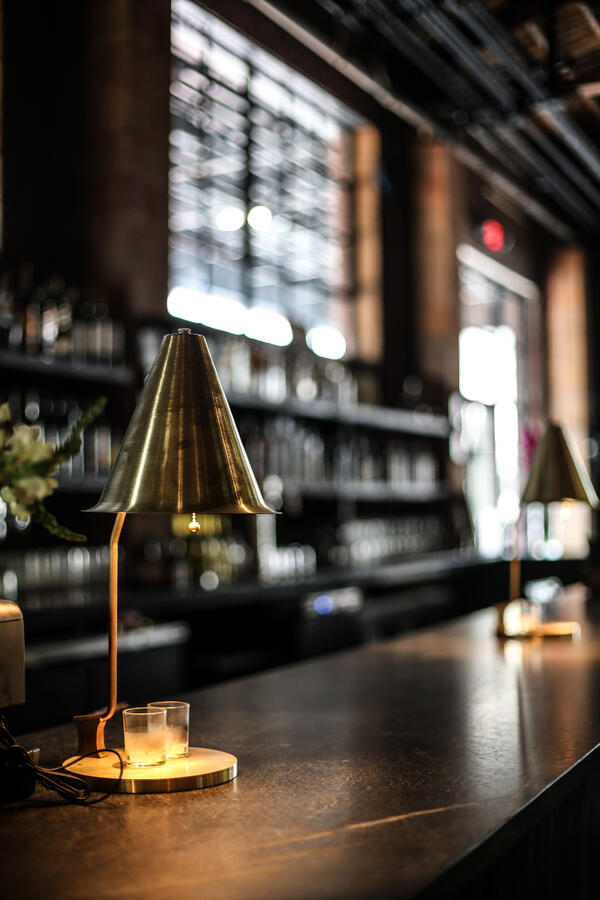 Dyer said, "The soapstone had a particular gleam to it, a gleam that for the custom bar lighting De JONG & Co. installed hit all the points of reflectivity. The light in the restaurant is isolated, there is no one ambient light shining through the space. Instead there are pockets of light, giving the restaurant a farmhouse feel, as if kerosene lanterns are shining."
IT LOOKS BEAUTIFUL, BUT HOW DOES IT WEAR?
Soapstone has devoted fans who love its tone and texture, but there is still a crowd of designer and fabricators pushing clients instead to granite for its known durability. (Nobody wants a client call back.) But there is difference between durability and wear. Soapstone will last, but it will change. More on that here.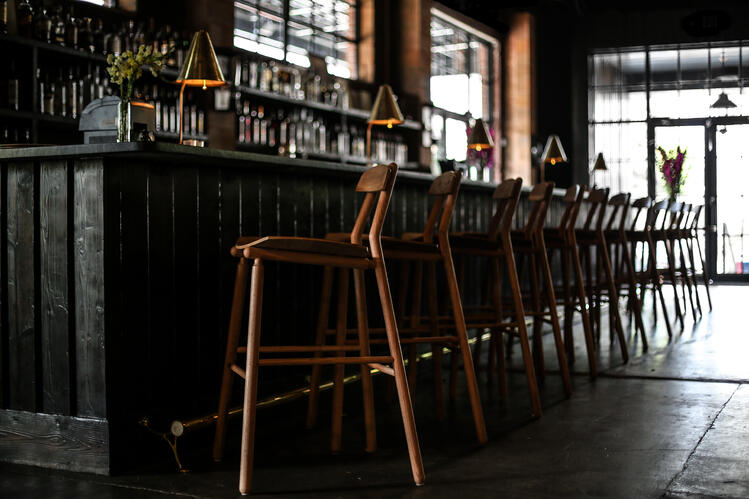 The design team took this into account.
"We understood that this would be a high traffic area," Dyer said. "The steel, brass and hardwood age over time and develop a patina. And we knew soapstone would as well. We knew it would be handled and get dirty. Soapstone is easy to clean and really scrub down without having to worry about refinishing. It takes age very well."
And the restaurant has proved it Cannon said.
"The soapstone is durable enough for the beating a bar naturally takes, while maintaining a delicate feeling with the white and black veins throughout the slab," he said. There are never watermarks or visible scratches, perfect for high volume use."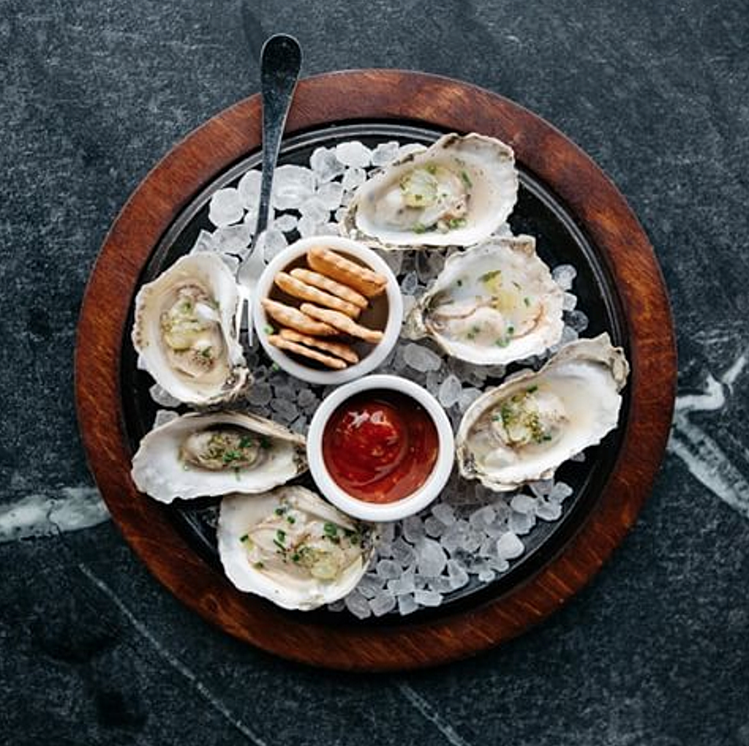 Photo from 5th and Taylor Instagram
The restaurant is all about family, that's why the dining room was designed so big parties can sit together. De JONG & Co. took a different approach when it came to the bar.
"For the bar we stepped back and really looked at the individual. The bar feels private and is a very distinctly separate space. The bar is a looser area, there's less decorum than in a dining room. You can do work or read a book at a bar. We wanted to utilize the bar in an expansive sort of way. The soapstone is welcoming and you can get comfortable with it and really spread out. It's really a reflective background for the glassware and cocktail napkins."
Not to mention the deep blue black tone of the stone is an amazing backdrop for food.