Slip Into Something More Comfortable With a Soapstone Bathroom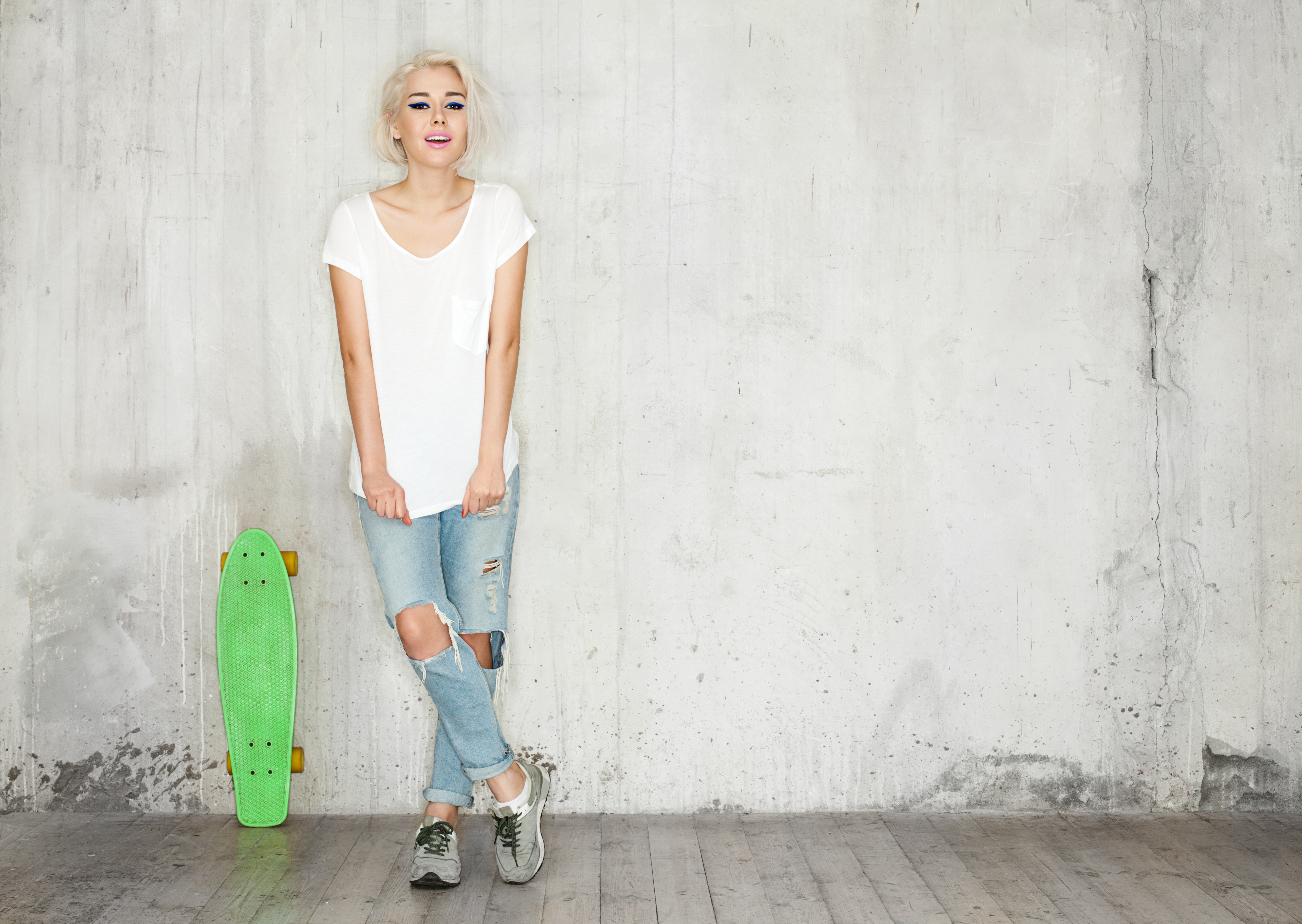 They've been with us through thick and thin. Soft, smooth and forgiving, our favorite jeans are never the dry clean only variety, and in fact they get better with every wash.
If only our interiors behaved so well. (Upholstery that never fades. Rugs that never fray.)
There is one material though that gets better with time and wear, just like our beloved blue jeans, but I bet you've never seen it in a kitchen.
Soapstone is one of my favorite materials for countertops and flooring, but it's also one of the least known of the natural stones (especially in the Quebec market where I work primarily).
We had a slab at a trade show last year and everyone was touching it, asking questions. They were so curious about this stone which looked like concrete, but felt so smooth.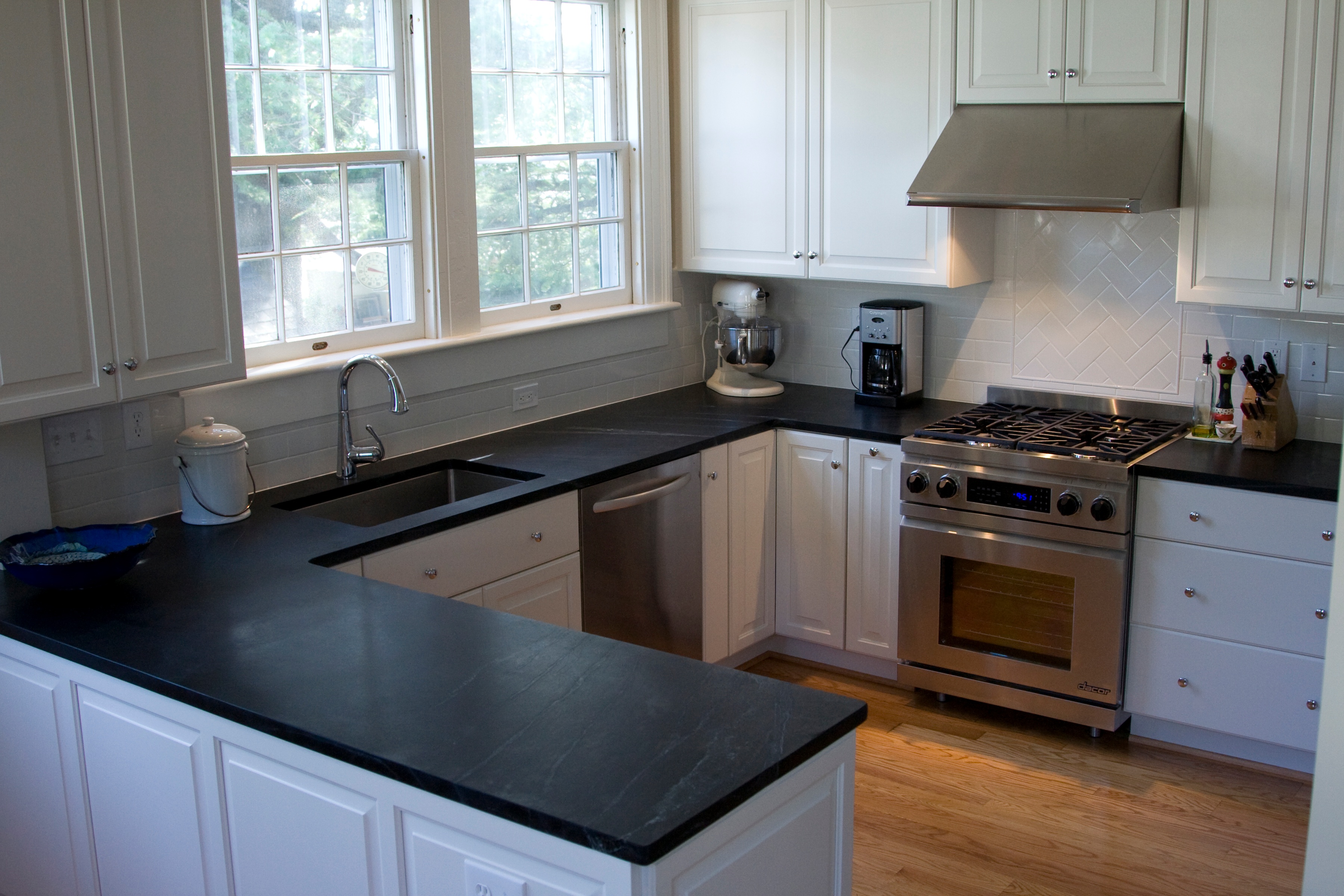 I love the contrast here of the black waxed soapstone counter and the white cabinetry. Crisp and classic. And you can see how smooth and touchable the surface is. Photo: Jennifer Byrne
When they heard it was soapstone they were shocked. Isn't soapstone too soft for counters they said? And isn't it absorbent like concrete? No and no. It's hard to understand how this stone that feels like baby powder could be so durable, but soapstone is actually dense and never absorbs.
If you've had a granite or marble counter you know that sealing is essential for stain resistance. Even after sealing, marble can be susceptible to stains (though they can almost always be cleaned).
But did you know that soapstone can be left unsealed?
Even in its natural state soapstone doesn't stain. You can't hurt it with things like lemon juice (can't do that with marble) and even oil doesn't leave a permanent mark.
But what is most amazing is the texture.
When I bring out a sample people always want to touch it. It feels so silky.
But doesn't it scratch they ask?
Not like you think, I say. Soapstone wears, like those favorite jeans.
I find in North America we have decided that our countertops must be industrial quality, impervious to wear, but this is a strange philosophy for the natural materials we love so much. Maybe it's because their buildings are so much older with such rich history, but Europeans seem to appreciate the age and patina of things, the way stone and wood wear with time and use. Like the well-worn steps of a cathedral, no one gives a thought to a dark spot on a counter where grandma keeps the olive oil or that nick in the corner where the champagne bottle broke that one new year's eve.
I do see the mindset changing a bit here though as a more urban rustic design catches on. I see more designers pairing soapstone with naturally finished woods and soft textiles. It's a little bit modern, a little bit country and all gorgeous.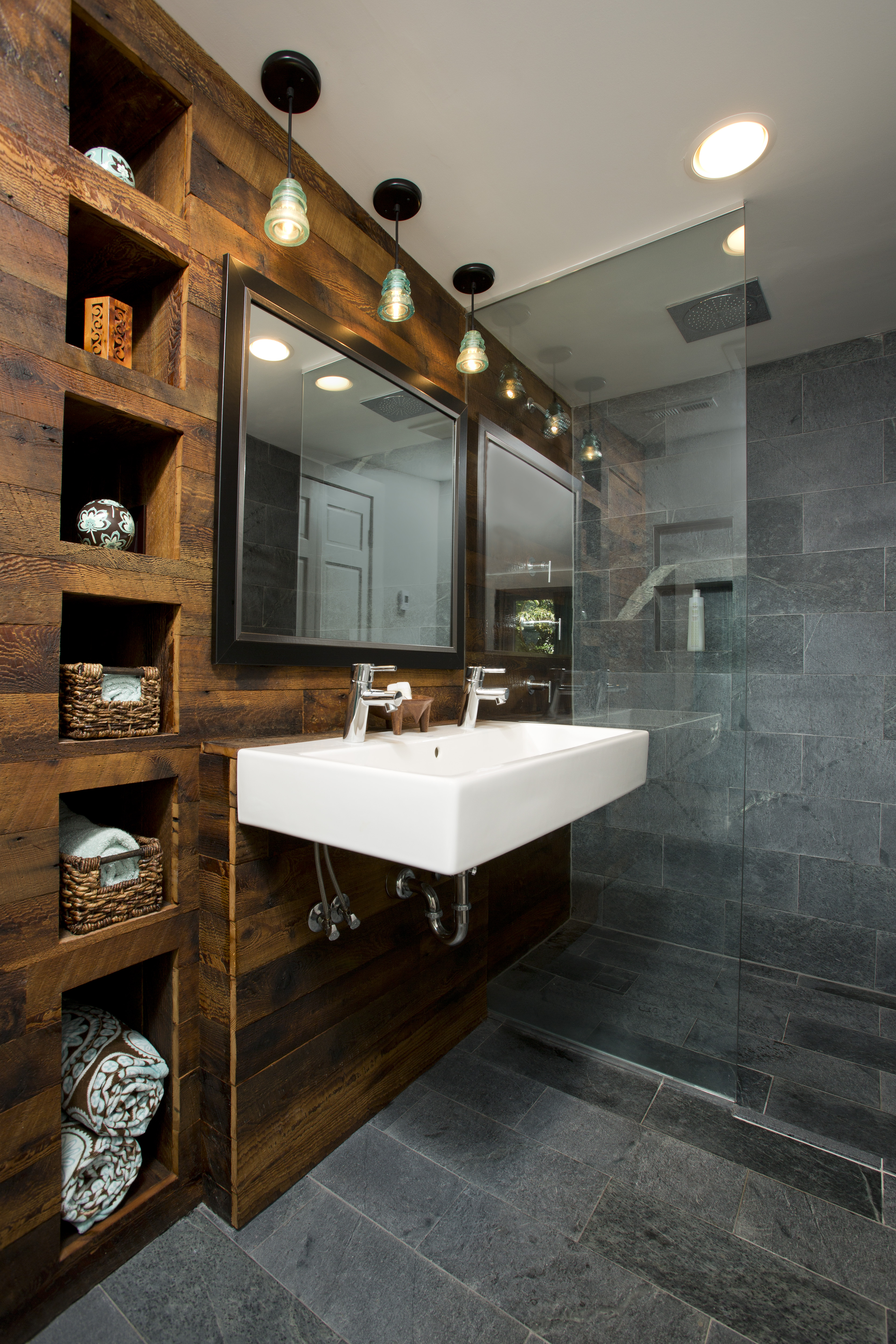 I love the look of this bathroom. Isn't that blue grey serene?
The other myth I hear about soapstone is that it is slippery. I know the name makes it sound that way, but this stone is actually slip resistant. It's great for bathroom floors. More soapstone design tips and inspiration here.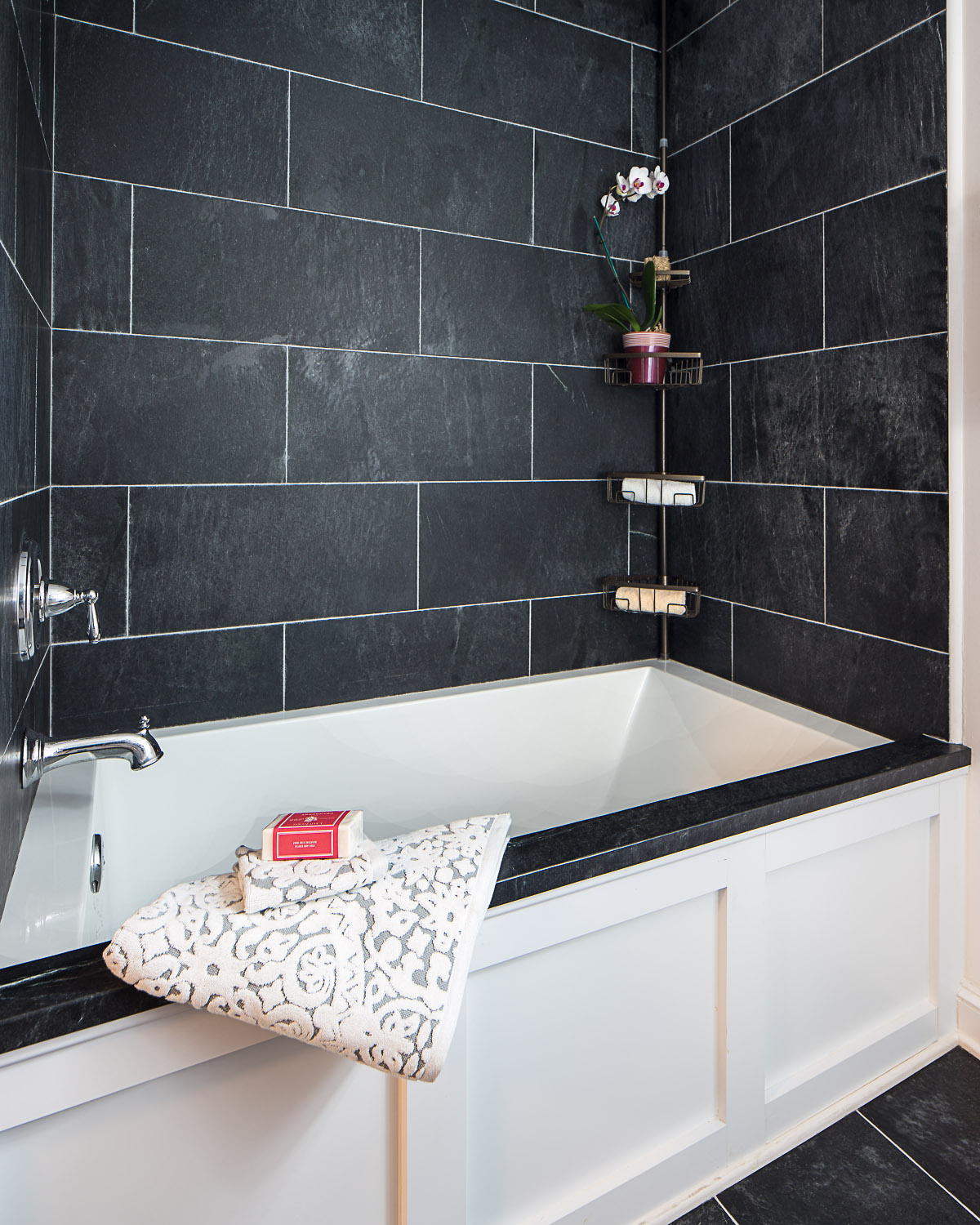 Large format tiles like these 12×24's showcase soapstone'sveining
It feels amazing under bare feet and it absorbs heat so it's warmer than granite or porcelain. No ice cold shock when you get out of the shower.
Because Polycor owns its Virginia soapstone quarry (the only active one in North America) we can cut custom tiles. You want 12" X 6" for the tub surround and 2' X 3' for the floor? No problem.
You can even make sinks from soapstone! Check out this soapstone double vanity being installedin a Virginia home.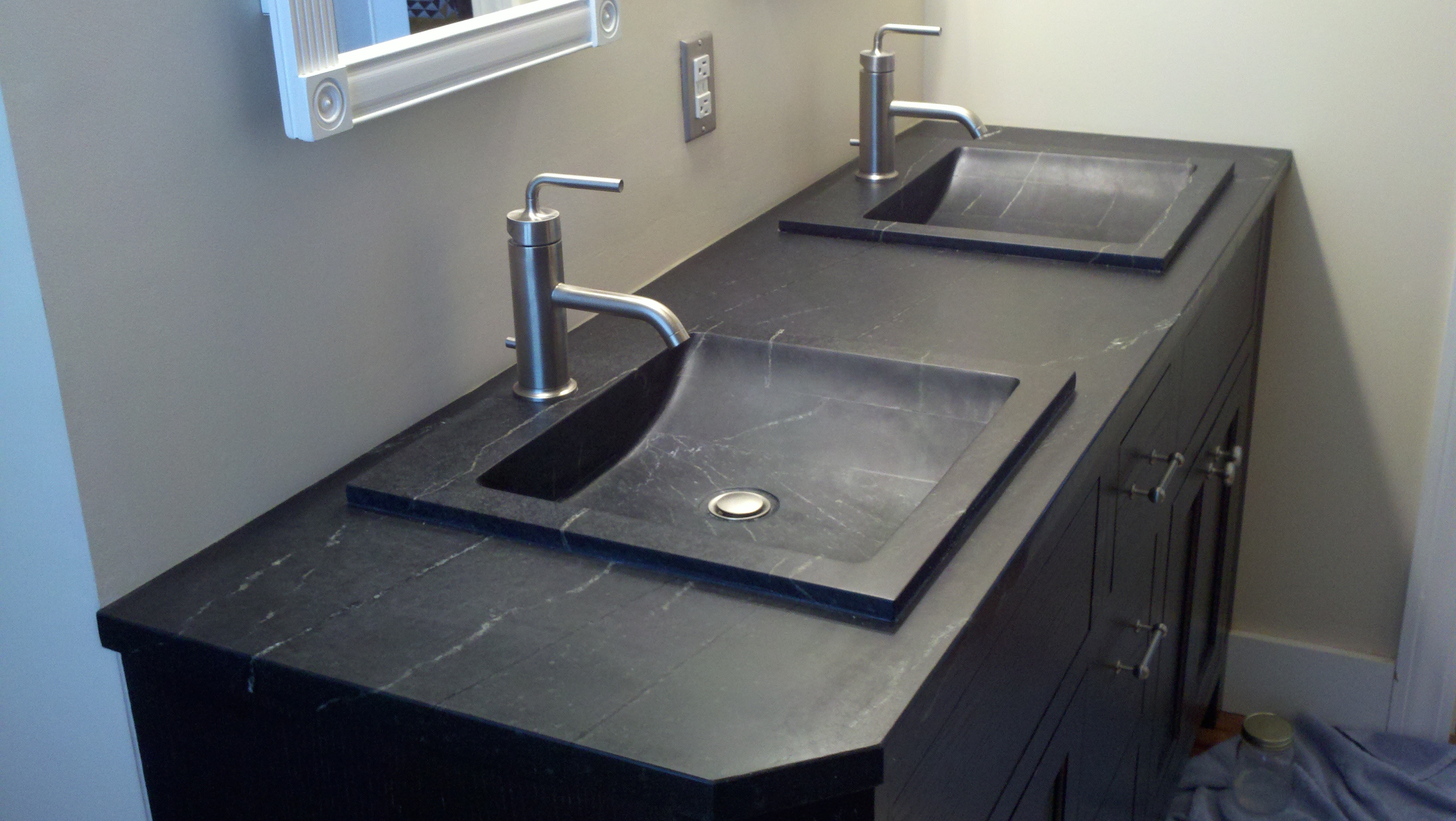 To me this stone is the best combination of beautiful, comfortable and livable. Year after year the wear on soapstone will be consistent, like old wood on an antique it will be more beautiful than new wood.
I love what designer Lauren Liess had to say on her blog about the "incredibly practical" stone she used in her home kitchen. "Soapstone has such a warm, smooth feel to it because of the talc content. It's a softer stone, and we were pretty rough on ours," she said. "Seeing a little bit of wear and tear on a countertop is actually beautiful to me."
The fabricators I work with recommend when you choose your counter's edge you go with a quarter round rather than a sharp eased edge. Avoiding a hard squared edge helps your soapstone better withstand the impact of pots and pans.
In general the stone is very forgiving. Marks that appear overtime and with everyday use, including contact with your hands, blend in with background coloration and give the counter a richer appearance.
If your counter is waxed, just add a bit more wax to a mark and it blends into that luscious black surface.