Soapstone Goes Bold in Shavonda Gardner's Cottage Bungalow Kitchen
Interior designer Shavonda Gardner is a self-proclaimed maximalist who doesn't think bold style is only for big spaces. Her blog SG Style detailed how she —with her wife Naomi and two children — downsized from a 4-bedroom, 2,400-square-foot home in Sacramento, California into a 1,200-square-foot bungalow in 2020.

"We bought our old house because that's what we thought we were supposed to do with kids," she said. "But we realized we were only using half the house. That kind of house just wasn't our lifestyle."
"As a designer, I really wanted a project, something I could reimagine and make personal," she said.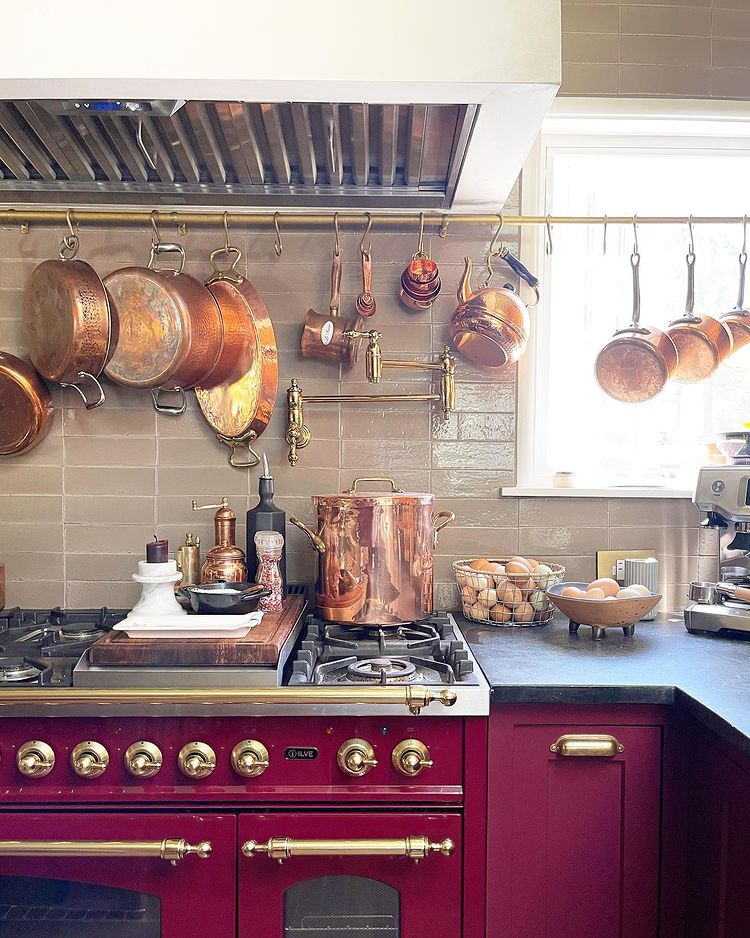 Inspired to live a bigger life with a smaller footprint, their cottage bungalow is bold, moody, featuring an eclectic collection of globally inspired interiors. She created the kitchen of her dreams, inspired by one of the constants of her nomadic military-family upbringing: her grandmother's Louisiana kitchen.
"My grandmother's kitchen was my favorite kitchen in the world," she said. "It was a small, very humble kitchen and her dining table was right in the middle. It was so close to all the cabinets and the stove, but there was so much love there. I have so many memories of helping my grandma cook and us all sitting down and eating together. When I was ready to take on this renovation, I said 'I want my kitchen to be like hers.'"
Unfortunately, Shavonda's grandmother passed away in the middle of the renovation and never got to see the room she inspired.
"It just made the space mean even more to me, she said. "It's like a love letter to her."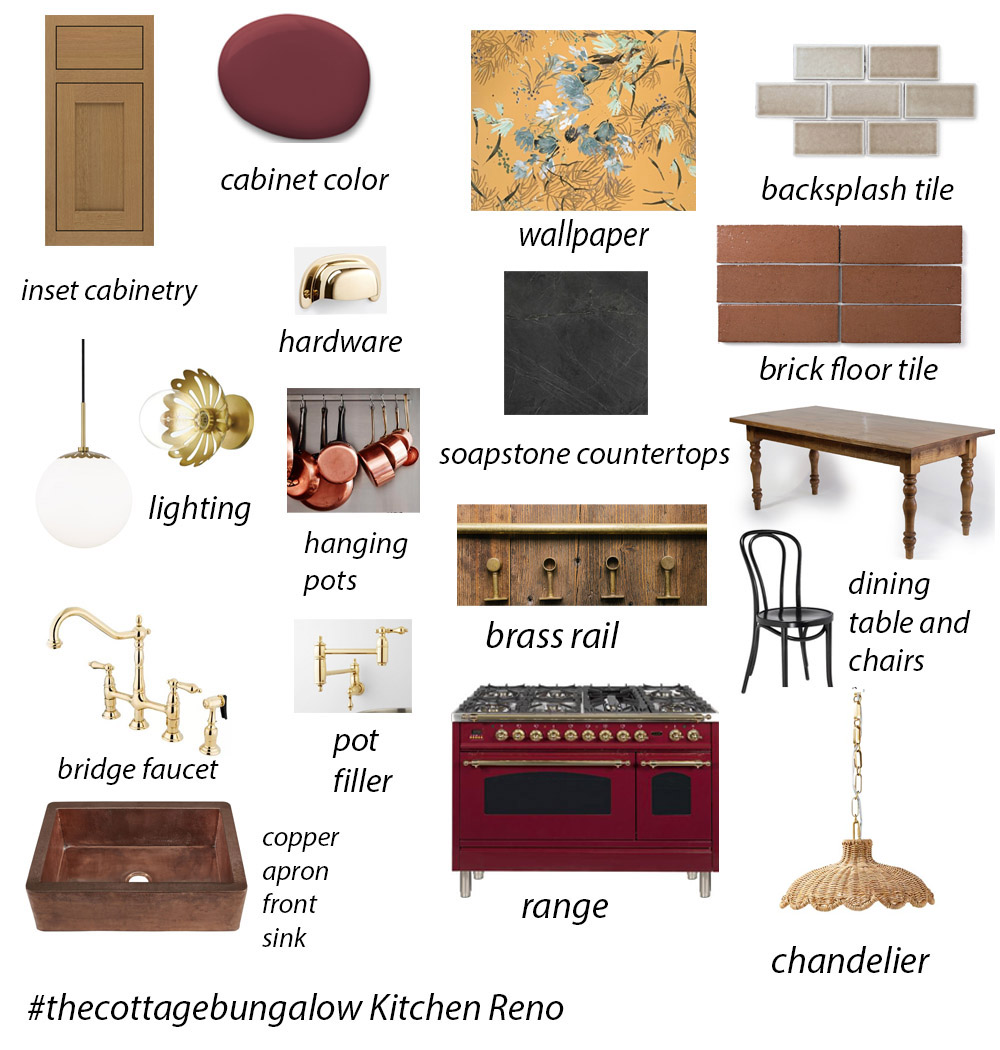 The renovated space exudes warmth with its brick backsplash and floor by Fireclay Tile, burgundy MasterBrand cabinetry with matching ILVE range, and custom wallpaper by Kelly Ventura. For Shavonda, soapstone counters were a must-have in her kitchen renovation.
"I'd known about soapstone for a while as a designer. That was my dream countertop surface," said Shavonda. 'If nothing else went in, I had to have the soapstone. I was not going to sacrifice."
The Polycor Alberene Soapstone™ slab she chose had a special, unexpected connection for her. A couple of years previously, Shavonda's wife gave her a pyrite necklace as a charm to help her manifest her dreams when she launched her own design business.
"It was the last one in the Northern California Sierra Soapstone stone yard," she said. "When we oiled it, it was the darkest and you could really see the flecks of gold. When they told me it was pyrite, that sold me."
"I can be just chopping vegetables and look down and see these speckles of gold. It's really special."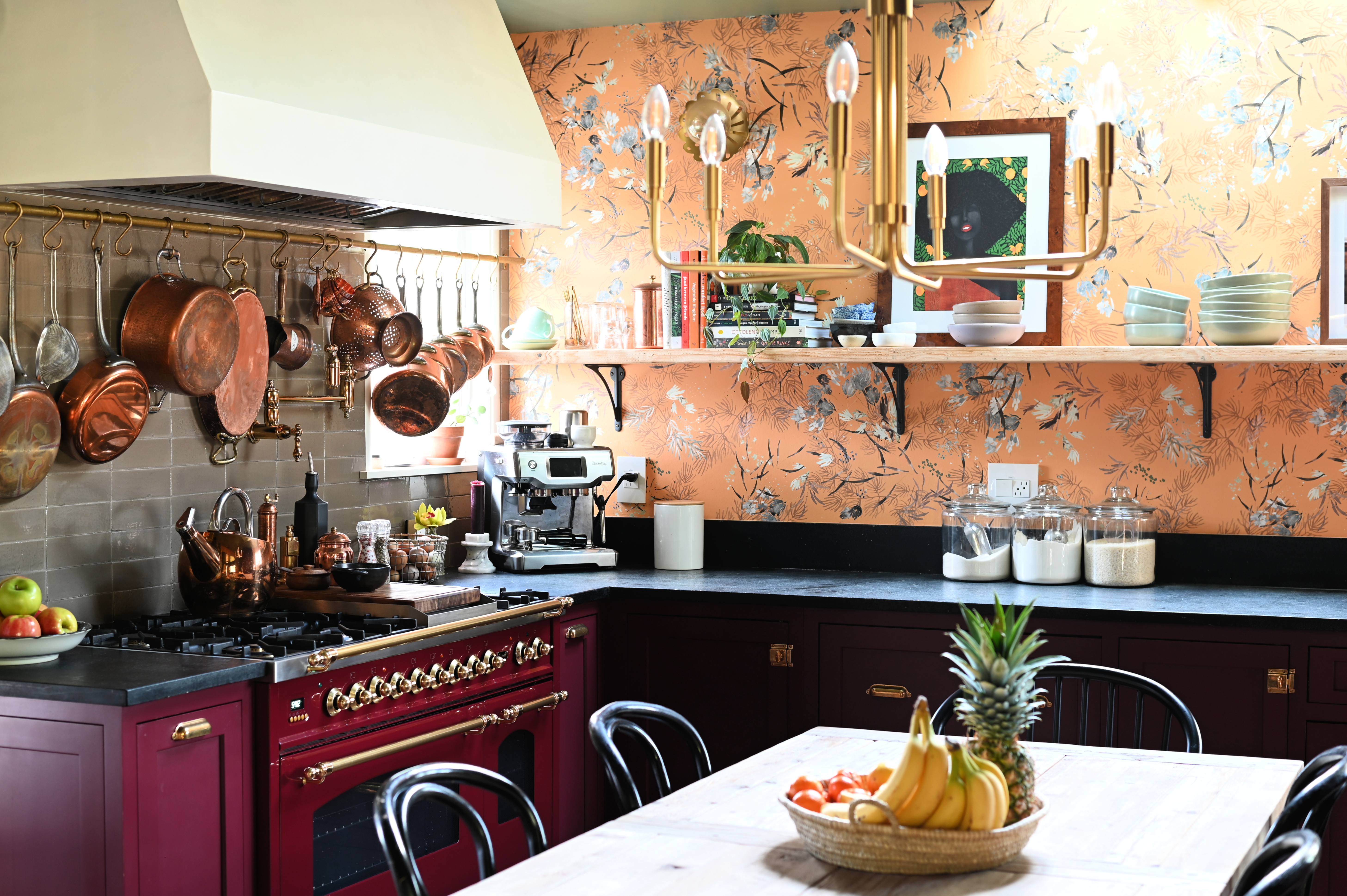 What also sold her on the stone was that it came from the United States: it was important to her to find a slab quarried in America. Fortunately for Shavonda, Polycor's countertops check all the boxes when it comes to sustainable countertops. Other manufacturers may mix their soapstone or quartz with other non-environmentally friendly materials and still label them as a "natural stone."
"I try to shop locally, and I think about the carbon footprint of how far things come. It's important to me to know how things are sourced, if they deplete the Earth, and if they will be long-lasting."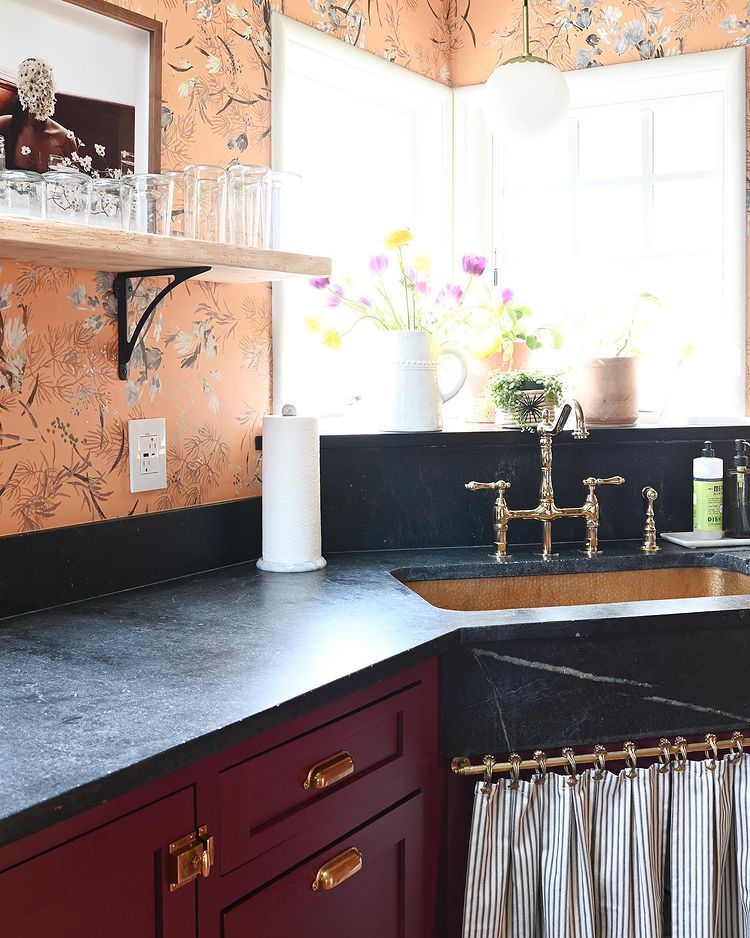 Polycor slabs are always pure, solid stone cut straight from the Earth from their own quarries in America with a minimal carbon footprint. They are made to last forever and can even be recycled and reused.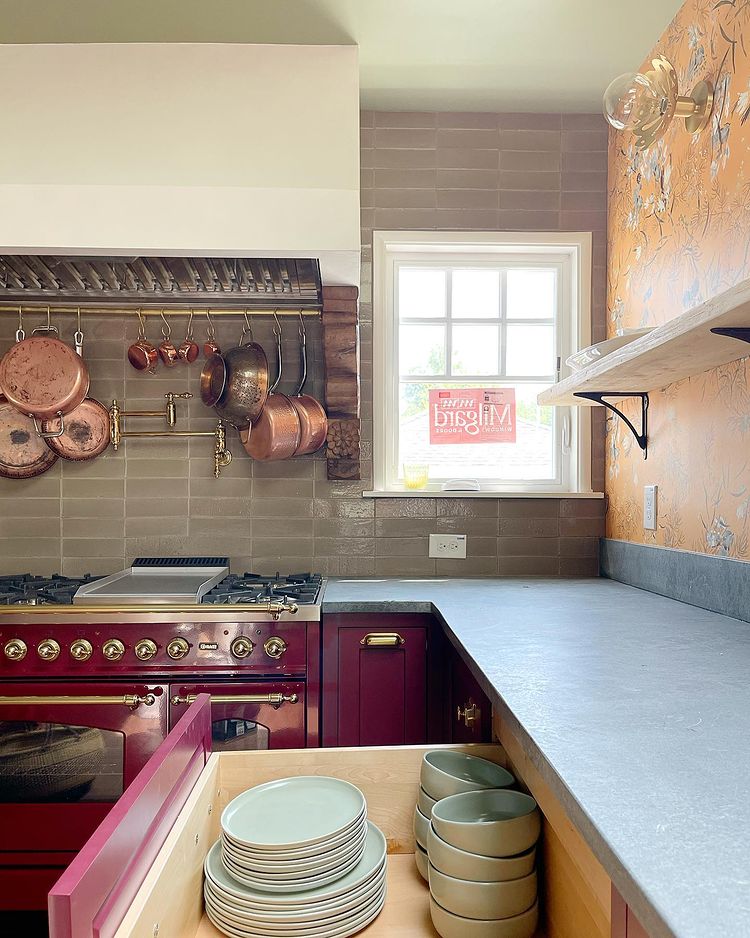 The kitchen is small by today's kitchen standards. At only 13 x 13 feet, she makes sure every inch is working for her. She said she wanted some time in the new house before kicking off a major kitchen renovation.
"It allowed us to really live in the house and see how we use the space and see what we wanted to change," she said.
And Shavonda encourages her clients to do the same.
"They come in and they have these grand ideas from what they've seen on HGTV or Pinterest," she said. "But I tell them, that's how someone else lives, give yourself the opportunity to see how you live. It will save you money from fixing what doesn't work for you and it's more eco-friendly because it reduces waste."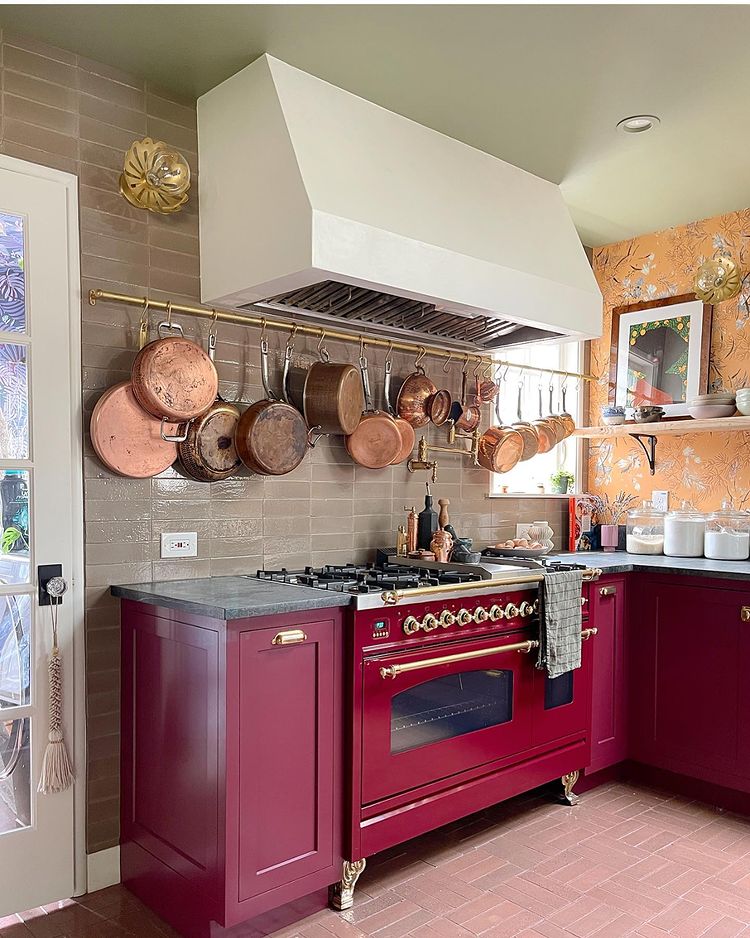 Shavonda's aesthetic throughout the home is one of rich, bold color and her kitchen is no exception. Dark burgundy and golds with the black soapstone counters bring in richness and drama.
"I want to show people how to be unafraid of color. I love moody colors," she said.
For her, the color palette started with the burgundy ILVE range, a 36-inch, European-style six-burner that allows her and her wife to cook at the same time.
"I fell in love with that burgundy range, I had to have it," she enthuses.
From there, she made another bold choice in going monochromatic with the cabinetry.
"A lot of times in kitchen design, if someone brings in a colored range, it's the contrast to white or wood cabinets for visual impact," she said. "But I wanted my cabinets to match my range. I hadn't seen burgundy cabinets done anywhere and it's so beautiful."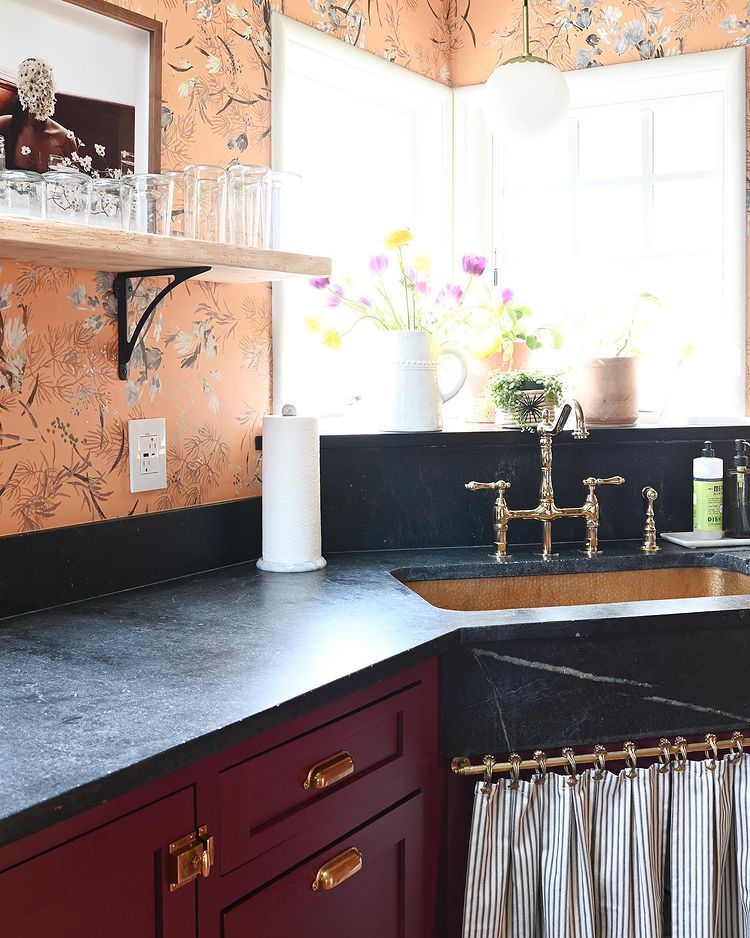 She added a cheerful pop with a marigold floral wallpaper, "There's nothing more happy than yellow in the kitchen. It just makes you smile," she said, "I wanted a jewel-tone yellow and I knew it would work well with the burgundy from using the color wheel."
Brass hardware pot railings and a brass sink from Thompson Traders complete the look. Her hanging collection of copper pots adds some warmth to the space – as well as serves an important purpose: Shavonda loves to cook.
"I'm a Southern Louisiana girl, so I love to cook Creole food: Southern dishes like catfish, gumbo, and jambalaya," she said. "I also like to cook Indian and Mediterranean."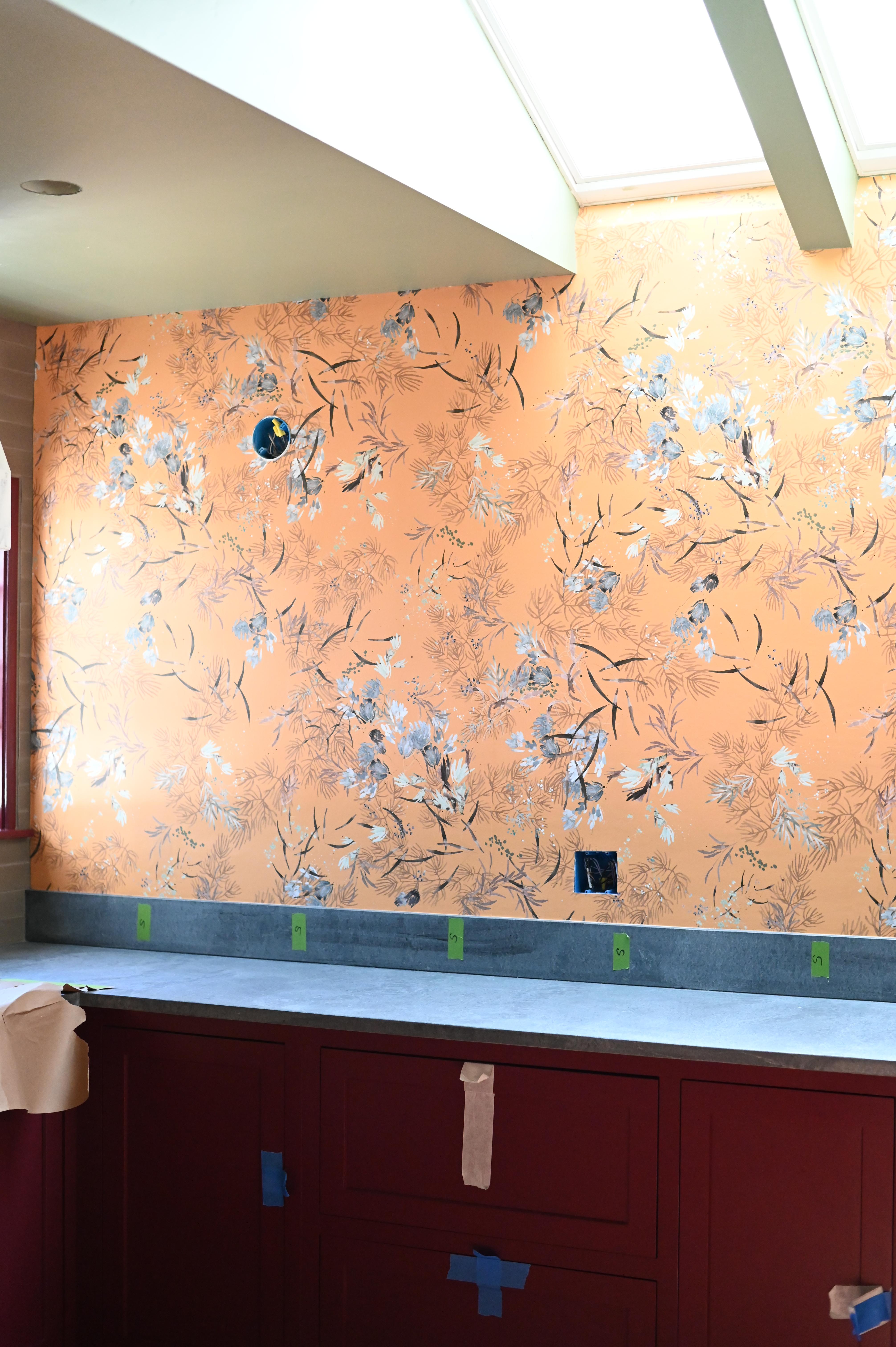 She says the soapstone countertops have been holding up well even with all the use.
"I knew I needed a material that would be hard-wearing," she said. "I wanted something I could put a hot pot on, roll dough on, or spill red wine on it and not have to worry about it. I didn't want to have to baby the surface at all."
It's been a lifetime in the making, but Shavonda's kitchen is becoming a dream come true.
"The space feels exactly how I hoped it would," she says.