4 Easy Steps to Enhance Soapstone with Wax
When interior stylist and blogger Anissa Zajac set out on a total renovation of her home there was one material must have for her kitchen design – waxed soapstone.
This is her eighth house. Yes, you read that right. Anissa and her husband are on to house number eight since they had their first child 12 years ago. Now living in a modern yet rustic home in Indiana, she loves to look back on house #1 with all of its black furniture and khaki walls with red accents (think Pottery Barn circa 2000) to see how much her design choices have changed over the years. Each new home came with new renovations, and for house eight, the kitchen was her largest project.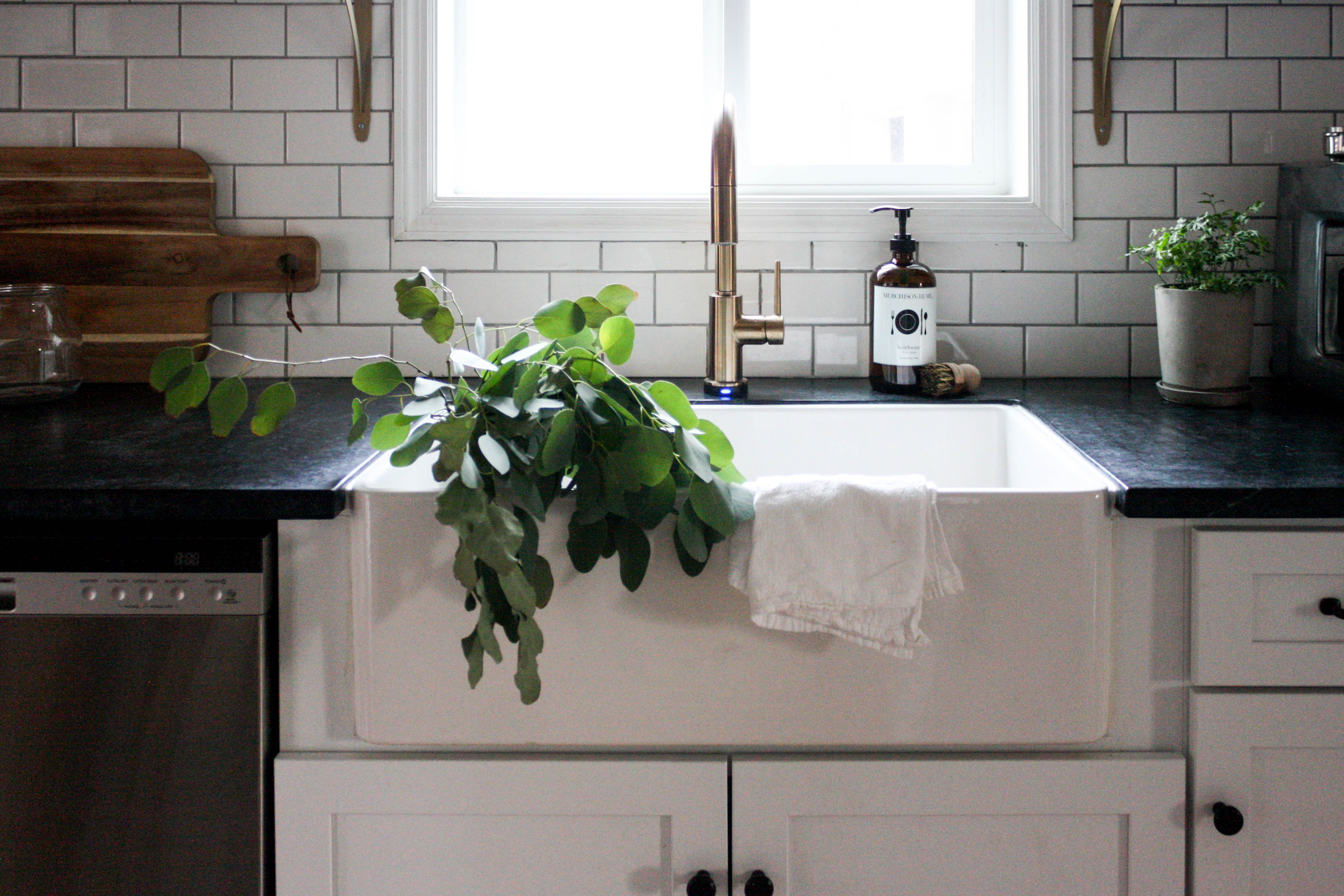 Designer Anissa Zajac favors natural materials and a palette of white, black and wood tones.
She does most of the work herself, adding her own character and style to every room with natural materials and a palette of white, black and wood tones with just a bit of nature added in here and there. We chatted with Zajac recently about her new kitchen featuring Polycor's ALBERENE SOAPSTONE™ and GEORGIA MARBLE- WHITE CHEROKEE™, both in a honed finish.
Inspired by her design spirit animal and fellow soapstone lover, Lauren Liess, Zajac knew she wanted to add depth to kitchen No. 8 by incorporating darker tones in natural materials – but it wasn't granite she was after. "I really wanted soapstone in our new kitchen because the color along with the veining is so different than your similar black materials," Zajac said. "I also love the fact that it's heat resistant and non-porous so I don't have to worry about damaging the stone in that way or having to seal it a lot over time."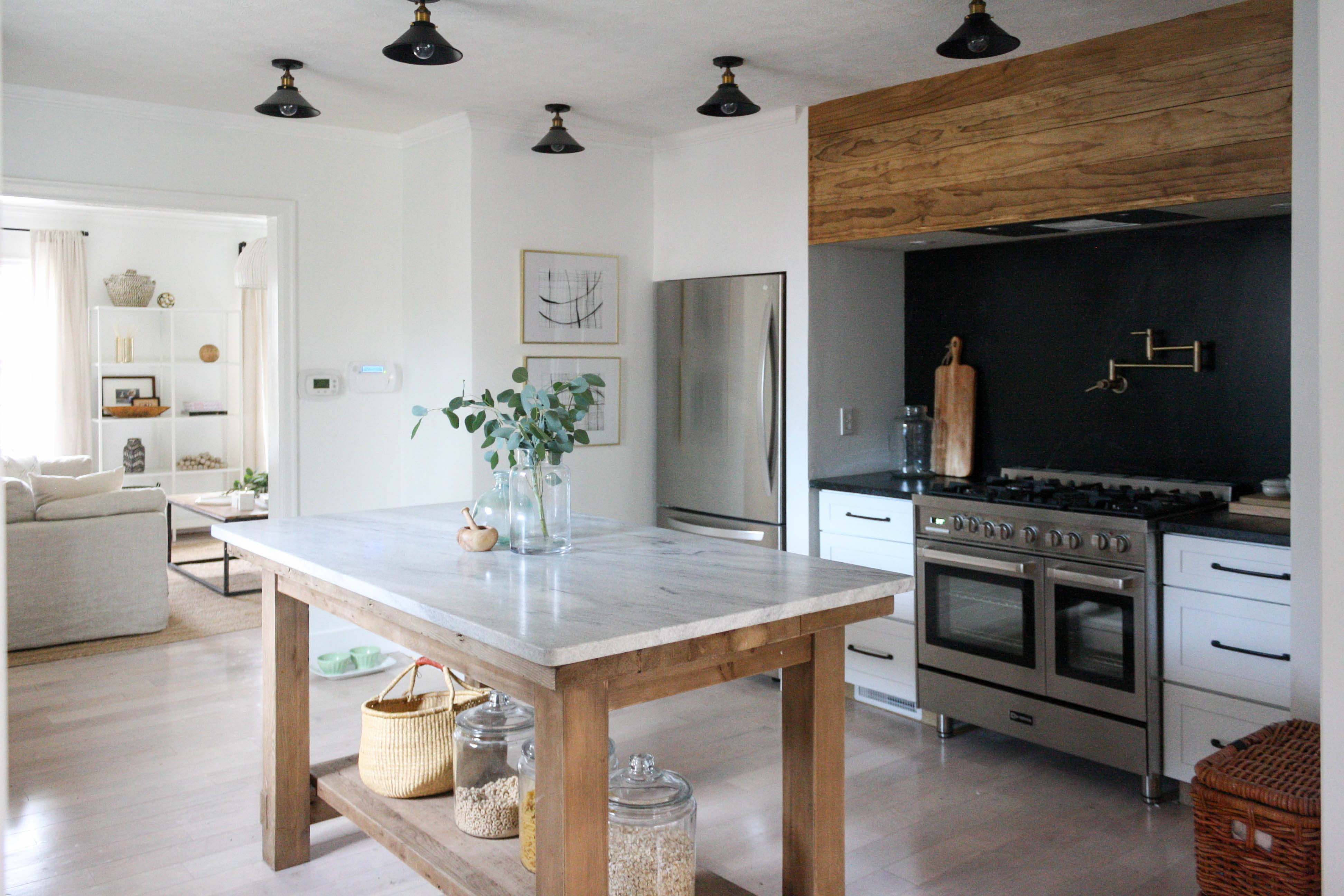 Terrazzo and Marble Supply Companies provided the marble and soapstone slabs from their Wheeling, IL location. Classic Stone in Indiana fabricated the project.
When the soapstone backsplash and countertop were installed in her new home, the installers coated it with a layer of mineral oil that literally dried out overnight. Zajac wanted something that would hold the deep charcoal color for longer. To change the look of her soapstone, she used Polycor's Alberene Dry Wax to help the rich color turn dark and stay dark. "I've been using the wax because I want the soapstone to stay dark, especially the backsplash around the stove because the heat of the oven tends to dry it out faster and change its color, and the wax has definitely helped."
Alberene Soapstone is the only American soapstone available on the market. Brazilian or Indian soapstones tend to have a green tonality. Waxing these imported stones can bring out an almost hunter green color. By contrast the Alberene Soapstone deepens to black. More soapstone design inspo here.
FIND A LOCAL ALBERENE SOAPSTONE DEALER
With an enhanced finish you also can make the appearance of scratches disappear with another application of oil or wax which will turn them from white to black.
Here Zajac walks us through the process she takes to enhance the soapstone on her countertops and backsplash to create the warmth and texture that her new kitchen needed.
1. Start with a clean surface and apply wax with a towel
To start off Zajac says she cleans the surfaces. "I just use mild dish soap and water. I haven't found that it needs a lot of cleaning." Then she follows with a dry wax, which is her favorite for treating soapstone countertops because it is 100% natural and food safe. And it can take the beating from three children, a husband and endless Coke cans and pickle jars, Zajac said. The wax gives the natural stone a look that is different from its natural gray color and makes for a much longer lasting effect with less reapplication required. See a natural soapstone kitchen here.
Simply apply the wax by rubbing it into the stone with a dry towel, or even your hands, and instantly see the difference between the treated and untreated look of the Alberene soapstone.
2. Watch the veining pop!
Enhanced soapstone has a signature look that's rich in color and contrast. The finished application of wax also produces a subtle satin luster. "I knew I was going to darken the soapstone before we got it," Zajac said. "I just wanted it to be as black as it possibly could be because the darker it is, the more the veining shows, and the more the characteristics of the stone show. That's what I was interested in showing in the kitchen."
3. Let the wax rest
Allow the wax to sit on the soapstone for 30 minutes before wiping it off, or even leave it on overnight.
4. Reapply to suit your look
Alberene Soapstone wax can be applied as frequently as needed depending on the shade of black that you desire. Zajac suggests applying the wax weekly in the beginning to make the soapstone darken faster than normal. After several back to back applications it will remaindark for a long time – the more you wax it, the darker it becomes and the longer the color stays.
Zajac says that darkening her soapstone has given her kitchen the European feel she thought it needed – warmer, cozier and as if bread was baking in the oven.
With it's ability to be enhanced Alberene Soapstone can have many looks – rustic, modern, industrial, eclectic.