Our Top 2016 Kitchen Designs in Soapstone, Marble and Granite
2016 was a beautiful year for natural stone.
Soapstone had a breakout performance in modern interiors. Marble pushed pasta high brow rep to casual, accessible elegance. And the ever chic CAMBRIAN BLACK® Granite made it clear that black is back in the kitchen.
And it was our pleasure to write about the designers andfabricators who made it all happen.
We have so many favorites installations that wecouldn't even narrow it down to a top five. From rustic toglam, these kitchens captured our hearts and inspired our own home renovations.
the CHEF'S MODERNRustic Kitchen
Featuring Natural Soapstone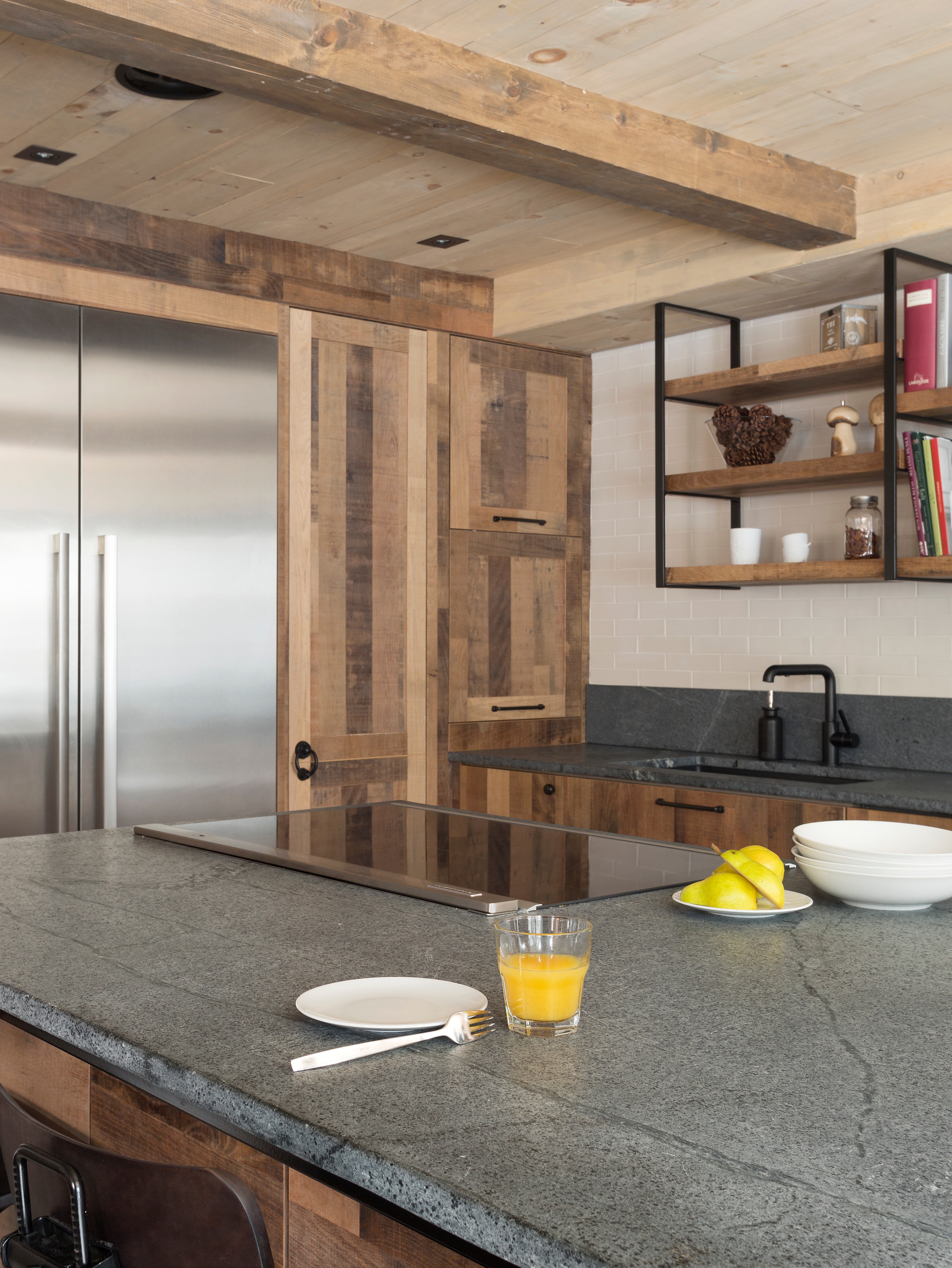 When Chef Arnaud Marchand ofChez Boulay in Quebec set out to build a home kitchen for his young family, it needed to be warm, functional, dynamic and beautiful – and resonate with the scenic environmentof the Canadian woods.
Designer Isabelle Cyr of Cyr Cathcart directed himto soapstone because she knewhe wanted a natural material that ages like wood, with character and patina. It also fit Marchand's request for a product that was alive and would grow with his family. (Plus the texture, it feels silky like baby powder.)
And she was right. The natural variations were just what the chef wanted, and one reason he left his untreated.To learn more about how soapstone wears over time read this post.
"We have a story in the stone. The slab is not the same on the right side as it is on the left. It's a big slab with big veining. I love that. It's unique," Marchand said. "Yes it gets marks, but I love them. It's the story of my house, of my children. I have two children, 2 and 4 years old. I love to cook with them. On my soapstone I can put a hot pot down and not have to worry."
THE Monochromatic kitchen all about texture and touch
FEATURING WaxedSOAPSTONE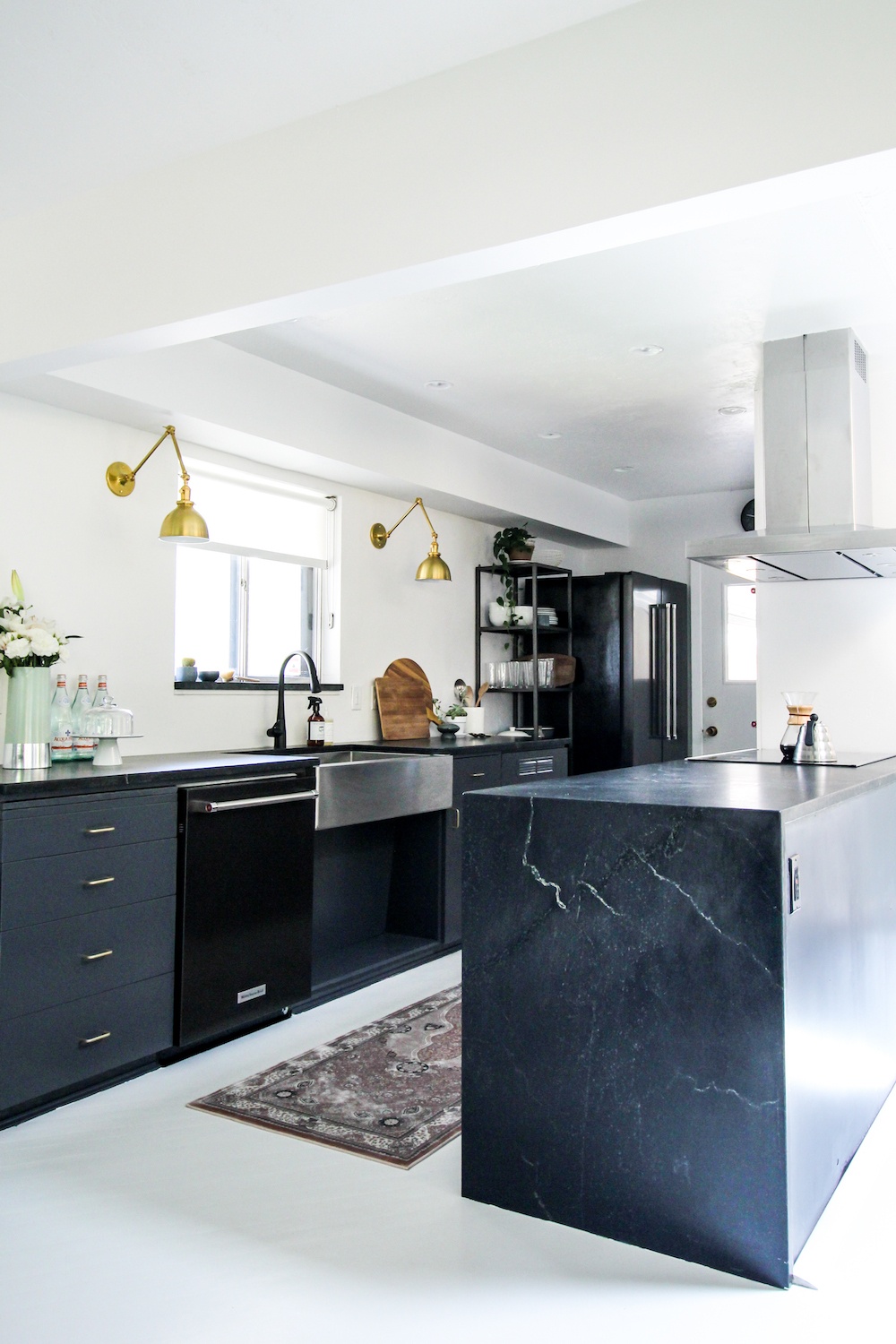 Interior stylist, blogger and author of Simply Styling, Kirsten Grove, recently set out on a total renovation of a mid-century Idaho home she shares with her family. She and her husband do most of the work themselves adding character, ingenuity and style to every room with simple materials and a monochromatic pallette. The matte black look of waxed Alberene Soapstone was her inspiration for the kitchen.
"The colors and textures are just so intriguing to me," Grovesaid. "You just don't see the beauty of soapstone on a normal basis. I wanted people to walk in my kitchen andimmediatelybe drawn to the textures. Other materials can be beautiful, but can also feel normal and dull. Soapstone is in a league of it's own."Grove highlighted the dramatic veining of the stone by waxing the surface of her counters and awaterfall feature."Because my kitchen is opened up to both living rooms and dining room, I wanted to create a show stopping kitchen," she said. "The waterfall creates that gorgeous look!I chose my cabinet colors around the soapstone. I wanted a dark, moody kitchen. Because the walls are painted white, the space gets a lot of natural light, but the cabinets and counters give it that dramatic look that I wanted."
THE Warm and woodsy modernist kitchen
FEATURING Leathered Cambrian Black Granite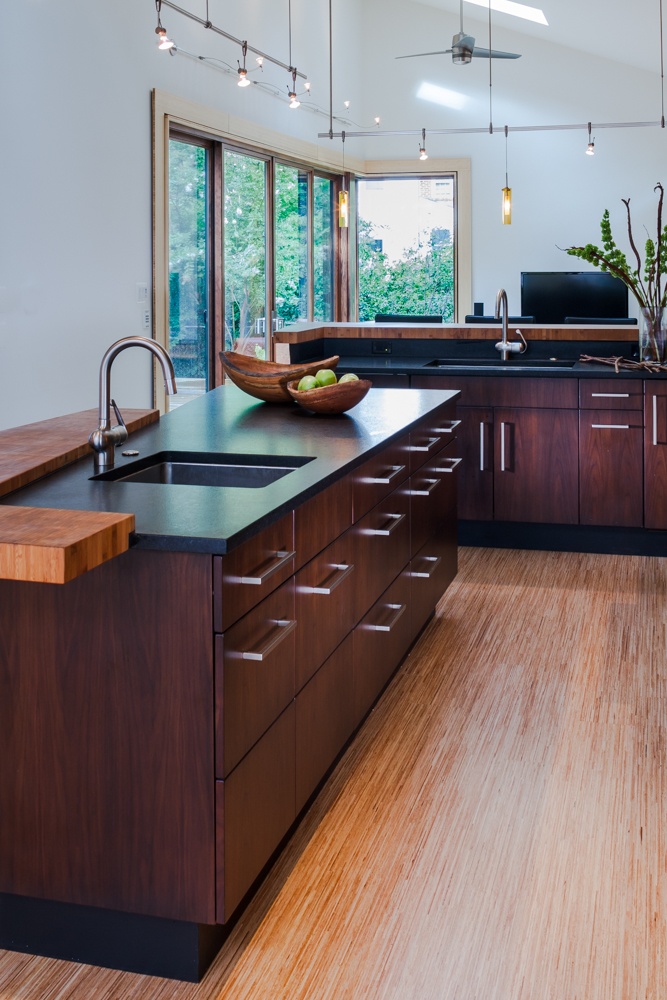 The only truly black granite, we like to call Cambrian Black the Little Black Dress of the natural stone world. Polycor quarries it from it's own quarry located deep in Quebec, Canada's countryside. Because the color of the stone is naturally black throughout (unlike Absolute Black or Black Galaxy it doesn't need a colored resin to enhance the color) it can be honed or brushed without turning grey.
The honed surfacelends a touchable quality to the surface that works in both traditional and modern interiors.
Thismodern light-filled kitchen in the DC metro areafeatures Cambrian Black Granite with honedfinish complimentingthedark stained frameless cabinets. We love the warm quality of rich wood tones andvarying grains paired with the deep black of granite – modern but not cold.
THE sleek and seductive italian kitchen
FEATURING LEATHERED CAMBRIAN BLACK GRANITE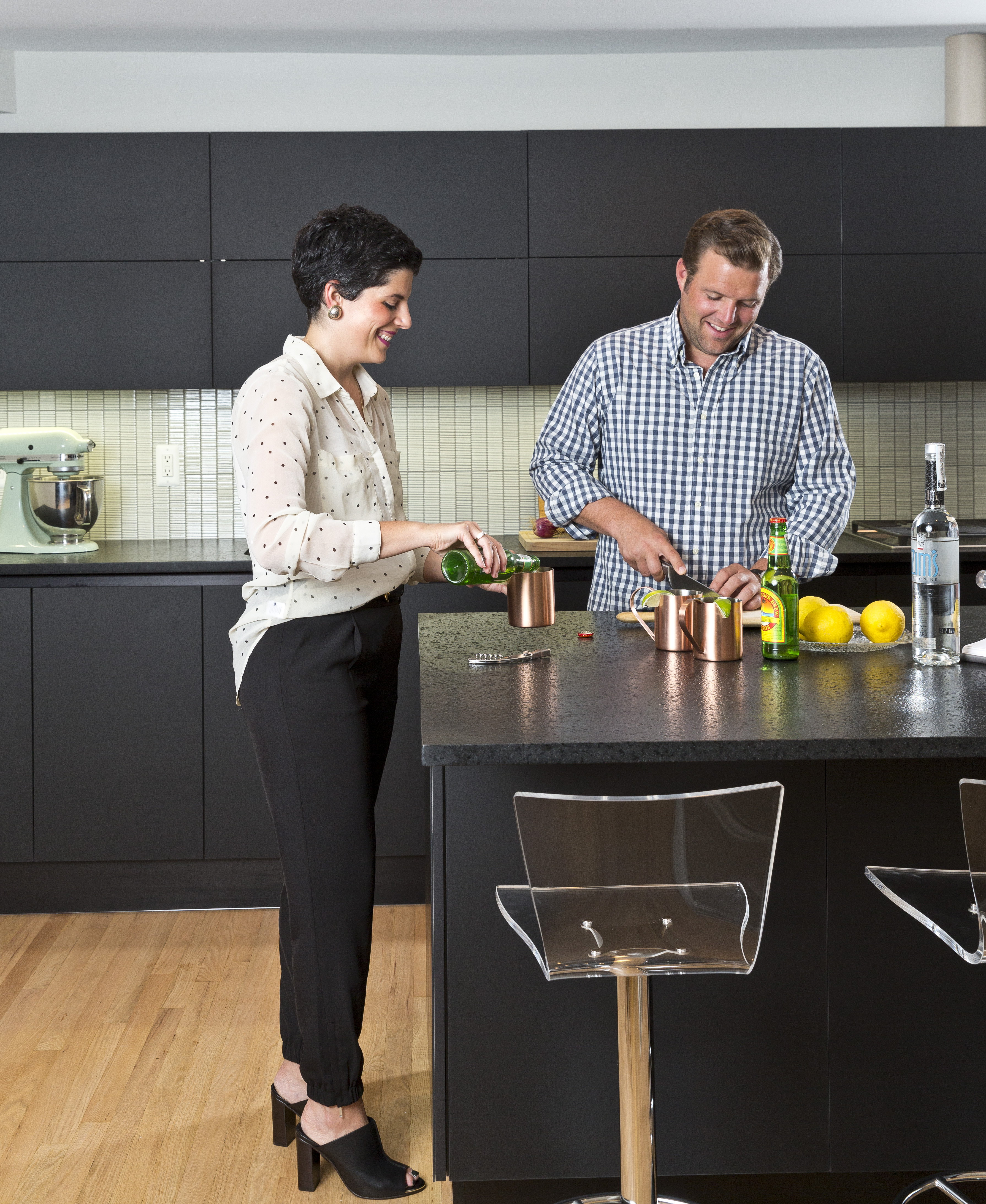 At the outset of the remodel her Detroit home kitchen, a colonial in a "beige everywhere" traditional neighborhood, Nikki Serras originally considered all white. "I knew I wanted a monochromatic kitchen. I'm in a modern industry; white is the go to."
"But," she said, "I thought, I can be a little be risky here."
Instead of a classic Italian white lacquered finish for her cabinets Serras chose matte black Scavolini cabinets, which are actually glass faced. The 3 mm glass face is applied to engineered wood, which allows for a frameless, super sleek look with no need for handles.
See more of Serras' kitchen here.
The countertop was Serras' only hesitation. "I was thinking marble or faux marble to brighten it up, but that's so what you would expect."
With cabinet swatch in hand she headed to her stone supplier Ciot, where Design Consultant Emilie Aubuchon introduced her to a completely different material – Cambrian Black granite in a leathered finish.
"I think she was considering manufactured stone when she came to me, but I showed the black granite in a kind of leathered finish that I love," Aubuchon. "It's an elevated look."
Earlier this yearScavolini also collaborated with fashion house Diesel on a rustic lux kitchen model. See it here.
THE polished kitchen with depth and highshine
FEATURINGPolished Saint Henry black Granite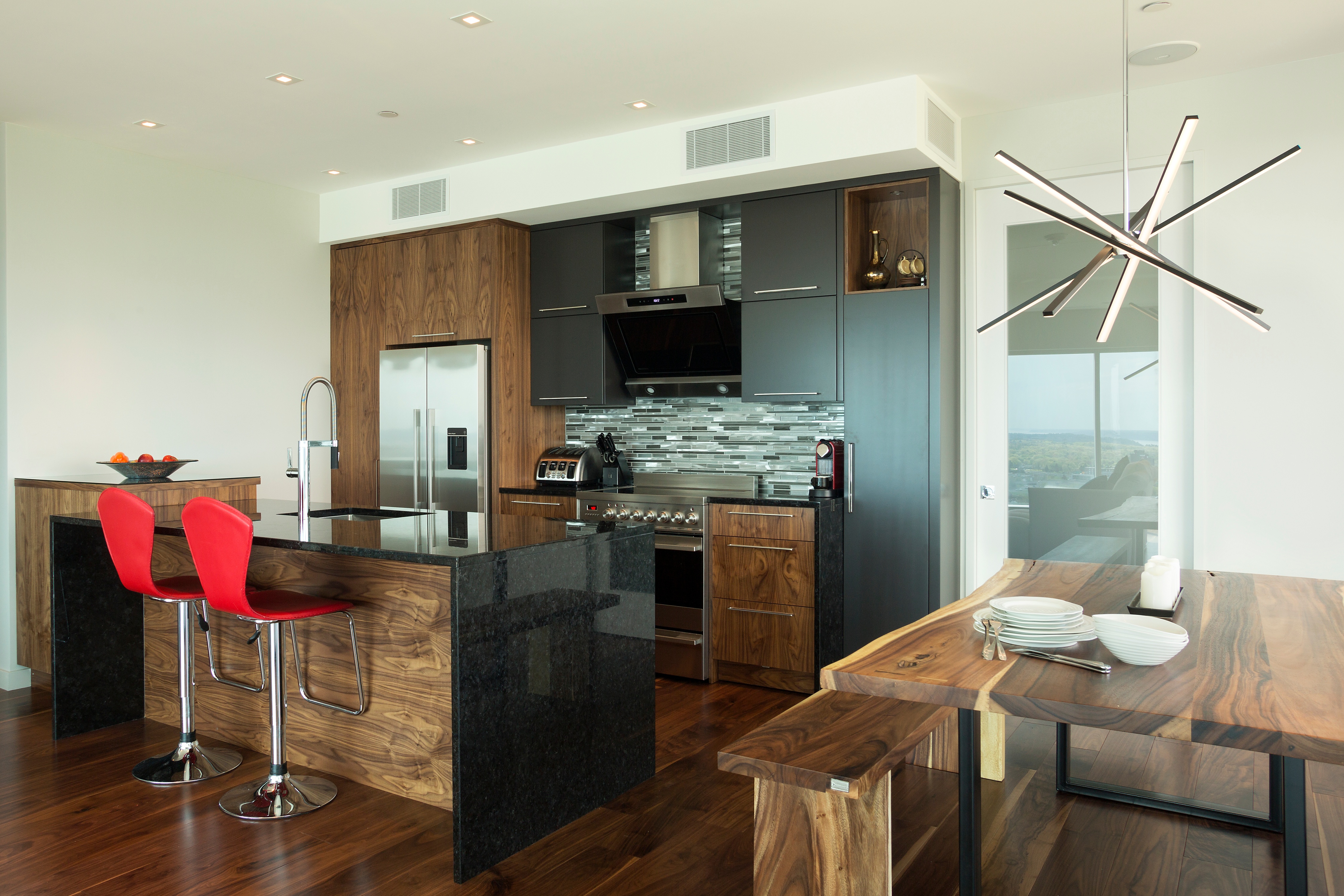 Move around a Saint Henry Black granite kitchen and you'll do a double take as you round the corner of the island to put your coffee cup in the sink.
What looked like straight black from far off turns out to be black and grey opalescent mega crystals nestled within. This is a natural stone that doesn't so much show off as it does reveals itself. With depth and interior movement, Saint Henry Black granite has a unique visual texture that interacts with your eye as you see it from different angles.
The designer of this Quebec City kitchen made bold choices with bold materials, and yet they complement rather than compete. The bookmatched wood furniture and cabintery have a strong grain to stand up to the mega crystals of the St. Henry granite and the matte black cabinetry and steel table base provide relief.
All granites polish well, but Saint Henry is able to achieve a higher degree of polish than most and rates at a higher luster than other natural stones. It has an inner luminosity. When the light hits it, it almost looks like abalone.
the classic but boldkitchen with southern charm
FEATURING Honed Pearl Grey American Marble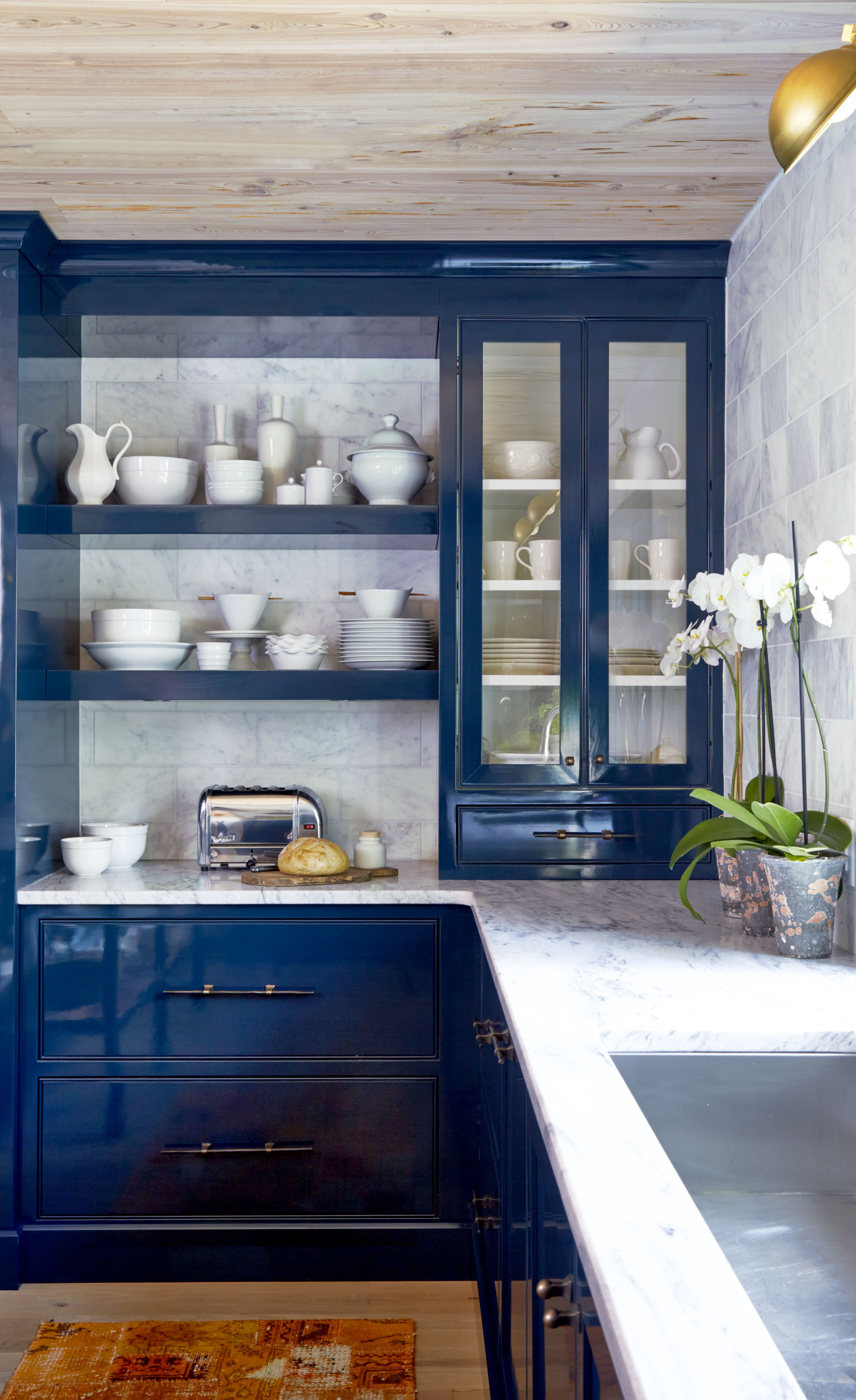 When Pam Sessions and Don Donnelly, the husband and wife team behind Hedgewood Homes, decided to downsize their nest, they brought with them a pedigree for building smart spaces, a love of southern architecture and a commitment to local talent and materials.
Sessions likes to use her own home as a design lab and one of her most striking experiments is in the kitchenwhere she pairedlacquered teal cabinetry and Georgia Marble on the island and countertops, a stone that Session has always wanted to work with. See more of the American marble kitchen here.
"I love the Georgia marble," Session said. "It has a little more variety over Carrara marble which we see so much of. It's extremely special for me to have it in my kitchen."
For her island and countertop Sessions chose honed Pearl Grey, a white American marble with a deep grey veining quarried by Polycor in Tate, Georgia. (It's from the same marble quarry that supplied the Lincoln Memorial actually).
In her design work for the couple's development business Sessions has the opportunity to spec and work with a variety of natural stones. She used Carrara tile she had on hand for her backsplash, but when it came to the countertop it was the unique look, feel and density of the USMarble that drew her in.
"It seems to have crystals in it. You can see the little facets, which makes me think that is why it's more dense. You don't see that definition with Carrara. It's more uniform."
The crystals that Sessions identified are actually calcite crystals. Georgia Marble's tightly interlocking structure makes the stone less absorbent than overseas stones like white Carrara which has a higher absorption rate. (More time to wipe up those red wine spills.)
This year we saw more designers, like Sessions, challenge the myths around marble's durability and spec this enduring stone for busy family kitchens. You can see how marble compares to quartz here.